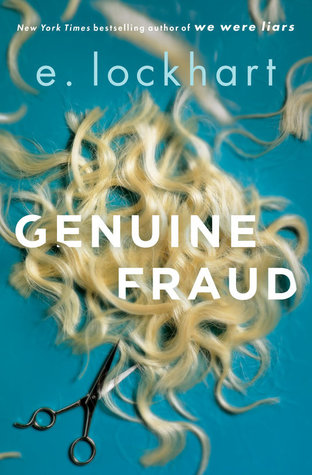 Title: Genuine Fraud
By: E. Lockhart
Published: September 5th 2017
By: Delacorte Press
Genre: Contemporary-YA-Mystery-Dark
The story of a young woman whose diabolical smarts are her ticket into a charmed life. But how many times can someone reinvent themselves? You be the judge.

Imogen is a runaway heiress, an orphan, a cook, and a cheat.

Jule is a fighter, a social chameleon, and an athlete.

An intense friendship. A disappearance. A murder, or maybe two.

A bad romance, or maybe three.

Blunt objects, disguises, blood, and chocolate. The American dream, superheroes, spies, and villains.

A girl who refuses to give people what they want from her.

A girl who refuses to be the person she once was. 

---

Titulo: Todo es Mentira

por: E. Lockhart

Puclicado: 15 de Febrero 2018

por: ALFAGUARA INFANTILES Y JUVENILES

Genero: Contemporaneo-JA-Misterio-Oscuro-ARC
---
---
English Review
As a big fan of We Were Liars, I was very excited about this book but also a litlle bit worried because my expectations were high and guys, it was worth it, Geniune Fraud is a catchy, complex and dark book, told in a unique way that will keep you hooked from the first page. An incredible job
I don't really want to tell you what the book is about, because I think any little detail could be a potential spoiler, I know the synopsis may sound rather vague but I assure you that it's all you need to know before reading this book, and go into it knowing the least possible is the best option, I think it will allow you to have a better experience 
The book is inspired by The Talented Mr Ripley, and although I personally have never seen that movie, it may be of interest to you, so I've decided to mention it.
The plot is told in reverse, this means that we start in the present and as we move through the chapters we will go back to the past. I love this original way of write a mystery plot, it worked perfectly and although I must admit that at first I was somewhat confused, I feel that once you understand how it works you'll be hooked and then it will be just more and more interesting.
The writing style, as expected, hasn't disappointed me at all, I remember that one of the things I loved the most about We Were Liars was its beautiful writing, this time we can appreciate that as well and is fantastic, from the descriptions of the places to the deepest thoughts make the book even more shocking. Another thing I expected from an E. Lockhart's book, it was to be taken by surprise, ie, I knew it had to happen at some point, and of course it did! I was like OMFG !. I still can't believe the big plot twist at the end, was absolutely briliant and although, as I said, I expected that plot twist at some point I didn't see this one coming at all, so I was really surprised
The main character is very well created, you can feel from the first moment that there are many things that this character hides, and because of her personality so daring, I felt that she really was layers of everything. I found myself feeling that I was seeing the whole story as if it were a movie. I don't know if I have a favorite character or if I would say that the main character has captivated me, I don't think so, but I think that each and every one of the characters play a fundamental role in the book and all of them make of this one a great suspense-mystery story.
I've loved the personalities so wandering and different that we have here, I think the author tries to show the dark side of each character and how the nature of the human being can become so cruel and indifferent when it comes to seeking their own happiness, I think also raises a lot how far we're able to reach to achieve our goals. It's fantastic, the tension you live reading this book is all an experience
I highly recommend this book if you're looking for a young-adult mystery reading with a beautiful writing style and a great way to tell the plot, I don't doubt that it will be very loved, at least I feel that it deserves it. Oh and I almost forgot, THAT PLOT TWIST , sooo good! 
---
---
Reseña en Español
Como gran fan de Eramos Mentirosos, estaba muy entusiasmado con este libro pero también un poco preocupado porque mis expectativas eran altas y chicos, valió la pena, Todo es Mentira es un libro atrapante, complejo y oscuro, contado de una manera única que te mantendrá enganchado desde la primera página. Un trabajo increíble
Realmente no quiero contarte de qué trata el libro, porque creo que cualquier pequeño detalle podría ser un posible spoiler, sé que la sinopsis puede sonar bastante vaga, pero te aseguro que es todo lo que necesitas saber antes de leer este libro. Entrar en el sabiendo lo menos posible es la mejor opcion, creo que te permitirá tener una mejor experiencia del libro
El libro está inspirado en "The Talented Mr Ripley", y aunque personalmente nunca he visto esa película, puede que te interese saberlo, así que decidí mencionarlo. La trama esta narrada de una manera muy particular, esto significa que comenzamos en el presente y, a medida que avanzamos por los capítulos, retrocedemos hacia el pasado. Me encanta esta forma original de escribir una trama de misterio, funcionó a la perfección para mi y aunque debo admitir que al principio estaba algo confundido, creo que una vez que entiendes cómo funciona estarás enganchado y entonces será cada vez más interesante.
El estilo de escritura, como era de esperar, no me ha decepcionado en absoluto, recuerdo que una de las cosas que más me gusto de Eramos Mentirosos fue su hermosa escritura, podemos apreciar eso nuevamente con este libro y es fantástico, desde las descripciones de los lugares a los pensamientos más profundos de los personajes, todo eso hacen que el libro sea tan atrapante. Otra cosa que esperaba de un libro de E. Lockhart, era el efecto sorpresa, es decir, sabía que tenía que suceder en algún momento, ¡y por supuesto que sí! ¡Yo estaba como QUE!?, todavía no puedo creer el gran giro de la trama al final, fue absolutamente brillante y, aunque, como dije, esperaba ese giro de la trama en algún momento, no lo vi venir en absoluto, así que estaba realmente sorprendido.
El personaje principal está muy bien creado, puedes sentir desde el primer momento que hay muchas cosas que este personaje esconde, y debido a su personalidad tan atrevida, sentí que realmente era capaz de todo. Sentí que estaba viendo toda la historia como si fuera una película.
No creo tener un personaje favorito pero puedo decir que el personaje principal me ha cautivado, aun asi, creo que todos y cada uno de los personajes juegan un papel fundamental en el libro y todos hacen de ésta una gran historia de suspenso y misterio.
He amado las personalidades tan errantes y singulares que tenemos aquí, creo que la autora trata de mostrar el lado oscuro de cada personaje y cómo la naturaleza del ser humano puede volverse tan cruel y egoista a la hora de buscar su propia felicidad. Creo que también plantea hasta donde somos capaces de llegar para alcanzar nuestros objetivos. Es fantástico, la tensión que vives leyendo este libro es toda una experiencia
Recomiendo mucho este libro si estás buscando una lectura de misterio para adultos jóvenes con un hermoso estilo de escritura y una gran manera de contar la trama. Creo que este libro merece un gran reconocimiento. Ah, y casi lo olvido, ¡ESE GIRO DE LA TRAMA AL FINAL, tan bueno!
---
---

4.8/5 ⭐️⭐️⭐️⭐️⭐️ 
---
---
Feel free to leave your comment below, I always love to know what you think

🙂
find me at