Omg guys, I have this review since June of last year at Goodreads and for some reason I have never uploaded it to the blog !, which is crazy because it's a well known book that I would love to you to know my thoughts about, but hey, I've overlooked it all this time :(, but today, I've finally brought it !, so I hope you enjoy it :).
---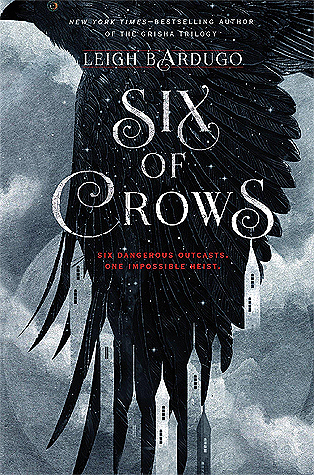 Title : Six of Crows
By : Leigh Bardugo
Published : September 29th 2015
By : Henry Holt and Company
Genre : YA-Fantasy-Romance
Criminal prodigy Kaz Brekker has been offered wealth beyond his wildest dreams. But to claim it, he'll have to pull off a seemingly impossible heist:

Break into the notorious Ice Court
(a military stronghold that has never been breached)

Retrieve a hostage
(who could unleash magical havoc on the world)

Survive long enough to collect his reward
(and spend it)

Kaz needs a crew desperate enough to take on this suicide mission and dangerous enough to get the job done – and he knows exactly who: six of the deadliest outcasts the city has to offer. Together, they just might be unstoppable – if they don't kill each other first.