Hi Guys!, I hope you're having a beautiful day, today I'll share with you my May Wrap Up, where I tell you about the books that I've read during the month. This month has been a really good reading month!. I have a new job so I've been busy but still I was able to read 6 books which is fantastic for me 🙌🏻 . I think I did a great job especially with my ARCs since I've read 4 of them and now I feel much more relaxed about it.
Not book related, but I've started to watching "13 reasons why" with my boyfriend this month, and OMG I'm obsessed, I know guys, I'm so late to the party lol, but I had never been interested in seeing it before, until I saw everyone, including my brother and my best friend, super excited for the new season release, so I thought, "OK I have to try it! and I LOVED IT! 💕 
🌸 I've reached 2000 (2021 now) followers this month 🎊  and of course it's all thanks to you and the great support you show to my blog. THANK YOU, you can't imagine how happy and appreciated this makes me feel, you're amazing!🌸 
Well, going back to the ones I've read this month, as I said I read 6 books: 4 of them ARCs, a sequel and a re-reading. So without further ado, let's start!
---
---
ARCs Everywhere! (I did it 😄)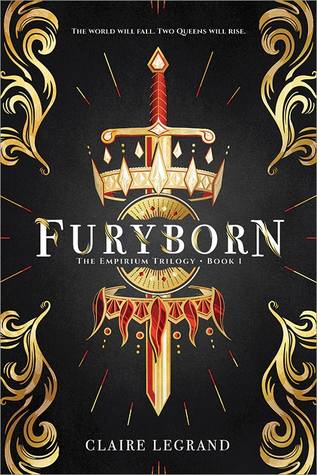 I didn't know what to expect when I go into this book, I had heard bad things as good so I tryed to keep my expectations low.
Honestly I think it has great potential to be a great fantasy, the plot is very good and although it has some topics that we usually see in fantasy it's still quite original. Also, enjoy the way the book is told by leaping between the past and the present.
On the other hand there are some things that I haven't liked like the way in which sexuality is touched and I think that the book is excessively long, the characters haven't left me completely satisfied either.
If you want to know more about it, you know that as always, I'll leave you my full review here below
Furyborn (Empirium #1) by Claire Legrand (3.5/5⭐️⭐️⭐️⭐️) REVIEW HERE
---
What a beautiful surprise this book was for me, I really LOVED it!
I've been in a mood to read books about witches and magic and that kind of thing since I've read The Wicked Deep so I was very excited to read this one, even though I hadn't heard anything about it. It was exactly what I was looking for, it has a very interesting and dark plot, it has very good characters that I would love to be able to continue reading about, it's very atmospheric and that's wonderful. I really felt that I could see everything I was reading like a movie
Deal with very important issues, such as abuse and self-harm so I wanted to warn you about it
This book deserves more recognition is super short and has no waste, I hope the author decides to make a sequel🤞🏻
The Price Guide to the Occult by Leslye Walton (4.5/5⭐️⭐️⭐️⭐️⭐️) REVIEW HERE
---
Another pleasant surprise!. I'm used to reading fantasy as many of you know already it's one of my favorite genres, and although this book has many similarities with other fantasies that I've read, it has still managed to captivate me. I really like the world building , it's really fantastic, you can see all the work that the author put in it, and this is why I think deserves an opportunity. The writing style is really good I would describe it as intense, since it makes you feel everything that happens in a very unique way.
I want to remember, as always, the importance of supporting our independent authors, there are incredible stories to be discovered and we just have to give it the chance.
The Lost Sentinel (Silent Sea Chronicles #1) by Suzanne Rogerson (4/5⭐️⭐️⭐️⭐️) REVIEW HERE
---
I can't say that I liked this book, but I can save a couple of thing as the family dynamics and that is very easy to read
On the other hand I feel that it's a kind of book that try to be controversial in some way and it fail. The main character is very immature and the romance is unhealthy, it begins with lies that only manage to harm those who have nothing to do with it, all this for the whims of a girl. It's a pretty weak story, the whole Skydiving topic is very cool though.
Maybe if you want to read something light and meaningless this one is a good option
Freefall Summer by Tracy Barrett (2.5/5⭐️⭐️⭐️) REVIEW HERE
---
---
I'm already obsessed with this series 😍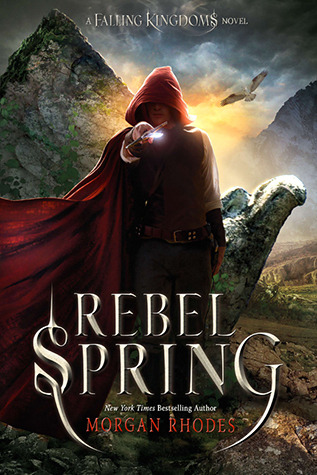 I love this series, it's so much fun!
It has everything I look for in a fantasy, the characters are the best thing ever, the plot is captivating and is getting just better and better, there is alot of action, revenge, deaths, and all that good stuffs.
I'm dying to continue with the thrid book next month, I'm happy to have started with this series a little bit later than the rest of the world because now I don't have to wait for the next book to come out, you know?. And that's great, cause I hate wait
I've buddy-read this sequel with my boyfriend, which is a new experience for me and we both loved it.
These books are so intense, I can't tell you too much about this one, because spoilers, but there is always something that will surprise you, it's the kind of book that will keep you on the edge of your seat … SOOO GOOD!
Rebel Spring (Falling Kingdoms #2) by Morgan Rhodes (4.3/5⭐️⭐️⭐️⭐️) REVIEW HERE
---
---
Unexpected re-reading 😮 
This is the Spanish version of Genuine Fraud by E. Lockhart, I read the book in English when it just came out, last year, but recently I was sent, very gently, the Spanish ARC, which has been released here in my country this year and even when it wasn't in my plans I thought it was the perfect time to re-read it.
I love this book and the author so I enjoyed it as much as the first time. Such a brilliant job
I'll leave you below my full review, which is in both English and Spanish
Todo es mentira by E. Lockhart (4.8/5⭐️⭐️⭐️⭐️⭐️) REVIEW HERE
---
---
🌺 I was thinking that from now on, starting next month, I'll be highlighting some of your posts on my blog, I love so many of your blogs and it would be an honor to mention any of your posts here, thus share and help each other. I also want to highlight the great work you put into your blog
Maybe it's something I'll do at the end of the month highlighting my favorite publications, something like that
Let me know in the comments what you think about it!
Do you like the idea?🌺 
---
---
What has been your favorite reading of the month?
Feel free to leave your comment below, I always love to know what you think

🙂