🌸 Hi Guys!, I hope you're having a beautiful day, today I'll share with you my October Wrap Up, where I tell you about the books that I've read during the month. Well, this month really wasn't what I expected, at all. As you know, I took 2 weeks off, in which I've been completely absent from the blog and I took time for myself and my family, and although I spent an incredible time, I read almost nothing. I know that I said I would continue my usual reading but it wasn't like that, I don't know what happened, but the weeks flew by and I realized that I had hardly read a couple of pages, so I ended up failing completely with my reading in these free weeks
On the other hand, don't worry, because I've read 3 books, which I read in the first weeks of the month, it's not much, I know, but at least I have something to talk about in this post. I'll not lie to you, I'm disappointed with myself since I thought I could read more, but well, I have no excuse, I was simply focused on other things.
Even so, I enjoyed the 3 books that I get to read and I'm excited to tell you about them, I hope everyone has had a creepy month full of good readings🌸
I'm super excited to return, I want to thank again for all your beautiful messages and for understand my decision. I LOVE you guys, this community is wonderful. I have been thinking many new things for the blog and I can't wait to share it with all of you 💕 
---
---
ARC of the Month 📖
This book was much more than I expected, it touches a very sensitive topic such as abortion and how it's handled when you come from a very religious family and especially when you're still an teenager. I went into it without knowing exactly what it was about, and I ended up enjoying it a lot, it is not easy to read but I feel that it transmits a very powerful and important message and also has a very beautiful friendship, which grows among the main characters.
I emphasize that it's a book that poses very realistic situations, which in fact can really happen and I genuinely admire the author who has dared to touch such a delicate subject as she has done.
I don't think that it's well classified in the Mystery genre, but I still think it's a book that will leave you thinking and it will surely serve to take conscience of several situations that happen in the world and maybe you can open an interesting debate with other people about it as well so, I recommend it a lot. Was released on October 2nd, 2018. As always, you know that I'll leave you below my full review in case you want to know more about it
What They Don't Know by Nicole Maggi (4/5 ⭐⭐⭐⭐) REVIEW HERE
---
---
💔 Such an Unique Book 🔎
OMG this book !, I think it's one of the most original and unique books that I've read in my life and this new type of format, I just LOVE IT. This book is told in the form of a podcast and follows the story of Sadie, she's a girl who has had a very difficult life and has had to take care of her younger sister Mattie since she was just a girl, but one day Mattie is found dead and Sadie is willing to do anything for revenge. And meanwhile we also follow West McCary, who after hearing about Sadie's disappearance, he obsesses with this case and begins his own podcast while tracking Sadie's journey in the hope of finding her before it is too late.
There's something really fascinating about this story, and I think it's the fact that it's told in a very smart way, you'll feel hooked from the first moment and the characters felt very real, they're really well done. It's not an easy book to read, it touches on very sensitive topics such as sexual abuse, pedophilia and violence, so you have to take into account that once you decide to read it. And if you do, I can tell you that it's worth it, it's really an INCREDIBLE book, in which I haven't been able to stop thinking since I read it.
Sadie by Courtney Summers (4.5/5 ⭐⭐⭐⭐⭐) REVIEW HERE
---
---
Spooky & Fun Reading 👻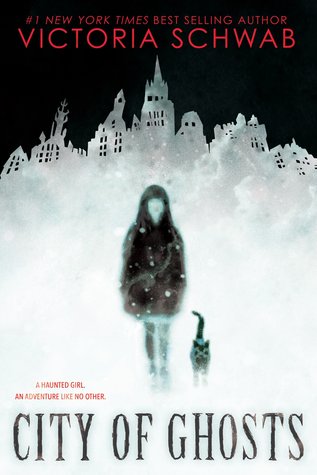 This book was all I needed, a rather spooky reading, of adventures with a touch of humor, it was also super light to read, I really ENJOYED IT A LOT and I can't wait for the second one, because that ending was just great.
The book follows Cassidy Blake she's a girl with a very particular life, not only her parents are one of the most famous paranormal writers but also, she can see ghosts, among them her best friend Jacob. One day some people offer to their parents a great opportunity to film their own TV show and because of this ,they travel to Scotland where Cassidy will be surrounded by more spirits than she imagined, and not all of them are frendly, there she will face with the sinister Red Raven, in a battle that will spread through the world of the living and the dead in order to save her own life.
The writing style is fantastic, which wasn't a surprise since it's not the first time I read something from the author, but even so I can't help but highlight it, it's super atmospheric and beautiful. I love supernatural stories and ghosts so this wasn't the exception, if you want to have a good scary time but at the same time having fun, this is the perfect book for you
City of Ghosts (Cassidy Blake #1) by Victoria Schwab (4/5 ⭐⭐⭐⭐) REVIEW HERE
---
---
What has been your favorite reading of the month?
Feel free to leave your comment below, I always love to know what you think🙂