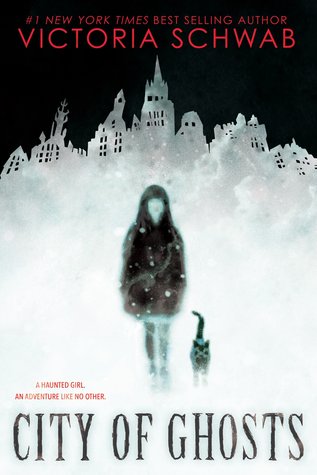 Title: City of Ghosts (Cassidy Blake #1)
By: Victoria Schwab
Pages: 272
Published: August 28th 2018
By: Scholastic
Genre: MG|Contemporary|Paranormal
Buy it: Book Depository
Cassidy Blake's parents are The Inspectres, a (somewhat inept) ghost-hunting team. But Cass herself can REALLY see ghosts. In fact, her best friend, Jacob, just happens to be one.

When The Inspectres head to ultra-haunted Edinburgh, Scotland, for their new TV show, Cass—and Jacob—come along. In Scotland, Cass is surrounded by ghosts, not all of them friendly. Then she meets Lara, a girl who can also see the dead. But Lara tells Cassidy that as an In-betweener, their job is to send ghosts permanently beyond the Veil. Cass isn't sure about her new mission, but she does know the sinister Red Raven haunting the city doesn't belong in her world. Cassidy's powers will draw her into an epic fight that stretches through the worlds of the living and the dead, in order to save herself.
---
---
"Every time I get nervous or scared, I remind myself that every good story needs twists and turns. Every heroine needs an adventure."
I love Victoria Schwab's writing style. I feel it's easy to read but complex when it comes to feeling, as all the feelings that it conveys are incredible. City of Ghost was very fun, I've spend a great time reading it. I think it's a ghostly adventures book that fits perfectly in the MG genre, I'll be happy to continue with the Cassy's story in the next book!
The book follows Cassidy Blake, she's a girl who has a rather unique life since her parents are famous supernatural writers, and her best friend, Jacob, is a ghost. Since she had an accident, a year ago, where she almost lost her life, Cassy is able to see ghosts, and to cross "The Veil" that separates this world from the spiritual world. When her parents have the opportunity to have their own TV show, everyone must travel to Scotland and there not only Cassy will meet another girl capable of doing what she does, but she'll be surrounded by more spirits than she imagined, and not all of them are very friendly. She'll have to face the sinister Red Raven, in a battle that will spread through the worlds of the living and the dead in order to save her own life. 
I think this is a great book, now that I've finished reading it I feel that it has left me with many good feelings, and I'm very happy to have read it. I feel that it's a book that despite being MG, everyone can read and enjoy. I've heard people saying how weak this book was because of its gender, and I want to express my opinion about it. Honestly I think it's a very delicate, subtle and easy to read book, and I feel that this is perfect for the genre, it's obviously a paranormal story so it has dark moments, but everything in its proper measure, so I think that if you enter this book waiting to be scare or hoping to find an intense story, is not what you will find. It's a fun paranormal book suitable for any age and I personally enjoyed that.
"One foot in winter and one in spring.
One foot with the living and one with the dead."
The writing style, as I said, I loved it, I think Victoria Schwab is an amazing writer, and I even say this without having read her best known works, I read The Archived duology by her and I enjoyed it very much. I also think that someone who can write so well in any kind of genre, for different types of ages, is someone really talented. I can't wait to read more books about her, which most are already in my TBR
The characters are very good, I liked Cassy I think she's a very brave and sweet girl, it was very funny to see her interactions with her best friend Jacob, which's a ghost that accompanies her everywhere, reading the book you'll notice of where the connection between them comes from exactly, but it was very beautiful and their friendship goes very naturally despite the obvious differences.
I think Jacob brings the humorous side to the story, but also the mystery, because in the end it's a character that I know will have a main role in the next book and I can't wait to know his true story.
Cassy's parents are great, I like the idea of ​​creating this couple in the best The X-Files style lol, where one of them is the one who believes and the other is the eceptic one and together they investigate the most frightening stories of each place they go to and all this is so fun for me, I love ghost TV shows so this was my cup of tea. Even so, I think they could pay more attention to their daughter, right? , I think the 50% of the book they have no idea where Cassy is, I think they're good people but as parents are quite carefree for my taste.
Findley, I think it's that kind of character that appears with a mission that we know nothing about and then surprises us for some reason so I liked him, although I expected a little more participation in the plot.
And finally we have Lara, at the beginning I wasn't sure, but then when I got more towards the end I liked her more, when you know a little more about her story you get to understand her better.
I just have to mention that I love that the family cat is called Grimm 
Obviously we have an evil character in all this, and that's the Red Raven, who I loved, I think it's a very creepy character that adds action to the story, plus I think it's a perfect combination of several worldwide urban legends. She's a woman who wears a red coat and takes the children away, that kind of story.
"Stories have power," she says. "So long as you belive them."
The book is developed almost entirely in Scotland and OMG I think it's the perfect place for everything to take place, it has beautiful places so old, mysterious and with so much history, I really wanted to be there. I don't know much about the place, to be honest, but it sounds incredible. The book also has many references to Harry Potter and I know you'll enjoy that aspect
The book is really great, I think it's fun and it reads very fast, besides the end leaves an open door for the next book and I can't wait, I feel it will be even better than this one. The author has very original ideas, as she's accustomed to and the combination of urban legends with the paranormal seemed very well done, it felt magic for me.
I recommend it a lot if you want to have a fun and supernatural time, also if you want to get into an atmospheric story but at the same time nothing heavy, this book knows how to handle it very well. I feel that averyone could enjoy it, it's very adorable now that I think about it. I can't wait for the second one to come out !! 
---
---
4/5 ⭐️⭐️⭐️⭐️ 
---
---
 🌸 Feel free to leave your comment below, I always love to know what you think 🌸 
find me at