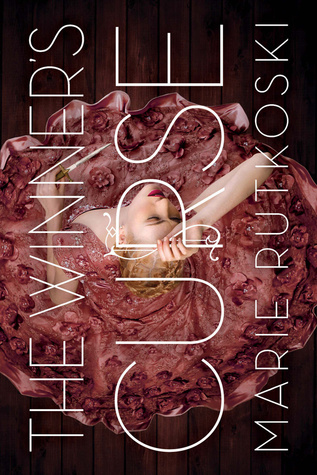 Title: The Winner's Curse (The Winner's Trilogy #1)
By: Marie Rutkoski
Published: March 4th 2014
By: Farrar, Straus and Giroux
Genre: Fantasy-YA-Dystopia-Romance
Buy it: Book Depository
Winning what you want may cost you everything you love…

As a general's daughter in a vast empire that revels in war and enslaves those it conquers, seventeen-year-old Kestrel has two choices: she can join the military or get married. But Kestrel has other intentions.

One day, she is startled to find a kindred spirit in a young slave up for auction. Arin's eyes seem to defy everything and everyone. Following her instinct, Kestrel buys him—with unexpected consequences. It's not long before she has to hide her growing love for Arin.

But he, too, has a secret, and Kestrel quickly learns that the price she paid for a fellow human is much higher than she ever could have imagined.

Set in a richly imagined new world, The Winner's Curse by Marie Rutkoski is a story of deadly games where everything is at stake, and the gamble is whether you will keep your head or lose your heart. 
---
---
I think it's a book that raises a very good idea, from which you can take a lot of stories, but I personally feel that takes a lighter way, focusing more on the romance and the characters feelings than on the political aspect of the world. It's a good book but even so it hasn't moved me, maybe I have to consider the idea of stopping going into books with so many expectations, that always plays against me
The story follows Kestrel, she's the daughter of a high-ranking general and her father has only given her two options, to marry or join the army, but Kestrel seems to have other plans. One day at an auction she meets Arin, a young slave and in an act of impulse decides to buy him, but quickly she must start hiding her growing love for Arin. But he has a secret, and Kestrel will realize that the price she'll pay for having bought him is alot of more than what she thought. 
I want to start this review highlighting that I really like the main idea of the book, I like that there are two races facing each other, the Valorians, who have conquered and the Herranis who in their majority have become slaves. I think all this is a great idea. I think there are many possibilities and different types of stories that you can create from such a different races, they have also experienced such harsh things and all that is very interesting.
I confess that the scene where Kestrel buys Arin seemed to me the most weird thing ever, I don't think it is well built, I know it's supposed to happen, but it was done in a very spontaneous and random way, even so, I enjoyed the book after that, I liked the political environment that was given and it's super interesting to see how the power works and how they're managed among wealthy families all that was fun and kept me wanting to know more. 
Even so, I think that what has prevented me from enjoying the book more was the characters, and that I think it falls very quickly in romance and doesn't focus on anything else.
.To start the characters are quite flat, there is almost no deep development of the secondary characters, they only appear and disappear, depending on what the author wants, and I think she should have paid more attention to that
The main characters are Kestrel and Arin. I think the author wanted to show Kestrel as a strong and determined girl, and she's succeed in some scenes, I like how she gets in front of the difficulties and manages to get out of them thanks to her intelligence, but at the same time I don't think this is something constant in the character, since the same Kestrel that we see as a strong woman, we see her making very absurd decisions and behaving in a rather carefree way and I even dare to say that she was selfish in some occasions, that made me not feel completely connected with this character, all the time I was reading I thought that she could go out with anything, and ruin everything, she's really unpredictable. Then we have Arin, and I think that although his intentions are noble, I mean, I think he has a valid motivation for what he does and even then he's a character with whom I haven't been able to make a connection either and as I said in other reviews it's something very important for me.
The romance between the characters was interesting at first, because I thought it would be slow and I usually enjoy that kind of romance, but suddenly they were deeply in love and I was like "When did this happen?", It just seemed too much for me. 
When the plot focuses so much on the subject of romance falls into being repetitive and with a world as good as this is unnecessary for me to incorporate so much romance and so many feelings.
I really want to make it clear that it is not a bad book, it's a solid idea but for me there were many small things that made me feel that it wasn't what I was looking for at that moment, I would have liked a stronger and more developed world construction since it was what I liked most about the book. Even so, I recommend it if you haven't read too much fantasy or dystopia and if you're looking for a book with romance as the main theme I feel that you'll enjoy the book alot
I'm not sure if I'll continue with the following books, the end was really good, but although I'm curious about what happened I'm not completely sure I want to continue reading about these characters so maybe in the future I'll think again 
---
---
Rating
3/5 Stars
---
---
Feel free to leave your comment below, I always love to know what you think

🙂
find me at