Title: Tahira in Bloom
By: Farah Heron
Series: NO
Pages: 336
By: Skyscape
Published: November 1st, 2021
Genre: Young Adult – Romance – Contemporary
Buy it: Book Depository | Amazon
Life is full of surprises in a winning novel about a girl dreaming big during one unexpected small-town summer.
When seventeen-year-old aspiring designer Tahira Janmohammad's coveted fashion internship falls through, her parents have a Plan B. Tahira will work in her aunt's boutique in the small town of Bakewell, the flower capital of Ontario. It's only for the summer, and she'll get the experience she needs for her college application. Plus her best friend is coming along. It won't be that bad.
But she just can't deal with Rowan Johnston, the rude, totally obsessive garden-nerd next door with frayed cutoffs and terrible shoes. Not to mention his sharp jawline, smoldering eyes, and soft lips. So irritating. Rowan is also just the plant-boy Tahira needs to help win the Bakewell flower-arranging contest―an event that carries clout in New York City, of all places. And with designers, of all people. Connections that she needs!
No one is more surprised than Tahira to learn that floral design is almost as great as fashion design. And Rowan? Turns out he's more than ironic shirts and soil under the fingernails. Tahira's about to find out what she's really made of―and made for. Because here in the middle of nowhere, Tahira is just beginning to bloom.
| Goodreads |
thank you SO much to NetGalley & Skyscape for providing me with a copy of the book in exchange for an honest review.
This was a lovely book full of moments to smile, but also to reflect on, I'm so glad I got to read this book unexpectedly this month. It was also refreshing to meet characters with interesting personalities and strong opinions, but also characters that have a lot of growth by the end, which I found realistic and well done. Plus, many beautiful scenes and a twist of its own that makes it very unique despite being a plotline we've read before. A great book with a cover worthy of having on our shelves!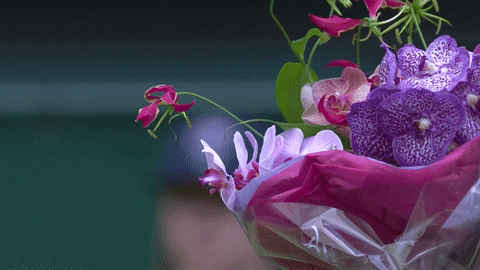 In this story, we follow Tahira, a girl who dreams of becoming a fashion designer and after her internship falls through, she decides to go for the summer to work at her aunt's boutique in Bakewell, Ontario's capital, to get the experience she needs for her college application. Once there she meets Rowan the rugged gardener of next door and although she wants nothing to do with him she finds herself needing the "plant-boy" skills to win Bakewell's flower arranging contest, a contest that promises to take the winner to New York City and as Rowan could also benefit himself from the prize he agrees to help her. No one is more surprised than Tahira herself to discover that flower design is as amazing as fashion design and Rowan could be so much more than the arrogant boy next door. For of all places, it's in this part of the world that Tahira begins to blossom.
This book was a breath of fresh air, I loved having the chance to read it even though it wasn't in my plans since I was approved last minute with an ARC. What I appreciate most about the book is that it has little details that make it stand out from other contemporary romance books, such as the fact that Tahira's parents are super supportive of her and I also like the honesty with which this book speaks without fear of being "too much", I feel that the dialogues themselves bring a lot of realism, but also a lot of awareness with the topics that are touched upon such as racism, the pressure of social media and the damaging side of it, and the prejudices within the fashion world. I think in this book those little details are what make a great story.
The writing style is great, I actually liked it a lot. The beginning of the book is a little flat, I think it needs some work, but then it picks up very quickly giving us a lot of great moments, a lot of information, and a clearer picture of the situations that makes you want to know what will happen to the characters, but always enjoying the journey, you know? I didn't feel in this book that I wanted to finish it because honestly, I was having an amazing time reading it. It has a very relaxed vibe, portraying the lives of these guys in a very realistic way, but also breaking some beliefs along the way, and that, coupled with the diversity that this book gives us is a winning combination. By the end, I was totally on board with the story, loving the characters and nodding emotionally, so… mission accomplished!
As I was saying before, this book has a great focus on diversity with South Asian characters, very positive Muslim representation, and black characters, among others. We can say that we have been blessed to see diversity grow in books a lot over time, and in this book, you can really see the author's commitment to writing about it, and that made me very excited. We also have mentions of bisexual & pansexual characters, and also blind characters. So, basically, we can say that not only it's a diverse book with a lot of representation, but it's also rich at this point, because of the depth in touching on certain themes.
The romances with the enemies-to-lovers trope can be a hit or miss for me these days, it must be because I've read it a lot in the past or something, but I feel picky about it. This book luckily ended up being amazing in romance, but at first, it took me a little bit to get into it, even so, I can tell you that you have nothing to worry about because if this romance managed to win me over by the end, I know you'll love it. We also have some friendship portraits and some interesting discussions in these aspects as well.
Another point that stands out a lot is the discussion the characters have about the future, and which path is the right one to follow. They ask themselves questions such as whether it is okay to change your mind once you have everything "planned" and whether it is worth giving up because of unexpected external factors. The topic of discussing the future, and how it's touched upon is charming and I think it's one of those contemporary romances that goes a bit beyond that, by talking about issues that concern young people.
A really lovely book, with the use of flowers that I had never seen before, in a way that makes an interesting and engaging plot become a very pleasant aesthetic to read, which gives way to photographic situations.
Other than that, as a contemporary it's very solid, discuss important things that are very current, and also give us a wide range of representation and diversity. The romance is lovely, and even as someone who's quite picky about romance, I was very pleased with it, and of course, the characters are wonderful, characters with very unique and distinct personalities, strong opinions with a lot of conviction, but most of all… and best of all, in my opinion, they're characters that learn from their mistakes and grow a lot.
A story about understanding that life doesn't always go as planned and that's okay, about accepting that there are many ways to reach the same goal, that you have to appreciate the little things, and that the very romantic romance hasn't gone out of fashion yet lol, which I love. I hope you decide to read it, it's worth it and if you're not convinced, just take a look at the cover!
 📖 I've been recently included in the most recent article Twinkl's top picks for book bloggers by the international educational publisher, Twinkl!
‼️ Visit & Support The Definitive Book Blogger List 📢 
You can support me & to my content by buying me a Ko-fi or Buy me a Coffe
 🌸 Have you heard about this book? Would you like to read it? Have you read this author's work before? & What do you think about it? 🌸