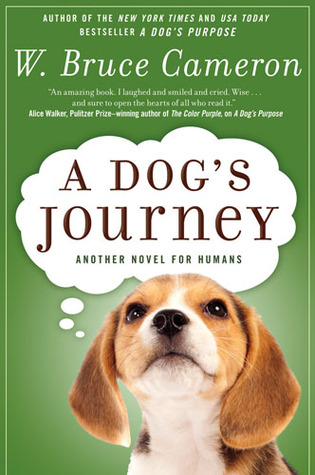 Title: A Dog's Journey (A Dog's Purpose #2)
By: W. Bruce Cameron
Published: May 8th 2012
By: Forge Books
Genre: Animal Ficcion- Contemporary- Dark- Family
The direct sequel to the New York Times and USA Today bestselling A Dog's Purpose.

Buddy is a good dog.

After searching for his purpose through several eventful lives, Buddy is sure that he has found and fulfilled it. Yet as he watches curious baby Clarity get into dangerous mischief, he is certain that this little girl is very much in need of a dog of her own.

When Buddy is reborn, he realizes that he has a new destiny. He's overjoyed when he is adopted by Clarity, now a vibrant but troubled teenager. When they are suddenly separated, Buddy despairs―who will take care of his girl?

A charming and heartwarming story of hope, love, and unending devotion, A Dog's Journey asks the question: Do we really take care of our pets, or do they take care of us? More than just another endearing dog tale, A Dog's Journey is the moving story of unwavering loyalty and a love that crosses all barriers. 
Title: La Razon de estar Contigo: Un Nuevo Viaje
By:  W. Bruce Cameron
Published: July 2017
By: Roca Bolsillo
Genre: Ficcion Animal-Contemporaneo-Familia-Arc
Buddy es un buen perro. Tras la búsqueda de sus propósitos de vida por medio de distintas reencarnaciones, está seguro de haber encontrado una nueva vida que lo completa. Mientras observa con curiosidad a la pequeña Clarity -un bebé que siempre está haciendo peligrosas travesuras-, está convencido de que es la niña ideal para esta nueva etapa.

Cuando Buddy reencarna una vez más, descubre que tiene un nuevo destino. Es feliz porque vuelve a ser adoptado por Clarity, ahora una enérgica y problemática adolescente. De pronto los separan, y Buddy se pregunta quién se encargará de cuidarla.