Title: Final Girls
By: Riley Sager
Series: NO
Pages: 352
By: Dutton
Genre: Adult – Mystery/Thriller
Published: July 11th, 2017
Buy it: Book Depository | Amazon
---
Ten years ago, college student Quincy Carpenter went on vacation with five friends and came back alone, the only survivor of a horror movie–scale massacre. In an instant, she became a member of a club no one wants to belong to—a group of similar survivors known in the press as the Final Girls. Lisa, who lost nine sorority sisters to a college dropout's knife; Sam, who went up against the Sack Man during her shift at the Nightlight Inn; and now Quincy, who ran bleeding through the woods to escape Pine Cottage and the man she refers to only as Him. The three girls are all attempting to put their nightmares behind them, and, with that, one another. Despite the media's attempts, they never meet.

Now, Quincy is doing well—maybe even great, thanks to her Xanax prescription. She has a caring almost-fiancé, Jeff; a popular baking blog; a beautiful apartment; and a therapeutic presence in Coop, the police officer who saved her life all those years ago. Her memory won't even allow her to recall the events of that night; the past is in the past.

That is, until Lisa, the first Final Girl, is found dead in her bathtub, wrists slit, and Sam, the second, appears on Quincy's doorstep. Blowing through Quincy's life like a whirlwind, Sam seems intent on making Quincy relive the past, with increasingly dire consequences, all of which makes Quincy question why Sam is really seeking her out. And when new details about Lisa's death come to light, Quincy's life becomes a race against time as she tries to unravel Sam's truths from her lies, evade the police and hungry reporters, and, most crucially, remember what really happened at Pine Cottage, before what was started ten years ago is finished.
| Goodreads |
---

"Because here's the thing about details—they can also be a distraction. Add too many and it obscures the brutal truth about a situation. They become the gaudy necklace that hides the tracheotomy scar."
I really enjoyed this book which was actually my first by the author! I think it has a gripping plot that keeps you wanting to know what's really going on until the very end, and I didn't see any of those revelations coming, which is great! The characters weren't really to my liking but that didn't make me lose interest, the idea itself is intriguing enough to want to keep reading. I'm glad my first book by the author was a good experience, I'm excited to try more in the future.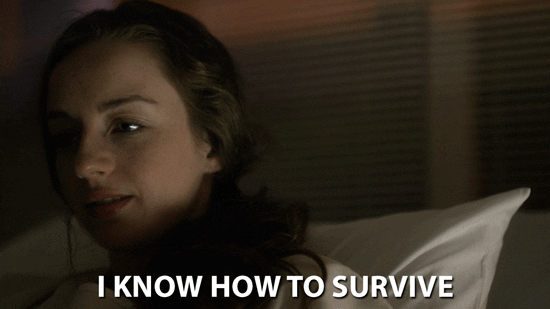 In this book told in the third person, we follow Quincy Carpenter, one of the Final Girls, or as the press has decided to call the girls who have been the sole survivors of terrible massacres. In the present day and a decade after the Pine Cottage massacre, Quincy is still unable to remember everything that happened that night but is finely trying to get along with it all, trying to rebuild her life, with a loving fiancé and a baking project she's very excited about. But everything changes when Lisa, the first Final Girl, is found dead in the bathtub of her home in what appears to be a suicide, and just at the same moment, Sam, the second survivor, shows up on her doorstep. When new details about Lisa's death come to light, Quincy's life becomes a race against time as she tries to unravel Sam's truths from her lies, evades the police and hungry reporters, and, most crucially, remember what really happened at Pine Cottage, before what was started ten years ago is finished.
This book has a solid plot with a very original idea where we follow the only survivors of massacres that have marked society and whose stories have echoed in the press. I think that following all these aspects was very interesting for me, not to mention that it gives rise to many discussions and character development. On the other hand, I think the book is constructed in a way that feels a bit slow to read at times, and although I don't want to leave it unmentioned this wasn't really an impediment to my enjoyment. Personally, I think the author knew how to carry the stories to create more tension for better development of the ending, which I think is very well done. I enjoyed the reading experience with this book, and even though it took me a while to get used to the author's style at the beginning, after a couple of chapters I was totally hooked.
I think the atmosphere is very well created, I like that it's mostly set in the city as it gives it a colder tone at times in my opinion, but above all, I love the chapters that are gradually unfolding where we return to the past and know what really happened that night in Pine Cottage, and as Quincy has no total memory of what happened we remember at the same time she does, and that's a very good detail, I loved it!
The characters themselves I didn't like very much, I don't mean that they're not well created, they are solid characters, but I mean none of them are really good people, I wasn't on anyone's side in particular. Of course, we know we don't always have to love the characters, but I do think it's something worth mentioning in case some of you feel you have to bond with the characters to enjoy the plot, I honestly don't think that's something that can happen in this book. Everyone including Quincy has dark pasts, secrets, lies all the time, is selfish, and has pretty despicable attitudes in general where they never think about each other. So, overall, the characters are well created, but not at all easy to like. Still, I want to point out that they all have good growth towards the end.
The relationships between the characters are even more complicated than the individual characters, there's a lot going on at the same time, a lot of information, and tense moments especially from the middle of the story when things start to take a real shape. Maybe I'd have liked to explore a little more certain plotlines and secondary characters' stories, but I'm not complaining about what I got in the end, since the author wanted to focus on the original plot as such, and I respect that, in general, I don't like it when you want to touch hundreds of topics in such a short period of time.
I think what stands out about this mystery/thriller book the most, is the ability to keep the reader guessing and throwing out theories of what's possibly going on and who's really behind it all. I personally tried to figure it out a couple of times but couldn't see the outcome coming, which is great! I love when this genre has the ability to keep you on the edge of your seat and at the end gives you a nice surprise, with a plot twist even more twisted than I imagined.
You know it's a bit difficult to talk in-depth about a book of this genre. as I don't want to reveal too much, but I enjoyed the experience reading it, I understand the opinions that say that at the beginning it's a bit dense, it can be, but still, I wouldn't hesitate to recommend it. I think the idea is very entertaining and keeps you digging all the time, the characters are controversial which you can like, and above all the revelations and the amount of info that this book gives keeps you wanting to know more and more. A book with a worthwhile plot and a rather unexpected ending. I definitely want to read more from the author in the future.
---
4/5
---
  📖 I've been recently included in the most recent article Twinkl's top picks for book bloggers by the international educational publisher, Twinkl!
You can support me & to my content by buying me a Ko-fi or Buy me a Coffe
 🌪 Have you heard about this book? | Would you like to read it? | Have you read this author's work before? | What do you think about it? 🌪