🔥 Hi, mis amores!! I hope you're having a wonderful day full of good readings & beautiful moments.❤️ Super excited to have the chance to share with you again this post series, where every month I'll be bringing you the newest book releases of 2021, obviously focusing on those that sound more interesting and more appealing to me. 🌟 As I always say "Good news for the heart but bad for the pocket" right? that expression never gets old 😅 So if you're not afraid to let your TBR grow… even more, & you're dying to know what books are about to come out, this is the series for you. 👏🏻 In these posts, I always include those book releases that, as I said before, resonate the most with me or sound like something that I'll love, so I'll only highlight those that I plan to read at some point.
I hope you enjoy this post a lot & above all, that you can find new books to enjoy. 😍 Thank you for choosing to share this moment with me, make yourself comfortable, grab your favorite drink & LET'S GET STARTED! 🔥 
‼️ Small Clarification: The dates of some of these books may change due to Covid-19 and everything that's happening in the world right now, so if that's the case, don't hesitate to let me know!
November 1st, 2021 🔥
---
Life is full of surprises in a winning novel about a girl dreaming big during one unexpected small-town summer.

When seventeen-year-old aspiring designer Tahira Janmohammad's coveted fashion internship falls through, her parents have a Plan B. Tahira will work in her aunt's boutique in the small town of Bakewell, the flower capital of Ontario. It's only for the summer, and she'll get the experience she needs for her college application. Plus her best friend is coming along. It won't be that bad.

But she just can't deal with Rowan Johnston, the rude, totally obsessive garden-nerd next door with frayed cutoffs and terrible shoes. Not to mention his sharp jawline, smoldering eyes, and soft lips. So irritating. Rowan is also just the plant-boy Tahira needs to help win the Bakewell flower-arranging contest―an event that carries clout in New York City, of all places. And with designers, of all people. Connections that she needs!

No one is more surprised than Tahira to learn that floral design is almost as great as fashion design. And Rowan? Turns out he's more than ironic shirts and soil under the fingernails. Tahira's about to find out what she's really made of―and made for. Because here in the middle of nowhere, Tahira is just beginning to bloom.
| Goodreads |
Skyscape
---
November 2nd, 2021 🔥
---
I know seven secrets:
One caused the fall. One did nothing. One saw it all.
One didn't care. One used their head. One played the hero.
One was left for dead.

On her eighteenth birthday, Cleo receives a mysterious invitation to a scavenger hunt. She's sure her best friend Hope or her brother Connor is behind it, but no one confesses. And as Cleo and Hope embark on the hunt, the seemingly random locations and clues begin to feel familiar.

In fact, all of the clues seem to be about Cleo's dead boyfriend, Cyrus, who drowned on a group rafting trip exactly a year ago. A bracelet she bought him. A song he loved. A photo of the rafting group, taken just before Cyrus drowned. And then the phone calls start, Cyrus's voice taunting Cleo with a cryptic question: You ready?

As the clock on the scavenger hunt ticks down, it becomes clear that someone knows what really happened to Cyrus. And that person will stop at nothing to make sure Cleo and her friends pay. Can they solve the hunt before someone else winds up dead? 
| Goodreads |
Sourcebooks Fire
---
---
An unforgettable fantasy debut inspired by West African mythology, this is Children of Blood and Bone meets The Little Mermaid, in which a mermaid takes on the gods themselves.

A way to survive.
A way to serve.
A way to save.

Simi prayed to the gods, once. Now she serves them as Mami Wata–a mermaid–collecting the souls of those who die at sea and blessing their journeys back home.

But when a living boy is thrown overboard, Simi does the unthinkable–she saves his life, going against an ancient decree. And punishment awaits those who dare to defy it.

To protect the other Mami Wata, Simi must journey to the Supreme Creator to make amends. But all is not as it seems. There's the boy she rescued, who knows more than he should. And something is shadowing Simi, something that would rather see her fail. . . .

Danger lurks at every turn, and as Simi draws closer, she must brave vengeful gods, treacherous lands, and legendary creatures. Because if she doesn't, then she risks not only the fate of all Mami Wata, but also the world as she knows it.  
| Goodreads |
Random House Books for Young
---
November 9th, 2021 🔥
---
Seventeen-year-old Julie has her future all planned out—move out of her small town with her boyfriend Sam, attend college in the city, spend a summer in Japan. But then Sam dies. And everything changes.

Heartbroken, Julie skips his funeral, throws out his things, and tries everything to forget him and the tragic way he died. But a message Sam left behind in her yearbook forces back memories. Desperate to hear his voice one more time, Julie calls Sam's cellphone just to listen to his voicemail.

And Sam picks up the phone.

In a miraculous turn of events, Julie's been given a second chance at goodbye. The connection is temporary. But hearing Sam's voice makes her fall for him all over again, and with each call it becomes harder to let him go. However, keeping her otherworldly calls with Sam a secret isn't easy, especially when Julie witnesses the suffering Sam's family is going through. Unable to stand by the sidelines and watch their shared loved ones in pain, Julie is torn between spilling the truth about her calls with Sam and risking their connection and losing him forever.   
| Goodreads |
Wednesday Books
---
---
The past never forgets . . .

Before an ambush by enemy soldiers, Lord Cassia was an engineer's apprentice on a mission entrusted by the king. But when plague sweeps over the land, leaving countless dead and devastating the kingdom, even Cas' title cannot save him from a rotting prison cell and a merciless sickness.

Three years later, Cas wants only to return to his home in the mountains and forget past horrors. But home is not what he remembers. His castle has become a refuge for the royal court. And they have brought their enemies with them.

When an assassin targets those closest to the queen, Cas is drawn into a search for a killer…one that leads him to form an unexpected bond with a brilliant young historian named Lena. Cas and Lena soon realize that who is behind the attacks is far less important than why. They must look to the past, following the trail of a terrible secret—one that could threaten the kingdom's newfound peace and plunge it back into war.   
| Goodreads |
Clarion Books
---
---
The Blood Moon rises. The Blood Veil falls. The Tournament begins.

Every generation, at the coming of the Blood Moon, seven families in the remote city of Ilvernath each name a champion to compete in a tournament to the death.

The prize? Exclusive control over a secret wellspring of high magick, the most powerful resource in the world–one thought long depleted.

This year, thanks to a salacious tell-all book, the seven champions are thrust into worldwide spotlight, granting each of them new information, new means to win, and most importantly: a choice – accept their fate or rewrite their story.

But this is a story that must be penned in blood. 
| Goodreads |
Tor Teen
---
---
One dark December night, in a small seaside town, a little girl is found abandoned. When her mother finally arrives, authorities release the pair, believing it to be an innocent case of a toddler running off.

Gregor, a seemingly single man, is found bludgeoned and left for dead in his apartment, but the discovery of children's toys raises more questions than answers.

Every night, Ruby gazes into Gregor's apartment, leading to the discovery of his secret family: his unusually silent daughter and his mentally unstable wife, Constance, who insists that she is descended from the mythological Selkies. She begs Ruby to aid in finding the sealskin that Gregor has hidden from her, making it impossible to return to her people.

DS Joanna Harper's investigation into Gregor's assault leads her to CCTV footage of the mother-daughter pair from town. Harper realizes she knows the woman almost as well as she knows herself: it's her estranged daughter, Ruby. No matter the depth of Ruby's involvement, she knows she will choose her daughter over her career. 
| Goodreads |
Crooked Lane Books
---
November 16th, 2021 🔥
---
The Cruel Prince meets A Curse So Dark and Lonely in this epic reimagining of "The Sleeping Beauty" that follows a teen girl on a quest to wake a sleeping princess in an enchanted forest, while searching for the truth behind her own deadly curse.

Lena has a secret: the touch of her skin can kill. Cursed by a witch before she was born, Lena has always lived in fear and isolation. But after a devastating mistake, she and her father are forced to flee to a village near the Silence, a mysterious forest with a reputation for luring people into the trees, never to be seen again…​

Until the night an enigmatic girl stumbles out of the Silence and into Lena's sheltered world. Miranda comes from the Gather, a city in the forest brimming with magic. She is on a quest to wake a sleeping princess believed to hold the key to liberating the Gather from its tyrannical ruler—and she offers Lena a bargain. If Lena assists her on her journey, Miranda will help her break the curse.

Mesmerized by Miranda and her promise of a new life, Lena jumps at the chance. But the deeper into the Silence she goes, the more she suspects she's been lied to—about her family's history, her curse, and her future. As the shadows close in, Lena must choose who to trust and decide whether it's more important to have freedom…or power. 
| Goodreads |
Simon Schuster Books for Young
---
November 23rd, 2021 🔥
---
From the #1 New York Times bestselling author of the Reckoners series, the Mistborn trilogy, and the Stormlight Archive comes the third book in an epic series about a girl who will travel beyond the stars to save the world she loves from destruction.

Spensa's life as a Defiant Defense Force pilot has been far from ordinary. She proved herself one of the best starfighters in the human enclave of Detritus and she saved her people from extermination at the hands of the Krell—the enigmatic alien species that has been holding them captive for decades. What's more, she traveled light-years from home as an undercover spy to infiltrate the Superiority, where she learned of the galaxy beyond her small, desolate planet home.

Now, the Superiority—the governing galactic alliance bent on dominating all human life—has started a galaxy-wide war. And Spensa's seen the weapons they plan to use to end it: the Delvers. Ancient, mysterious alien forces that can wipe out entire planetary systems in an instant. Spensa knows that no matter how many pilots the DDF has, there is no defeating this predator.

Except that Spensa is Cytonic. She faced down a Delver and saw something eerily familiar about it. And maybe, if she's able to figure out what she is, she could be more than just another pilot in this unfolding war. She could save the galaxy.

The only way she can discover what she really is, though, is to leave behind all she knows and enter the Nowhere. A place from which few ever return.

To have courage means facing fear. And this mission is terrifying. 
| Goodreads |
Delacorte
---
November 30th, 2021 🔥
---
From the author of One of Us Is Lying comes a brand-new pulse-pounding thriller. It's Ferris Bueller's Day Off with murder when three old friends relive an epic ditch day, and it goes horribly–and fatally–wrong.
Ivy, Mateo, and Cal used to be close. Now all they have in common is Carlton High and the beginning of a very bad day.
Type A Ivy lost a student council election to the class clown, and now she has to face the school, humiliated. Heartthrob Mateo is burned out–he's been working two jobs since his family's business failed. And outsider Cal just got stood up . . . again.
So when Cal pulls into campus late for class and runs into Ivy and Mateo, it seems like the perfect opportunity to turn a bad day around. They'll ditch and go into the city. Just the three of them, like old times. Except they've barely left the parking lot before they run out of things to say . . .
. . . until they spot another Carlton High student skipping school–and follow him to the scene of his own murder. In one chance move, their day turns from dull to deadly. And it's about to get worse.
It turns out Ivy, Mateo, and Cal still have some things in common. They all have a connection to the dead kid. And they're all hiding something.
Now they're all wondering–could it be that their chance reconnection wasn't by chance after all?
| Goodreads |
Delacorte Press
---
  ‼️ Visit & Support The Definitive Book Blogger List 📢  
Credit for the source of the original image HERE
 🔥 Now is the time to Chat! Are you excited about some of these New Releases? & What's your November's most anticipated book? Let me know everything in the comments, you know I LOVE to know what you think 🔥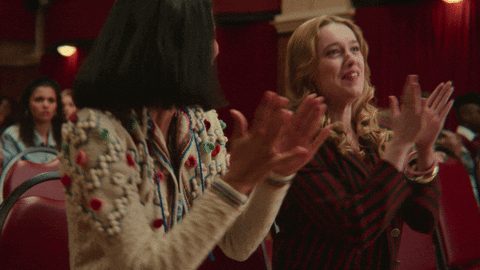 You can support me & to my content by buying me a Ko-fi or Buy me a Coffe