🦇 Hi, beautiful bookish friends! I hope you're having a wonderful day, full of the best readings! ❤️ Today I'm bringing you a new double review in this horror month, where I'm reading spooky books and bringing you, of course, all my honest and respectful opinions about them. 😊 
This time I'm bringing you two very different reviews one from the other, as one of these books I really liked while the other was a disappointing surprise. 🥺 So I'm sure it will be quite polemic, as one of these books is also very much loved, so I'm so sorry I can't share that emotion.
I'll be reviewing, on the one hand, The Dead House by Dawn Kurtagich: a dark story full of incognitos where we'll explore a mysterious unsolved case that happened 25 years ago, involving twin sisters sharing the same body… all this told in a very original format 👻 & on the other hand, we have The Only Good Indians by Stephen Graham Jones: A book with a very particular twist where we follow a group of Native American men who must face their past when they're hunted by a vengeful spirit hunger of revenge.🦌 
I hope you enjoy today's post, and of course, I invite you to leave me all your thoughts, I love to chat with you, so without further ado, LET'S GET STARTED! 🦇 
---
Title: The Dead House
By: Dawn Kurtagich
Series: The Dead House #1
Pages: 440
Published: August 6th, 2015
By: Orion Children's Books
Genre: Young Adult – Horror – Paranormal
Buy it: Book Depository | Amazon
---
Twenty-five years ago, Elmbridge High burned down. Three people were killed and one pupil, Carly Johnson, disappeared. Now a diary has been found in the ruins of the school. The diary belongs to Kaitlyn Johnson, Carly's identical twin sister. But Carly didn't have a twin . . .

Re-opened police records, psychiatric reports, transcripts of video footage and fragments of diary reveal a web of deceit and intrigue, violence and murder, raising a whole lot more questions than it answers.

Who was Kaitlyn and why did she only appear at night? Did she really exist or was she a figment of a disturbed mind? What were the illicit rituals taking place at the school? And just what did happen at Elmbridge in the events leading up to 'the Johnson Incident'?
| Goodreads |
---

"They think I don't exist . . . they think I'm like a disease. I'm infecting Carly."
This book was a great read for horror season, I had a great time reading it, it's a pretty unique book because of the way it's told, but I also think it has a touch of realism despite the paranormal touches given by the characters who despite being unlovable show great intensity and impact throughout the story. It's obviously a pretty disturbing read, that leaves it open to interpretation for the reader, so that's another super interesting point of the book for me. I think, all in all, it's a great job! It also explores a lot about the human mind and multiple personality disorders, which I found extremely interesting to read.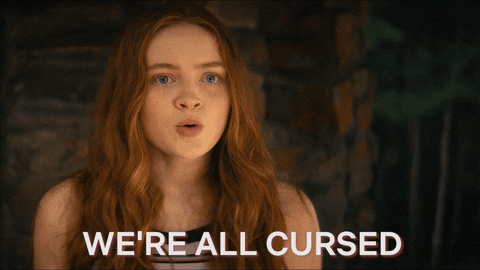 In this book, we follow a tragedy that occurred at Elmbridge High when this burns, and three people are found dead while one pupil, and our main character, Carly Johnson, is missing. Now, 25 years later, a diary is found, the diary of Kaitlyn Johnson, Carly's identical twin sister. But Carly didn't have a twin. . . . And in the book, we'll see how this unsolved case is reopened and we explore the past and the present through interviews, videos, and writings that involve both the police and the protagonists.
I think this book has a very unique essence to it because even though the story itself looks very much like a paranormal horror movie that we could easily come across, the way it's written makes it more than unique. The plot itself is super intriguing, don't get me wrong, and the whole time you want to know what really happened to Carly and her friends 25 years ago. But, without a doubt, I confess that I love the format of interviews, recordings, and diaries in which it's told, besides that we also have more than disturbing images that accompany very well when it comes to creating the atmosphere. Another factor that I really enjoyed about the book is that it's quite unpredictable, it has no easy to guess twists and turns, and surprises you along the way, in fact, the ending itself, even though you know it will be really tragic, isn't easy to decipher and that makes it a much more interesting and addictive read.
Although I enjoyed it a lot as you may have noticed, I think at times it can be a bit too crazy, as the book plays a lot with reality, and explores mental health (which is great!), but at other times, we see it focusing a lot on other more magical or paranormal possibilities involving sorcery, witchery, dark beliefs, and demons. So it can certainly be a LOT of information at times. Personally, I enjoyed more the mental side of Carly's character as well as others, and since everything that happened stems from a serious mental illness, I think there's certainly a lot of potential in that line of thought, and I choose to believe in it a little more than the paranormal, but I appreciate that the author decided to create her plot in a way that's so open to interpretation because I think that way, all readers will have a particular and unique experience of the book.
I didn't particularly like any of the characters, to be honest, they're all quite unlovable and also their actions are quite questionable, they also have a constant vibe when you feel like you can't trust them 100%, you know? There's something very dark about each of them that doesn't feel right while reading it, plus, this is a book that makes you question everything while reading it, so you don't know who you can trust or who will end up betraying who. This is obviously a good thing, as it gives the book a lot of mystery, but it makes it so that you can't really feel close to any of the characters. In my opinion, I don't feel that the characters individually are strong for themselves, but they're strong when they're together, and exploring their relationships and their stories as they intertwine and compromise with each other is fascinating and the outcome is WOW! Very shocking!
The atmosphere is great, another one of my favorite things about it, I love how part of the book takes place in this super dark academy-style school, it's just perfect for everything that happens in the plot. Everything has a dark and heavy atmosphere all the time. Another part of the plot takes place in a psychiatric hospital which speaks for itself. On the other hand, although I clearly enjoyed the book, and it did work for me, I feel it's a bit long at times and some scenes are repetitive, I think it's a story with many interesting points to explore, but at times I felt it could have been told in fewer pages, still, the format is very light to read and makes the story equally enjoyable, honestly, I didn't get bored at any point, but it was something I wanted to mention.
The format isn't the only thing I liked about the book, but it also has little details like indecipherable texts or warnings quotes from the girl who wrote it and makes you get more inside her mind and know what she's going through, and you can certainly feel how little by little her condition is getting worse.
I don't think the ending is for everyone, personally, I liked it a lot, I think it's ideal for a book like this that pretends to be an investigative documentary type of thing since it was never known what happened to this girl, it gives it a realistic touch that has an open and free to interpretation ending. I love how we know a little bit of information about this case twenty-five years after it happened, I love how we know a little bit of what happened to some of the characters after all that, I love the mystery surrounding Kaitlyn as a character, and I love how this is a case that has become a huge urban legend for everyone who still lives near that place. I think these are all great details that bring the story to life and it was super enjoyable to read. I would love to see this book made into a movie!!!! And I'm excited about the possibility of having a sequel, I wouldn't hesitate to read it.
To finish my review, this is a dark book with twists that you'll not see coming at all, a touch gore quite marked, along with a style of dark academy something gothic also stands out, I think that's very well created. I also really liked the format, I'll not tire of saying it, I think it's one of the strengths of the book and of course, gives it a lot of realism, despite having very strong paranormal elements. I would recommend this story if you want to read something creepy for this Halloween, it's a story that explores a lot of the human mind, beliefs, and how twisted someone can be, as well, but it's also a book that plays with the reader leaving everything a little doubtful and a little open for us to choose what to believe. Great work from the author, I look forward to reading more from her in the future.
---
4/5
---
Title: The Only Good Indians
By: Stephen Graham Jones
Series: NO
Pages: 310
Published: July 14th, 2020
By: Gallery / Saga Press
Genre: Adult – Horror – Paranormal – Thriller
Buy it: Book Depository | Amazon
---
The creeping horror of Paul Tremblay meets Tommy Orange's There There in a dark novel of revenge, cultural identity, and the cost of breaking from tradition in this latest novel from the Jordan Peele of horror literature, Stephen Graham Jones.

Seamlessly blending classic horror and a dramatic narrative with sharp social commentary, The Only Good Indians follows four American Indian men after a disturbing event from their youth puts them in a desperate struggle for their lives. Tracked by an entity bent on revenge, these childhood friends are helpless as the culture and traditions they left behind catch up to them in a violent, vengeful way.
| Goodreads |
---
"This is all you really need, isn't it? Just one good friend. Somebody you can be stupid with. Somebody who'll peel you up off the ground, prop you against the wall."
I feel SO BAD that I didn't enjoy this book as much as I'd hoped, it's definitely one of those cases where I have an extremely unpopular opinion, I guess I just couldn't connect with the story, it was too difficult to understand at times, the author's style is very particular and it didn't work for me, I struggled a lot moving forward in the story and the plot, in particular, I didn't really like, I don't think I resonated 100% with what was going on.
In this book, we follow four Native American men who due to an event in their childhoods are now hunted by an entity hungry for revenge. Now, these men must fight as best they can to stay alive before their culture catches up with them in the most violent ways.
To begin with, the plot itself wasn't for me, I honestly continued reading the book because I thought it would get better, but the only part I can really highlight is the ending and I loved the cultural commentary on Native Americans in America, I think that's a very valid discussion to have that really touched me, I think that's the most positive thing I found in the book. Other than that, I can see why the plot seems to be so unique to many readers, but it just didn't hook me, I honestly didn't like it.
This will obviously be a negative review, so I'll keep it short, my intention is never to badmouth a book, but to give you my point of view on it honestly. So, starting from that, another thing that didn't resonate with me was the characters, none of them I liked, I think they have questionable behavior at times, rude and macho, on the other hand, I feel the personalities are very flat making it almost impossible for me to differentiate the voices of each of them, to me they all sounded, acted and were basically the same person. I was also completely confused by the way the author chose to tell the plot, I had to re-read it many times in some parts, and since English isn't my mother language it was a double challenge.
I can't tell you how disappointing it was for me to read a book that didn't make me feel anything, I want to leave aside the discussion about Native Americans because as I said that's super outstanding, but beyond that, I didn't care about anything that happened, luckily I can say that has a good ending, quite meaningful. But while I was reading it I was expecting something to happen that would leave me breathless or shocked, but everything is pretty flat and even though this is a horror book, it didn't give me that feeling I like to find in my horror books, you know? It was just a more lyrical style in my opinion, and I must say, a bit pretentious.
I have this feeling that maybe this book was trying to be lyrically complicated or trying to do something that obviously got to a lot of people and maybe I just couldn't understand it enough to enjoy it. It's a very particular book, guys, I feel like you either love it completely, or you just don't want anything to do with it, you know… I also came across a lot of violence against animals in this book, something I'm not comfortable with, maybe I should have suspected it, but it didn't feel right reading it, it was too much without a clear meaning.
I just didn't like this book, that doesn't mean you can't enjoy it, in fact, I hope you do, there are glowing reviews out there that will make you want to pick it up, I can't recommend it, it was very difficult to read, the personalities of the characters are so annoying and almost non-existent, the plot didn't capture my attention, and I came across some themes and scenes that made me feel uncomfortable, so maybe this author isn't for me and that's ok.
---
2/5
---
  ‼️ Visit & Support The Definitive Book Blogger List 📢 
You can support me & to my content by buying me a Ko-fi or Buy me a Coffe
 🦇 Have you heard about these books? | Would you like to read them? | Have you read these authors' works before? | What do you think about them? 🦇