🧐 Hi guys, I hope you're having a wonderful day full of the best and most spooky reading! 🖤 As promised, today I bring you one of my favorite genres to continue celebrating this horror season by exploring beyond the horror genre itself, because I truly think that a good atmospheric and intriguing mystery/thriller book can be just as spooky as scary books. 👻 So, clearly, today I bring you a list where I've decided to compile several categories within the mystery/thriller and suspense genre, where I'll be sharing with you some of my favorite books within the genre, others that intrigue me a lot and therefore are part of my TBR, and, on the other hand, as I always like to do, I'll be sharing another mini-list with the most intriguing 2021 new releases within the genre! 🙌🏻 

I hope you can enjoy this post as much as the others, I know that horror genre itself can be a bit intimidating for some readers, and that's fine, so I think exploring other genres is also super valid for all of us to enjoy this season 🕸. I also want to encourage you to explore a little bit about the authors of the new releases to support them, so as always I'll be including links so you can add them to your TBR faster, as well as some reviews for those books I've already read. 😊 
Of course, I'll be more than happy for you to comment below with your thoughts on this post and the series we're doing on the blog, I'd love to see what you're thinking and of course, ready to add lots of books to my TBR so feel free to leave me your favorite titles as well.  🌲 
Again, thanks for the support and love, you're wonderful, I've been trying to be more consistent visiting as many blogs as I can because I honestly love to support you and be there for you too. 🥰 
I hope you enjoy the post a lot, that you can find new reads to enjoy, get comfortable, make yourself a coffee or a tea or whatever you love to drink, and get ready because we have a lot of books coming up!☕️ Now yes, let's get started! 🧐 
 🌪 Previous Posts! Spooky Season Post #3 | Adult Horror Books! | Spooky Season Post #2 | Middle-Grade Spooky Books! | Spooky Season Post #1 | 31 Young Adult Horror Books
 ‼️ All books will have a direct link to Goodreads in case you want to add them.
 🧐 The 7½ Deaths of Evelyn Hardcastle by Stuart Turton | Aiden Bishop knows the rules. Evelyn Hardcastle will die every day until he can identify her killer and break the cycle. But every time the day begins again, Aiden wakes up in the body of a different guest at Blackheath Manor. And some of his hosts are more helpful than others. With a locked room mystery that Agatha Christie would envy, Stuart Turton unfurls a breakneck novel of intrigue and suspense.
For fans of Claire North, and Kate Atkinson, The 7½ Deaths of Evelyn Hardcastle is a breathlessly addictive mystery that follows one man's race against time to find a killer, with an astonishing time-turning twist that means nothing and no one are quite what they seem.
This inventive debut twists together a thriller of such unexpected creativity it will leave readers guessing until the very last page. 
| Book Review |
---
 🧐 The Cousins by Karen M. McManus | Milly, Aubrey, and Jonah Story are cousins, but they barely know each other, and they've never even met their grandmother. Rich and reclusive, she disinherited their parents before they were born. So when they each receive a letter inviting them to work at her island resort for the summer, they're surprised… and curious.
Their parents are all clear on one point—not going is not an option. This could be the opportunity to get back into Grandmother's good graces. But when the cousins arrive on the island, it's immediately clear that she has different plans for them. And the longer they stay, the more they realize how mysterious—and dark—their family's past is.
The entire Story family has secrets. Whatever pulled them apart years ago isn't over—and this summer, the cousins will learn everything. 
| Book Review |
---
 🧐 Horrid by Katrina Leno | From the author of You Must Not Miss comes a haunting contemporary horror novel that explores themes of mental illness, rage, and grief, twisted with spine-chilling elements of Stephen King and Agatha Christie.
Following her father's death, Jane North-Robinson and her mom move from sunny California to the dreary, dilapidated old house in Maine where her mother grew up. All they want is a fresh start, but behind North Manor's doors lurks a history that leaves them feeling more alone…and more tormented.
As the cold New England autumn arrives, and Jane settles in to her new home, she finds solace in old books and memories of her dad. She steadily begins making new friends, but also faces bullying from the resident "bad seed," struggling to tamp down her own worst nature in response. Jane's mom also seems to be spiraling with the return of her childhood home, but she won't reveal why. Then Jane discovers that the "storage room" her mom has kept locked isn't for storage at all — it's a little girl's bedroom, left untouched for years and not quite as empty of inhabitants as it appears….
Is it grief? Mental illness? Or something more…horrid?
| Book Review |
---
 🧐 Lies Like Wildfire by Jennifer Lynn Alvarez | A story about five friends and the deadly secret that could send their lives up in flames.
In Gap Mountain, California, everyone knows about fire season. And no one is more vigilant than 18-year-old Hannah Warner, the sheriff's daughter and aspiring FBI agent. That is until this summer. When Hannah and her best friends accidentally spark an enormous and deadly wildfire, their instinct is to lie to the police and the fire investigators.
But as the blaze roars through their rural town and towards Yosemite National Park, Hannah's friends begin to crack and she finds herself going to extreme lengths to protect their secret. Because sometimes good people do bad things. And if there's one thing people hate, it's liars. 
| Book Review |
---
 🧐 We Were Liars by E. Lockhart | A beautiful and distinguished family.
A private island.
A brilliant, damaged girl; a passionate, political boy.
A group of four friends—the Liars—whose friendship turns destructive.
A revolution. An accident. A secret.
Lies upon lies.
True love.
The truth.
 We Were Liars is a modern, sophisticated suspense novel from National Book Award finalist and Printz Award honoree E. Lockhart. 
Read it.
And if anyone asks you how it ends, just LIE. 
---
 🧐 Fragments of the Lost by Megan Miranda | From the New York Times bestselling author of All the Missing Girls and The Perfect Stranger comes a suspenseful psychological mystery about one girl's search to uncover the truth behind her ex-boyfriend's death. Perfect for fans of We Were Liars and 13 Reasons Why .
Jessa Whitworth knew she didn't belong in her ex-boyfriend Caleb's room. But she couldn't deny that she was everywhere: in his photos, his neatly folded T-shirts, even the butterfly necklace in his jeans pocket . . . the one she gave him for safe keeping on that day.
His mother asked her to pack up his things, even though she blames Jessa for his accident. How could she say no? And maybe, just maybe, it will help her work through the guilt she feels about their final moments together.
But as Jessa begins to box up the pieces of Caleb's life, they trigger memories that make Jessa realize their past relationship may not be exactly as she remembered. And she starts to question whether she really knew Caleb at all.
Each fragment of his life reveals a new clue that propels Jessa to search for the truth about Caleb's accident. What really happened on the storm-swept bridge? 
| Book Review |
---
🧐 Little Monsters by Kara Thomas | Kacey is the new girl in Broken Falls. When she moved in with her father, she stepped into a brand-new life. A life with a stepbrother, a stepmother, and strangest of all, an adoring younger half sister.
Kacey's new life is eerily charming compared with the wild highs and lows of the old one she lived with her volatile mother. And everyone is so nice in Broken Falls—she's even been welcomed into a tight new circle of friends. Bailey and Jade invite her to do everything with them.
Which is why it's so odd when they start acting distant. And when they don't invite her to the biggest party of the year, it doesn't exactly feel like an accident.
But Kacey will never be able to ask, because Bailey never makes it home from that party. Suddenly, Broken Falls doesn't seem so welcoming after all—especially once everyone starts looking to the new girl for answers.
Kacey is about to learn some very important lessons: Sometimes appearances can be deceiving. Sometimes when you're the new girl, you shouldn't trust anyone. 
| Book Review |
---
 🧐 Emma in the Night by Wendy Walker | From the bestselling author of All Is Not Forgotten comes a thriller about two missing sisters, a twisted family, and what happens when one girl comes back…
One night three years ago, the Tanner sisters disappeared: fifteen-year-old Cass and seventeen-year-old Emma. Three years later, Cass returns, without her sister Emma. Her story is one of kidnapping and betrayal, of a mysterious island where the two were held. But to forensic psychiatrist Dr. Abby Winter, something doesn't add up. Looking deep within this dysfunctional family Dr. Winter uncovers a life where boundaries were violated and a narcissistic parent held sway. And where one sister's return might just be the beginning of the crime. 
| Book Review |
---
 🧐 Sadie by Courtney Summers | A missing girl on a journey of revenge. A Serial―like podcast following the clues she's left behind. And an ending you won't be able to stop talking about.
Sadie hasn't had an easy life. Growing up on her own, she's been raising her sister Mattie in an isolated small town, trying her best to provide a normal life and keep their heads above water.
But when Mattie is found dead, Sadie's entire world crumbles. After a somewhat botched police investigation, Sadie is determined to bring her sister's killer to justice and hits the road following a few meager clues to find him.
When West McCray―a radio personality working on a segment about small, forgotten towns in America―overhears Sadie's story at a local gas station, he becomes obsessed with finding the missing girl. He starts his own podcast as he tracks Sadie's journey, trying to figure out what happened, hoping to find her before it's too late.
Courtney Summers has written the breakout book of her career. Sadie is propulsive and harrowing and will keep you riveted until the last page. 
| Book Review |
---
 🧐 The One Memory of Flora Banks by Emily Barr | It's not a lie if you can't remember the truth.
Seventeen-year-old Flora Banks has no short-term memory. Her mind resets itself several times a day, and has since the age of ten, when the tumor that was removed from Flora's brain took with it her ability to make new memories. That is, until she kisses Drake, her best friend's boyfriend, the night before he leaves town. Miraculously, this one memory breaks through Flora's fractured mind, and sticks. Flora is convinced that Drake is responsible for restoring her memory and making her whole again. So when an encouraging email from Drake suggests she meet him on the other side of the world, Flora knows with certainty that this is the first step toward reclaiming her life.
With little more than the words "be brave" inked into her skin, and written reminders of who she is and why her memory is so limited, Flora sets off on an impossible journey to Svalbard, Norway—the land of the midnight sun—determined to find Drake. But from the moment she arrives in the Arctic, nothing is quite as it seems, and Flora must "be brave" if she is ever to learn the truth about herself, and to make it safely home.
| Book Review |
---
 🧐 The Devil and the Dark Water by Stuart Turton | A murder on the high seas. A detective duo. A demon who may or may not exist.
It's 1634 and Samuel Pipps, the world's greatest detective, is being transported to Amsterdam to be executed for a crime he may, or may not, have committed. Traveling with him is his loyal bodyguard, Arent Hayes, who is determined to prove his friend innocent.
But no sooner are they out to sea than devilry begins to blight the voyage. A twice-dead leper stalks the decks. Strange symbols appear on the sails. Livestock is slaughtered.
And then three passengers are marked for death, including Samuel.
Could a demon be responsible for their misfortunes?
With Pipps imprisoned, only Arent can solve a mystery that connects every passenger onboard. A mystery that stretches back into their past and now threatens to sink the ship, killing everybody on board.
The breathtaking new novel from Stuart Turton, author of the The 7 1/2 Deaths of Evelyn Hardcastle, winner of the Costa Best First Novel Award. 
---
 🧐 Even If We Break by Marieke Nijkamp | From #1 New York Times bestselling author Marieke Nijkamp comes a shocking new thriller about a group of friends tied together by a game and the deadly weekend that tears them apart. FIVE friends go to a cabin.
FOUR of them are hiding secrets.
THREE years of history bind them.
TWO are doomed from the start.
ONE person wants to end this.
NO ONE IS SAFE. Are you ready to play?
---
 🧐 I Hope You're Listening by Tom Ryan | EVERY MISSING PERSON HAS A STORY.
In her small town, seventeen-year-old Delia "Dee" Skinner is known as the girl who wasn't taken. Ten years ago she witnessed the abduction of her best friend, Sibby. And though she told the police everything she remembered, it wasn't enough. Sibby was never seen again.
At night, Dee deals with her guilt by becoming someone else: the Seeker, the voice behind the popular true crime podcast Radio Silent, which features missing persons cases and works with online sleuths to solve them. Nobody knows Dee's the Seeker, and she plans to keep it that way.
When another little girl in town goes missing, and the case is linked to Sibby's disappearance, Dee has a chance to get answers with the help of her virtual detectives and the intriguing new girl at school. But how much of her own story is she willing to reveal in order to uncover the truth? 
---
 🧐 Nobody Knows But You by Anica Mrose Rissi | Maybe a killer only looks like a killer in the moment just before, during, or after. Maybe a liar, a good one, never shows it. Kayla is still holding on to Lainie's secrets. After all, Lainie is Kayla's best friend. And despite Lainie's painful obsession with her on-again, off-again boyfriend, and the ways he has tried to come between them, friends don't spill each other's secrets. They don't betray each other's trust. The murder at the end of the summer doesn't change all that. Besides—Kayla knows that the truth is not the whole story.
---
 🧐 Monsters Among Us by Monica Rodden | When Catherine Ellers returns home after her first semester at college, she is seeking refuge from a night she can barely piece together, dreads remembering, and refuses to talk about. She tries to get back to normal, but just days later the murder of someone close to her tears away any illusion of safety.
Catherine feels driven to face both violent events head on in hopes of finding the perpetrators and bringing them to justice with the help of her childhood friend, Henry. Then a stranger from college arrives with her lost coat, missing driver's license–and details to help fill in the gaps in her memory that could be the key to solving both mysteries. But who is Andrew Worthington and why is he offering to help her? And what other dangerous obsessions is her sleepy town hiding?
Surrounded by secrets and lies, Catherine must unravel the truth–before this wolf in sheep's clothing strikes again. 
---
 🧐 Don't Look for Me by Wendy Walker | One night, Molly Clarke walked away from her life. The car abandoned miles from home. The note found at a nearby hotel. The shattered family that couldn't be put back together. It happens all the time. Women disappear, desperate to leave their lives behind and start over. She doesn't want to be found. Or at least, that's the story. But is that what really happened to Molly Clarke?
The night Molly disappeared began with a storm, running out of gas, and a man in a truck offering her a ride to town. With him is a little girl who reminds her of the daughter she lost years ago. It feels like a sign. And Molly is overcome with the desire to be home, with her family—no matter how broken it is. She accepts the ride. But when the doors are locked shut, Molly begins to suspect she has made a terrible mistake.
When a new lead comes in after the search has ended, Molly's daughter, Nicole, begins to wonder. Nothing about her mother's disappearance makes sense.
Nicole returns to the small, desolate town where her mother was last seen to find the truth. The locals are kind and eager to help. The innkeeper. The bartender. Even the police. Until secrets begin to reveal themselves and she comes closer to the truth about that night—and the danger surrounding her. 
---
 🧐  They Wish They Were Us (The Player's Table, #1) by Jessica Goodman | Gossip Girl meets One of Us Is Lying with a dash of The Secret History in this slick, taut murder mystery set against the backdrop of an exclusive prep school on Long Island.
In Gold Coast, Long Island, everything from the expensive downtown shops to the manicured beaches, to the pressed uniforms of Jill Newman and her friends, looks perfect. But as Jill found out three years ago, nothing is as it seems.
Freshman year Jill's best friend, the brilliant, dazzling Shaila Arnold, was killed by her boyfriend. After that dark night on the beach, Graham confessed, the case was closed, and Jill tried to move on.
Now, it's Jill's senior year and she's determined to make it her best yet. After all, she's a senior and a Player–a member of Gold Coast Prep's exclusive, not-so-secret secret society. Senior Players have the best parties, highest grades and the admiration of the entire school. This is going to be Jill's year. She's sure of it.
But when Jill starts getting texts proclaiming Graham's innocence, her dreams of the perfect senior year start to crumble. If Graham didn't kill Shaila, who did? Jill vows to find out, but digging deeper could mean putting her friendships, and her future, in jeopardy. 
---
 🧐 The Other People by C.J. Tudor | A gripping new thriller about a man's quest for the daughter no one else believes is still alive, from the acclaimed author of The Chalk Man and The Hiding Place.
Driving home one night, stuck behind a rusty old car, Gabe sees a little girl's face appear in the rear window. She mouths one word: 'Daddy.' It's his five-year-old daughter, Izzy.
He never sees her again.
Three years later, Gabe spends his days and nights travelling up and down the motorway, searching for the car that took his daughter, refusing to give up hope, even though most people believe that Izzy is dead.
Fran and her daughter, Alice, also put in a lot of miles on the motorway. Not searching. But running. Trying to keep one step ahead of the people who want to hurt them. Because Fran knows the truth. She knows what really happened to Gabe's daughter.
Then, the car that Gabe saw driving away that night is found, in a lake, with a body inside and Gabe is forced to confront events, not just from the night his daughter disappeared, but from far deeper in his past.
His search leads him to a group called The Other People.
If you have lost a loved one, The Other Peoplewant to help. Because they know what loss is like. They know what pain is like. They know what death is like.
There's just one problem . . . they want other people to know it too. 
---
 🧐 A History of Wild Places by Shea Ernshaw | The New York Times bestselling author of The Wicked Deep weaves a richly atmospheric adult debut following three residents of a secluded, seemingly peaceful commune as they investigate the disappearances of two outsiders.
Travis Wren has an unusual talent for locating missing people. Hired by families as a last resort, he requires only a single object to find the person who has vanished. When he takes on the case of Maggie St. James—a well-known author of dark, macabre children's books—he's led to a place many believed to be only a legend.
Called Pastoral, this reclusive community was founded in the 1970s by like-minded people searching for a simpler way of life. By all accounts, the commune shouldn't exist anymore and soon after Travis stumbles upon it…he disappears. Just like Maggie St. James.
Years later, Theo, a lifelong member of Pastoral, discovers Travis's abandoned truck beyond the border of the community. No one is allowed in or out, not when there's a risk of bringing a disease—rot—into Pastoral. Unraveling the mystery of what happened reveals secrets that Theo, his wife, Calla, and her sister, Bee, keep from one another. Secrets that prove their perfect, isolated world isn't as safe as they believed—and that darkness takes many forms.
Hauntingly beautiful, hypnotic, and bewitching, A History of Wild Places is a story about fairy tales, our fear of the dark, and losing yourself within the wilderness of your mind. 
---
 🧐 The Project by Courtney Summers | Lo Denham is used to being on her own. After her parents died in a tragic car accident, her sister Bea joined the elusive community called The Unity Project, leaving Lo to fend for herself. Desperate not to lose the only family she has left, Lo has spent the last six years trying to reconnect with Bea, only to be met with radio silence.
When Lo's given the perfect opportunity to gain access to Bea's reclusive life, she thinks they're finally going to be reunited. But it's difficult to find someone who doesn't want to be found, and as Lo delves deeper into The Project and its charismatic leader, she begins to realize that there's more at risk than just her relationship with Bea: her very life might be in danger.
As she uncovers more questions than answers at each turn, everything Lo thought she knew about herself, her sister, and the world is upended. One thing doesn't change, though, and that's what keeps her going: Bea needs her, and Lo will do anything to save her.
From Courtney Summers, the New York Times bestselling author of the 2019 Edgar Award Winner and breakout hit Sadie, comes her electrifying follow-up—a suspenseful, pulls-no-punches story about an aspiring young journalist determined to save her sister no matter the cost. 
---
 🧐 The Girl Who Knew Too Much by Tiffany Brooks | Survivor meets Lord of the Flies in this fast-paced reality-TV style mystery about twenty teens dropped on a deserted island to compete for a cash prize…but the hidden treasure is the one they will stop at nothing to find.
You think it's a game. Think again.
Survivor meets Lord of the Flies in this fast-paced adventure with fascinating characters and pulse-pounding tension. Twenty teens are dropped off on a deserted island to compete for a cash prize. But Riley is looking for a vast treasure rumored to be hidden on the island. Only it turns out others also want the cache of riches and will stop at nothing to find it. 
---
 🧐 The Hollow Inside by Brooke Lauren Davis | Sadie meets The Glass Castle in a smart, gripping, and twisty YA debut about a girl seeking to reveal the truth about her mother-and herself.
Seventeen-year-old Phoenix has spent much of her life drifting from town to town with her mom Nina, using their charms to swindle and steal to get by. Now they've made it to their ultimate destination, Mom's hometown of Jasper Hollow. The plan: bring down Ellis Bowman, the man who ruined Nina's life.
When Phoenix gets caught spying on Ellis, she spins a convincing story that inadvertently gives her full access to the Bowman family. As she digs deeper into their secrets (and begins to fall for daughter Melody), she finds herself entrenched in the tale of a death and a disappearance that doesn't entirely line up with what Mom has told her.
But there's even more to this story Phoenix doesn't know. Who, if anyone, is telling the whole truth about what happened? Debut author Brooke Lauren Davis explores the murkiness of right and wrong, of choices and consequences, of heroes and villains, in an eerily compelling and thought-provoking small-town saga. 
---
 🧐 Such a Quiet Place by Megan Miranda | We had no warning that she'd come back.
Hollow's Edge used to be a quiet place. A private and idyllic neighborhood where neighbors dropped in on neighbors, celebrated graduation and holiday parties together, and looked out for one another. But then came the murder of Brandon and Fiona Truett. A year and a half later, Hollow's Edge is simmering. The residents are trapped, unable to sell their homes, confronted daily by the empty Truett house, and suffocated by their trial testimonies that implicated one of their own. Ruby Fletcher. And now, Ruby's back.
With her conviction overturned, Ruby waltzes right back to Hollow's Edge, and into the home she once shared with Harper Nash. Harper, five years older, has always treated Ruby like a wayward younger sister. But now she's terrified. What possible good could come of Ruby returning to the scene of the crime? And how can she possibly turn her away, when she knows Ruby has nowhere to go?
Within days, suspicion spreads like a virus across Hollow's Edge. It's increasingly clear that not everyone told the truth about the night of the Truett's murders. And when Harper begins receiving threatening notes, she realizes she has to uncover the truth before someone else becomes the killer's next victim. 
---
 🧐 That Weekend by Kara Thomas | Three best friends, a lake house, a secret trip – what could go wrong?
It was supposed to be the perfect prom weekend getaway. But it's clear something terrible happened when Claire wakes up alone and bloodied on a hiking trail with no memory of the past forty-eight hours.
Three went up the mountain, but only one came back.
Now everyone wants answers – most of all, Claire. She remembers Friday night, but after that… nothing. And now Kat and Jesse – her best friends – are missing.
That weekend changes everything.
What happened on the mountain? And where are Kat and Jesse? Claire knows the answers are buried somewhere in her memory, but as she's learning, everyone has secrets – even her best friends. And she's pretty sure she's not going to like what she remembers. 
---
 🧐 What Beauty There Is (What Beauty There is #1) by Cory Anderson | Winter. The sky is dark. It is cold enough to crack bones.
Jack Morton has nothing left. Except his younger brother, Matty, who he'd do anything for. Even die for. Now with their mother gone, and their funds quickly dwindling, Jack needs to make a choice: lose his brother to foster care, or find the drug money that sent his father to prison. He chooses the money.
Ava Bardem lives in isolation, a life of silence. For seventeen years her father has controlled her fate. He has taught her to love no one. Trust no one. Now Victor Bardem is stalking the same money as Jack. When he picks up Jack's trail, Ava must make her own wrenching choice: remain silent or help the brothers survive.
Choices. They come at a price. 
---
 🧐 They'll Never Catch Us by Jessica Goodman | A thriller about two sisters vying for the top spot on their cross-country team–the only way out of their stifling small town. But their dreams are suddenly thrown into peril when a new girl threatens to take away everything they've worked for… until she disappears.
Stella and Ellie Steckler are only a year apart, but their different personalities make their relationship complicated. Stella is single-minded, driven, and keeps to herself. Cross-country running is her life, and she won't let anything get in the way of being the best. Her sister Ellie is a talented runner too, but she also lets herself have fun. She has friends. She goes to parties. She has a life off the course.
The sisters do have one thing in common, though: the new girl, Mila Keene. Both Stecklers' lives are upended when Mila comes to town. Mila was the top runner on her team back home and at first, Ellie and Stella view her as a threat. But soon Ellie can't help but be drawn to her warm, charming personality. After her best friend moved away and her first boyfriend betrayed her, Ellie's been looking for a friend. In a moment of weakness, she even shares her darkest secret with Mila. For her part, Stella finds herself noticing the ways she and Mila are similar. Mila is smart and strong–she's someone Stella can finally connect with. As the two get closer, Stella becomes something she vowed she'd never be: distracted.
With regionals approaching and college scouts taking notice, the pressure is on. Each girl has their future on the line and they won't let friendships get in their way. But then, suddenly, Mila goes out on a training run and never returns. No one knows what happened, but all eyes are on the Steckler sisters.
---
 🧐 How We Fall Apart (How We Fall Apart #1) by Katie Zhao | Nancy Luo is shocked when her former best friend, Jamie Ruan, top ranked junior at Sinclair Prep, goes missing, and then is found dead. Nancy is even more shocked when word starts to spread that she and her friends–Krystal, Akil, and Alexander–are the prime suspects, thanks to "The Proctor," someone anonymously incriminating them via the school's social media app.
They all used to be Jamie's closest friends, and she knew each of their deepest, darkest secrets. Now, somehow The Proctor knows them, too. The four must uncover the true killer before The Proctor exposes more than they can bear and costs them more than they can afford, like Nancy's full scholarship. Soon, Nancy suspects that her friends may be keeping secrets from her, too.
Students at an elite prep school are forced to confront their secrets when their ex-best friend turns up dead. 
---
 🧐 Dark and Shallow Lies by Ginny Myers Sain | A teen girl disappears from her small town deep in the bayou, where magic festers beneath the surface of the swamp like water rot, in this chilling debut supernatural thriller for fans of Natasha Preston, Karen McManus, and Rory Power.
La Cachette, Louisiana, is the worst place to be if you have something to hide.
This tiny town, where seventeen-year-old Grey spends her summers, is the self-proclaimed Psychic Capital of the World–and the place where Elora Pellerin, Grey's best friend, disappeared six months earlier.
Grey can't believe that Elora vanished into thin air any more than she can believe that nobody in a town full of psychics knows what happened. But as she digs into the night that Elora went missing, she begins to realize that everybody in town is hiding something–her grandmother Honey; her childhood crush Hart; and even her late mother, whose secrets continue to call to Grey from beyond the grave.
When a mysterious stranger emerges from the bayou–a stormy-eyed boy with links to Elora and the town's bloody history–Grey realizes that La Cachette's past is far more present and dangerous than she'd ever understood. Suddenly, she doesn't know who she can trust. In a town where secrets lurk just below the surface, and where a murderer is on the loose, nobody can be presumed innocent–and La Cachette's dark and shallow lies may just rip the town apart. 
---
 🧐 All These Bodies by Kendare Blake | Sixteen bloodless bodies. Two teenagers. One impossible explanation.
Summer 1958—a string of murders plagues the Midwest. The victims are found in their cars and in their homes—even in their beds—their bodies drained, but with no blood anywhere.
September 19- the Carlson family is slaughtered in their Minnesota farmhouse, and the case gets its first lead: 15-year-old Marie Catherine Hale is found at the scene. She is covered in blood from head to toe, and at first she's mistaken for a survivor. But not a drop of the blood is hers.
Michael Jensen, son of the local sheriff, yearns to become a journalist and escape his small-town. He never imagined that the biggest story in the country would fall into his lap, or that he would be pulled into the investigation, when Marie decides that he is the only one she will confess to.
As Marie recounts her version of the story, it falls to Michael to find the truth: What really happened the night that the Carlsons were killed? And how did one girl wind up in the middle of all these bodies?
---
 🧐 You'll Be the Death of Me by Karen M. McManus | From the author of One of Us Is Lying comes a brand-new pulse-pounding thriller. It's Ferris Bueller's Day Off with murder when three old friends relive an epic ditch day, and it goes horribly–and fatally–wrong. Ivy, Mateo, and Cal used to be close. Now all they have in common is Carlton High and the beginning of a very bad day. Type A Ivy lost a student council election to the class clown, and now she has to face the school, humiliated. Heartthrob Mateo is burned out–he's been working two jobs since his family's business failed. And outsider Cal just got stood up . . . again. So when Cal pulls into campus late for class and runs into Ivy and Mateo, it seems like the perfect opportunity to turn a bad day around. They'll ditch and go into the city. Just the three of them, like old times. Except they've barely left the parking lot before they run out of things to say . . . . . . until they spot another Carlton High student skipping school–and follow him to the scene of his own murder. In one chance move, their day turns from dull to deadly. And it's about to get worse. It turns out Ivy, Mateo, and Cal still have some things in common. They all have a connection to the dead kid. And they're all hiding something. Now they're all wondering–could it be that their chance reconnection wasn't by chance after all?
---
‼️ Visit & Support The Definitive Book Blogger List 📢
Credit for the source of the original image HERE
I hope you enjoyed this list of mystery-thrillers as much as I enjoyed putting together! I tried to keep it as varied as possible so you can find the perfect book to add to your TBR 🖤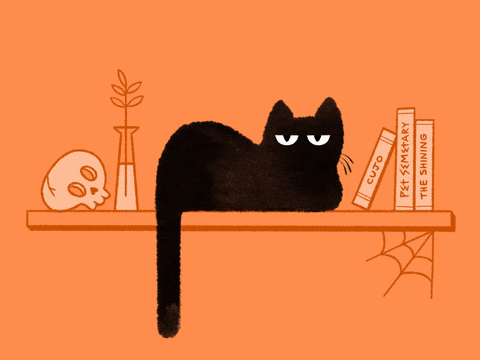 If you enjoy the content of the blog & would like to support me in any way you can by buying me a Ko-fi or Buy me a Coffe
 🧐 Time to Chat! How do you feel about mystery-thrillers? Is it something you usually read? & is there one on the list that you'd particularly like to read or one you've read that you'd recommend to me? Let me know what you think in the comments, I love chatting with you! 🧐