🌪 Hi, guys! I hope you're having an amazing day, full of the best readings!❤️ Today I bring you a double review of the books I've been reading recently. 😊 Of course, these books will be spooky editions during this month, so you can find everything I'll be trying to read during the month of October on my TBR. 🕯 But today we'll focus on these two stories, on one side we have: There's Someone Inside Your House, a book where we follow a killer who's murdering students, but not without stalking them first from inside their own homes, and a group of guys trying to figure out what connects the victims, and who's behind the killing 🔪 & on the other side: The Taking of Jake Livingston, where we follow a young man who can see and feel the world of the dead, and while trying to survive in a racist society he'll face a completely different struggle with a spirit who wants revenge. 👻
I hope you enjoy both reviews very much, you know I love to know what you think, so feel free to let me know all about it in the comments! 🥰 Now yes, make yourself comfortable, and LET'S GET STARTED! 🌪
---
Title: There's Someone Inside Your House
By: Stephanie Perkins
Series: NO
Pages: 287 
Published: September 26th, 2017
By: Dutton Books for Young Readers
Genre: Young Adult – Mystery – Thriller – Horror – Romance
Buy it: Book Depository | Amazon
---
Love hurts…

Makani Young thought she'd left her dark past behind her in Hawaii, settling in with her grandmother in landlocked Nebraska. She's found new friends and has even started to fall for mysterious outsider Ollie Larsson. But her past isn't far behind.

Then, one by one, the students of Osborne Hugh begin to die in a series of gruesome murders, each with increasingly grotesque flair. As the terror grows closer and her feelings for Ollie intensify, Makani is forced to confront her own dark secrets. 
| Goodreads |
---
"I guess you never really know what's going on inside someone else's head."
This book was entertaining to read at times, as well as gripping at others, and above all very light within its genre, which makes it easy to read, but I must confess that I feel polarized about my opinion on the plot and the characters, as they didn't end up convincing me. I completely understand what the author wanted to do, though, and I also deeply admire that she dared to try a different genre, that has a lot of merit for me, but maybe I was expecting a heavier on mystery kind of book, more intense on horror as well, and maybe it fell a bit short this time. I also don't feel impressed by the character development either about the revelation and twists, which were quite disappointing.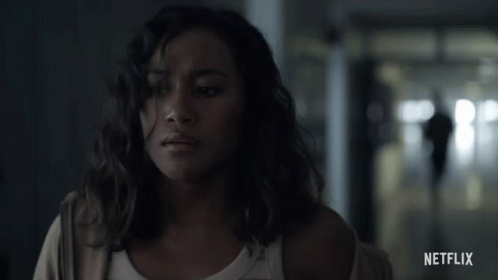 In this book, we meet Makani, who's still trying to find her true place after leaving her past behind in Hawaii, and moving in with her grandmother in Nebraska. She thinks it's just another year where she'll be spending time with her friends while keep falling for the mysterious outsider Ollie Larsson. But things are about to change in this small "boring" town when a mysterious hood starts killing Osborne Hugh's students, and Makani begins to feel her own dark past about to come to light.
I would divide the plot of this book into two sections, one is the darker plot which is why I'm here reading this book in the first place, and I think it takes better shape after the first half, where we see how this strange and mysterious character starts killing his victims and the main characters get caught up in this situation as they try to figure out what ties the victims together and how to stop this person.
On the other hand, we have the whole first half and much of the book in general which is basically a romance, where we see Makani trying to come to terms with what she feels for Ollie, this guy who's clearly an outsider, and together they resume a relationship that had already started a year ago.
You know I'm not the biggest fan of romance-focused plots, this doesn't mean I don't like romance per se, but I don't like that's all we have, you know? So, clearly, the fact that this book is so heavy in that area made it kind of boring at times to read, plus, I confess that this couple seemed too pointless to me, I don't think there's chemistry between them, and the scenes are kind of embarrassing if you ask me, so I'll just say that I didn't care for this part of the plot at all. But on the other hand, I did like the development of the killing scenes, and the game of trying to guess who might be behind it all always keeps me very hooked. It has solid scenes, which keeps you wanting to know what's happening & what's coming, and who will be the next victim, which is great!
I really liked the murder scenes, I think the gore part is well described, and has a lot of potentials, in fact, it makes you feel physically uncomfortable to think that someone could be stalking your every step from inside your own home without you really knowing, and that simple feeling of discomfort has unlimited ways to be exploited. I also loved the first scene of the book, is very well thought out to hook the reader.
Having said that, I do confess that I feel the plot needs a little more work, especially to stand out a little more as an individual book and separate itself from the rest, as I think that although it has entertaining scenes and is a plot with potential, it doesn't particularly stand out for anything specific and it doesn't have that unique touch. The elements that are used the worst particularly in this book for me are the revelations, as they totally lack impact, they don't have that "WTF" effect you know? It's more like "Really, that's it?" and that's a bit disappointing as it's hard to get back to reading. I think the twists are painfully predictable and without a doubt, even though I already said it's enjoyable, this plot idea since it's been used so many times needs a lot of work and a more unique touch to really stand out.
Another factor that didn't convince me was the characters, especially Makina, who for me is a little difficult to like, her personality is very complicated and her decisions are quite questionable. I didn't like Ollie either, I think he's a "meh" character and really if you ask me which character I liked, I would say that Makina's grandmother is beautiful, and I also liked her friends who are Alex and Derby, both characters are much more interesting and complex to follow. Also, I want to mention that the fact that we don't know the victims or that we don't know much about their lives makes their deaths don't have so much impact, and I think that's a very important factor when writing this kind of story, as well as the revelation of the murderer that I didn't like, and I would have liked a better story behind Makina, honestly… one of the most disappointing and meaningless revelations I've ever read.
I still want to end my review highlighting some points that I did like, but first, I wanted to highlight the work of the author, as it must not be easy to transition from being an author who writes so focused on romance to write about something totally different, I admire that and no doubt I'll read more in the future, I would like to give her another chance. Some points I liked were the diversity in the characters, that's wonderful, the dark atmosphere I think was successfully achieved at times, the setting where the story takes place is very good, there are several moments where it adds a lot to the story, and finally, I think there's a discourse of acceptance and overcoming tragedies of our lives, I think is super valuable and I liked reading about it.
So, to summarize, it's a book I would recommend if you want something light to read, with a good spooky tone to enjoy during this season, it has a very positive diversity to find in the genre and a very well achieved atmosphere. Still, I don't think it's a standout plot on its own, and there's a lot of work to be done in terms of character development and revelations as they were disappointing. I have to be, as I always try to be, very honest, not mean, though, that's not my goal, but just to tell you that it might not be a book for everyone, but you don't lose anything by giving it a chance, you might enjoy it, it's short and reads very easily. It's pretty heavy on romance, so keep that in mind before jumping into it, and maybe if that resonates with you, this will be a much more positive experience for you than it was for me.
---
2.5/5
---
Title: The Taking of Jake Livingston
By: Ryan Douglass
Series: NO
Pages: 244
Published: July 13th, 2021 
By: Putnam
Genre: Young Adult – Horror – Paranormal
Buy it: Book Depository | Amazon
---
Get Out meets Danielle Vega in this YA horror where survival is not a guarantee.

Jake Livingston is one of the only Black kids at St. Clair Prep, one of the others being his infinitely more popular older brother. It's hard enough fitting in but to make matters worse and definitely more complicated, Jake can see the dead. In fact he sees the dead around him all the time. Most are harmless. Stuck in their death loops as they relive their deaths over and over again, they don't interact often with people. But then Jake meets Sawyer. A troubled teen who shot and killed six kids at a local high school last year before taking his own life. Now a powerful, vengeful ghost, he has plans for his afterlife–plans that include Jake. Suddenly, everything Jake knows about ghosts and the rules to life itself go out the window as Sawyer begins haunting him and bodies turn up in his neighborhood. High school soon becomes a survival game–one Jake is not sure he's going to win. 
| Goodreads |
---
"It doesn't matter. At the end of the day, you can't change yourself. So you have no choice but to be yourself. Fuck everyone who has a problem with it.
I was expecting a lot from this book going into it, it's one of those stories that I just feel like I'll love, but sadly it didn't come to be, but I still managed to enjoy it. I think the atmosphere the author has achieved in the book is brilliant, you get a sense of intrigue, mystery, suspense, and a creepy vibe that I was hoping to find, so super happy with that. On the other hand, the story itself is a bit confusing at times, especially the paranormal aspects, and despite being a short book it wasn't easy to read due to how it's constructed and told.
In this book we meet Jake, who not only has to deal every day with the complications of being the only black student in his school and being in the shadow of his popular brother, but also Jake can see the dead in a loop as they relive their deaths over and over again, and although this isn't easy at all, Jake has learned to live with it or so he thought until he met Sawyer a boy who in life has been responsible for the shooting of his school, killing six students. He now has dark plans for revenge that include Jake and will change everything he knows forever.
I won't make this a very long review because I don't think there's much I can say without spoilers, but it's also a very short book, so I'll immediately go for the most important points. This is a good book in atmospheric terms, but overall, I think it's a good thing that it discusses something as sensitive as racism among other things, on the other hand, it also discusses mental health in a way that I don't know if it's really the right one, I can't speak about this in first person, but the fact that mental health issues are attributed to a kid who then kills his schoolmates is a pretty sensitive topic, I want to mention some moments it feels very uncomfortable and I didn't feel 100% ok with how this is treated, obviously, I can't speak from experience, but I did want to tell you about it as it can be a triggering topic for some people. It also mentions and/or deals with issues such as homophobia & sexual abuse, so please, be very cautious when going for this book.
On the other hand, the plot itself I liked, it's interesting to follow and very intriguing, at the same time, I think it's a bit confusing to follow since it has a somewhat complicated structure to understand, so if you don't understand from the beginning how all this paranormal stuff in Jake's world works, you can get a bit lost. For me, it was a bit confusing, but it ended up developing in a way that I could enjoy the process and although I'm not 100% happy with the ending, I think it was appropriate. Still, I can't help but say that it's a book that tries to do too much at once and wanting to touch on so many sensitive topics on the one hand while developing a paranormal plot with ghostly possession elements can be a bit much, which makes it lack work on some things. When you take intense and delicate themes I think you need to put your focus there and give us a rich execution that makes sense and I don't know if that is really achieved in this book.
The characters, on the other hand, are fine, I know they maybe need a bit of development, but I really have no complaints about them, I think they have the impact needed to lead this story and they have very powerful and deep moments that I really appreciate. Sometimes when a plot is confusing or maybe not well explained, it can save you that the characters are interesting enough to want to keep reading about them, and I think there's a lot of that here.
It's a book that fell short of my expectations, they were high, but it's not a bad book at all, I think it just needs a little more work and development on various themes to have the weight it needs to be amazing. The idea has so much potential, I really want to point out that it's very unique, especially the horror elements, which I think are very interesting, it certainly leaves you thinking and has the power to give you chills. And even though the author's style is quite complex, I'm interested to read more from him in the future.
A book that will leave you thinking when you go to sleep at night, not only for its creepy scenes that you will appreciate very well but also for the shocking and sensitive topics it touches on, which will surely open hundreds of discussions. I also think the characters will carry polarized opinions as they're quite controversial in their actions. Would I recommend this book? Yes, but I would certainly say it should be read with caution, and only if you're not easily impressed. That aside, it's a good book. I expected to love it, it clearly didn't reach that level of good, but it's good enough and you can see the work put into it. It's a book that will give you a scare or two out of those who read it during Halloween.
---
3/5
---
  ‼️ Visit & Support The Definitive Book Blogger List 📢 
You can support me & to my content by buying me a Ko-fi or Buy me a Coffe
   🌪 Have you heard about these books? | Would you like to read them? | Have you read these author's works before? | What do you think about them? 🌪