🌙 Hi, guys! I hope you're having a wonderful day filled with the best readings & obviously, I hope you all had a beautiful past month! ❤️ Today I've returned with one of my favorite posts to share with you my Wrap Up of the month, where I tell you all about what I've read during the month of September, plus: What I'm going to read in the month of October!. I'm back babies! I've missed you SO MUCH 🥺, and I'm super excited to be back after these two super necessary weeks off, where I've taken a total break from all kinds of social media and even of my own phone, I know that doing this always recharges me to come back to my routine a little more positive and with better energy.⚡️ So obviously, I hope you all have had the best weeks and overall a great September, which by the way, where did it go? it has flown by for me! Feel free to share with me everything you've been doing & reading during the month, I'm really dying to know and chat with you about it. 🥰 
I don't want to bore you with facts about my personal life so I'll be brief, I've been basically visiting family, and since most of them live in rural areas or far away in the countryside, I've been in contact with nature which I love 🌳 & on the other hand, I've made a really important and huge
purchase together with my boyfriend, and I'm very excited to tell you about it, and that's that I've bought my first PC GAMER!!!! 😭 😭  I don't know if I've mentioned this ever here, but I love playing videogames, so I'm super excited to finally have a better setting where to play and spend time, also obviously this computer is like a thousand times better than my laptop, so I can possibly generate more content for the blog, since it works faster and has a better system, so it's something super positive and a treat that we deserved to have in our lives.
As for reading I'm sorry to tell you that I'll have to disappoint you a bit because I haven't read anything these past weeks 😕, I haven't really had the chance and have decided to just take a reading break as well, but I did read one book before I left, and I liked it, and I'm in the middle of a reread which I'll tell you more about it later. 👍🏻 Having a book blog and saying you didn't read always feels a little embarrassing, but it's also nice because I'm glad I can admit when I don't feel like reading and tell you guys it's ok if that happens to you too, we're human and sometimes we can't do everything, right? 💞 But all this has a bright side because now I feel ready to read, read and read this October which, if you follow the blog for a while you already know is my favorite month to read spooky books, actually it's more like an excuse where I have a reason to read them because I LOVE those kind of horror genres, or dark plots, and all that cool stuff! 👻 👻 👻 
Sometimes I hate that I have to live in this hemisphere because it's spring, and it doesn't fit at all with what creepy season represents but well, I'll work with what I have like every year 😂, I'll read creepy stuff surrounded by flowers, and that's fine with me! 🌺 
---
As I always like to do, I want to take a little paragraph to thank you guys for the love and support you always have for me and the blog, you know that this space is more than important to me and having you in every post there for me means the world, these connections that we create will always be in my heart and to think that I am at least a small part of someone's life out there feels beautiful. Thank you SO SO much for these almost 5 years living this experience with me. 😍
---
A little preview of what I want to do for the blog this month 😊, is that besides all the spooky themed posts, which will have among them recommendations and tops, I'll also be introducing a new much more relaxed section where we'll talk about books (I mean… unexpected.) and I also have a super fun but creppy post in mind that will involve over 30 books!!!  🙌🏻
I hope you decide to stay and share this month with me and I hope you enjoy today's post, where of course, I'll be sharing more than anything a huge stack with those possible books I'll be reading in October, all of them or at least most of them, with dark themes, of course! 🌘 Now without further ado, make yourself something nice to drink and let's get started! 🌙 
 🌟 The Only Book I Read in September 🌿 
 🌙 The Stars Beyond the Stone (The Price of Magic #3) by Bonnie Wynne | The magic, and the power that this book has transmitted to me is wonderful, I really recommend this high-fantasy series, not only because it's somewhat dark at times and has a great magic system, but I recommend it above all because I think that within the genre continues to be quite unique and all the elements are developed in constant growth, even the writing style of the author only gets better and better, so I think it's worth reading. The first book continues to be my favorite, but the sequels stand up very well on their own. Obviously, I can't tell too much because spoilers, but I have reviews of all these books on the blog 100% spoiler-free if you want to know more about how I feel about them. | BOOK REVIEWS: BOOK #1, BOOK#2 & (this ones!) BOOK #3 |
---
 🗡 Currently Reading 🌪
 🌙 A Reaper at the Gates (An Ember in the Ashes #3) by Sabaa Tahir | You know guys, I absolutely love these books, that's why I'm re-reading them, and this one is no exception, I really love it and I love spending time with the characters again even when they're always suffering, my poor babies!!! but now, I've decided to pause my re-reading to pick it up again in November and read the fourth book for the first time this year and finish the year absolutely devastated… sounds like a plan! lol
But yes, loving this book as much as I loved the other ones, I just want to focus on my spooky reads this month, and that's all. Of course, being a re-read, I already have review of this one completely spoiler-free too, so I invite you to check it out RIGHT HERE!
---
🕯️ All the books I'll be mentioning below are POSSIBLE READS, just because I'm including them in the list, doesn't mean I'm going to read them all, but I'll be choosing from here to read during the month of October. I'm very excited about the stack I've created just for this moment with books that gets me so excited and authors I'm dying to read, so I hope you like it & if you've read any of them, let me know! 🕯️
 🌙 My Spooky Pile for the Month 🌪 
 🌙 The Girls Are Never Gone by Sarah Glenn Marsh | The Conjuring meets Sadie when seventeen-year-old podcaster Dare takes an internship in a haunted house and finds herself in a life-or-death struggle against an evil spirit.
Dare Chase doesn't believe in ghosts.
Privately, she's a supernatural skeptic. But publicly, she's keeping her doubts to herself—because she's the voice of Attachments, her brand-new paranormal investigation podcast, and she needs her ghost-loving listeners to tune in.
That's what brings her to Arrington Estate. Thirty years ago, teenager Atheleen Bell drowned in Arrington's lake, and legend says her spirit haunts the estate. Dare's more interested in the suspicious circumstances surrounding her death—circumstances that she believes point to a living culprit, not the supernatural. Still, she's vowed to keep an open mind as she investigates, even if she's pretty sure what she'll find.
But Arrington is full of surprises. Good ones like Quinn, the cute daughter of the house's new owner. And baffling ones like the threatening messages left scrawled in paint on Quinn's walls, the ghastly face that appears behind Dare's own in the mirror, and the unnatural current that nearly drowns their friend Holly in the lake. As Dare is drawn deeper into the mysteries of Arrington, she'll have to rethink the boundaries of what is possible. Because if something is lurking in the lake…it might not be willing to let her go.
---
 🌙 The Dead House (The Dead House #1) by Dawn Kurtagich | Three students: dead.
Carly Johnson: vanished without a trace.
Two decades have passed since an inferno swept through Elmbridge High, claiming the lives of three teenagers and causing one student, Carly Johnson, to disappear. The main suspect: Kaitlyn, "the girl of nowhere."
Kaitlyn's diary, discovered in the ruins of Elmbridge High, reveals the thoughts of a disturbed mind. Its charred pages tell a sinister version of events that took place that tragic night, and the girl of nowhere is caught in the center of it all. But many claim Kaitlyn doesn't exist, and in a way, she doesn't – because she is the alter ego of Carly Johnson.
Carly gets the day. Kaitlyn has the night. It's during the night that a mystery surrounding the Dead House unravels and a dark, twisted magic ruins the lives of each student that dares touch it.
Debut author Dawn Kurtagich masterfully weaves together a thrilling and terrifying story using psychiatric reports, witness testimonials, video footage, and the discovered diary – and as the mystery grows, the horrifying truth about what happened that night unfolds. 
---
 🌙 Final Girls by Riley Sager | Ten years ago, college student Quincy Carpenter went on vacation with five friends and came back alone, the only survivor of a horror movie–scale massacre. In an instant, she became a member of a club no one wants to belong to—a group of similar survivors known in the press as the Final Girls. Lisa, who lost nine sorority sisters to a college dropout's knife; Sam, who went up against the Sack Man during her shift at the Nightlight Inn; and now Quincy, who ran bleeding through the woods to escape Pine Cottage and the man she refers to only as Him. The three girls are all attempting to put their nightmares behind them, and, with that, one another. Despite the media's attempts, they never meet.
 Now, Quincy is doing well—maybe even great, thanks to her Xanax prescription. She has a caring almost-fiancé, Jeff; a popular baking blog; a beautiful apartment; and a therapeutic presence in Coop, the police officer who saved her life all those years ago. Her memory won't even allow her to recall the events of that night; the past is in the past.
 That is, until Lisa, the first Final Girl, is found dead in her bathtub, wrists slit, and Sam, the second, appears on Quincy's doorstep. Blowing through Quincy's life like a whirlwind, Sam seems intent on making Quincy relive the past, with increasingly dire consequences, all of which makes Quincy question why Sam is really seeking her out. And when new details about Lisa's death come to light, Quincy's life becomes a race against time as she tries to unravel Sam's truths from her lies, evade the police and hungry reporters, and, most crucially, remember what really happened at Pine Cottage, before what was started ten years ago is finished. 
---
 🌙 Sawkill Girls by Claire Legrand | Beware of the woods and the dark, dank deep. He'll follow you home, and he won't let you sleep.
Who are the Sawkill Girls?
Marion: the new girl. Awkward and plain, steady and dependable. Weighed down by tragedy and hungry for love she's sure she'll never find.
Zoey: the pariah. Luckless and lonely, hurting but hiding it. Aching with grief and dreaming of vanished girls. Maybe she's broken—or maybe everyone else is.
Val: the queen bee. Gorgeous and privileged, ruthless and regal. Words like silk and eyes like knives, a heart made of secrets and a mouth full of lies.
Their stories come together on the island of Sawkill Rock, where gleaming horses graze in rolling pastures and cold waves crash against black cliffs. Where kids whisper the legend of an insidious monster at parties and around campfires.
Where girls have been disappearing for decades, stolen away by a ravenous evil no one has dared to fight… until now. 
---
 🌙 The Taking of Jake Livingston by Ryan Douglass | Get Out meets Danielle Vega in this YA horror where survival is not a guarantee.
Jake Livingston is one of the only Black kids at St. Clair Prep, one of the others being his infinitely more popular older brother. It's hard enough fitting in but to make matters worse and definitely more complicated, Jake can see the dead. In fact he sees the dead around him all the time. Most are harmless. Stuck in their death loops as they relive their deaths over and over again, they don't interact often with people. But then Jake meets Sawyer. A troubled teen who shot and killed six kids at a local high school last year before taking his own life. Now a powerful, vengeful ghost, he has plans for his afterlife–plans that include Jake. Suddenly, everything Jake knows about ghosts and the rules to life itself go out the window as Sawyer begins haunting him and bodies turn up in his neighborhood. High school soon becomes a survival game–one Jake is not sure he's going to win. 
---
🌙 The Twisted Ones by T. Kingfisher | When a young woman clears out her deceased grandmother's home in rural North Carolina, she finds long-hidden secrets about a strange colony of beings in the woods.
When Mouse's dad asks her to clean out her dead grandmother's house, she says yes. After all, how bad could it be?
Answer: pretty bad. Grandma was a hoarder, and her house is stuffed with useless rubbish. That would be horrific enough, but there's more—Mouse stumbles across her step-grandfather's journal, which at first seems to be filled with nonsensical rants…until Mouse encounters some of the terrifying things he described for herself.
Alone in the woods with her dog, Mouse finds herself face to face with a series of impossible terrors—because sometimes the things that go bump in the night are real, and they're looking for you. And if she doesn't face them head on, she might not survive to tell the tale.
From Hugo Award–winning author Ursula Vernon, writing as T. Kingfisher. 
---
 🌙 Harrow Lake by Kat Ellis | The daughter of a horror film director is not afraid of anything–until she gets to Harrow Lake.
Things I know about Harrow Lake:
1.It's where my father shot his most disturbing slasher film.
2.There's something not right about this town.
Lola Nox is the daughter of a celebrated horror filmmaker–she thinks nothing can scare her.
But when her father is brutally attacked in their New York apartment, she's quickly packed off to live with a grandmother she's never met in Harrow Lake, the eerie town where her father's most iconic horror movie was shot. The locals are weirdly obsessed with the film that put their town on the map–and there are strange disappearances, which the police seem determined to explain away.
And there's someone–or some thing–stalking her every move.
The more Lola discovers about the town, the more terrifying it becomes. Because Lola's got secrets of her own. And if she can't find a way out of Harrow Lake, they might just be the death of her. 
---
 🌙 Our Last Echoes by Kate Alice Marshall | Kara Thomas meets Twin Peaks in this supernatural thriller about one girl's hunt for the truth about her mother's disappearance.
Sophia's first memory is of drowning. She remembers the darkness of the water and the briny taste as it fills her throat. She remembers the cold shock of going under. She remembers her mother pulling her to safety before disappearing forever. But Sophia has never been in the ocean. And her mother died years ago in a hospital. Or so she has been told her whole life.
A series of clues have led Sophia to the island of Bitter Rock, Alaska, where she talked her way into a summer internship at the Landon Avian Research Center, the same center her mother worked at right before she died. There, she meets the disarmingly clever Liam, whose own mother runs the LARC, as well as Abby, who's following a mystery of her own: a series of unexplained disappearances. People have been vanishing from Bitter Rock for decades, leaving only their ghostly echoes behind. When it looks like their two mysteries might be one and the same, Sophia vows to dig up the truth, no matter how many lies she has to tell along the way. Even if it leads her to a truth she may not want to face.
Our Last Echoes is an eerie collection of found documents and written confessionals, in the style of Rules for Vanishing, with supernatural twists that keep you questioning what is true and what is an illusion. 
---
 🌙 There's Someone Inside Your House by Stephanie Perkins | Love hurts…
Makani Young thought she'd left her dark past behind her in Hawaii, settling in with her grandmother in landlocked Nebraska. She's found new friends and has even started to fall for mysterious outsider Ollie Larsson. But her past isn't far behind.
Then, one by one, the students of Osborne Hugh begin to die in a series of gruesome murders, each with increasingly grotesque flair. As the terror grows closer and her feelings for Ollie intensify, Makani is forced to confront her own dark secrets. 
---
 🌙 The Only Good Indians by Stephen Graham Jones | The creeping horror of Paul Tremblay meets Tommy Orange's There There in a dark novel of revenge, cultural identity, and the cost of breaking from tradition in this latest novel from the Jordan Peele of horror literature, Stephen Graham Jones.
Seamlessly blending classic horror and a dramatic narrative with sharp social commentary, The Only Good Indians follows four American Indian men after a disturbing event from their youth puts them in a desperate struggle for their lives. Tracked by an entity bent on revenge, these childhood friends are helpless as the culture and traditions they left behind catch up to them in a violent, vengeful way. 
---
 🌙 House of Hollow by Krystal Sutherland | Seventeen-year-old Iris Hollow has always been strange. Something happened to her and her two older sisters when they were children, something they can't quite remember but that left each of them with an identical half-moon scar at the base of their throats.
Iris has spent most of her teenage years trying to avoid the weirdness that sticks to her like tar. But when her eldest sister, Grey, goes missing under suspicious circumstances, Iris learns just how weird her life can get: horned men start shadowing her, a corpse falls out of her sister's ceiling, and ugly, impossible memories start to twist their way to the forefront of her mind.
As Iris retraces Grey's last known footsteps and follows the increasingly bizarre trail of breadcrumbs she left behind, it becomes apparent that the only way to save her sister is to decipher the mystery of what happened to them as children.
The closer Iris gets to the truth, the closer she comes to understanding that the answer is dark and dangerous – and that Grey has been keeping a terrible secret from her for years. 
---
 🌙 White Smoke by Tiffany D. Jackson | The Haunting of Hill House meets Get Out in this chilling YA psychological thriller and modern take on the classic haunted house story from New York Times bestselling author Tiffany D. Jackson!
Marigold is running from ghosts. The phantoms of her old life keep haunting her, but a move with her newly blended family from their small California beach town to the embattled Midwestern city of Cedarville might be the fresh start she needs. Her mom has accepted a new job with the Sterling Foundation that comes with a free house, one that Mari now has to share with her bratty ten-year-old stepsister, Piper.
The renovated picture-perfect home on Maple Street, sitting between dilapidated houses, surrounded by wary neighbors has its . . . secrets. That's only half the problem: household items vanish, doors open on their own, lights turn off, shadows walk past rooms, voices can be heard in the walls, and there's a foul smell seeping through the vents only Mari seems to notice. Worse: Piper keeps talking about a friend who wants Mari gone.
But "running from ghosts" is just a metaphor, right?
As the house closes in, Mari learns that the danger isn't limited to Maple Street. Cedarville has its secrets, too. And secrets always find their way through the cracks. 
---
 ‼️ Visit & Support The Definitive Book Blogger List 📢
Thank you SO for joining me in another post, guys! Hope you have a month full of blessings & THE MOST AMAZING READINGS ❤️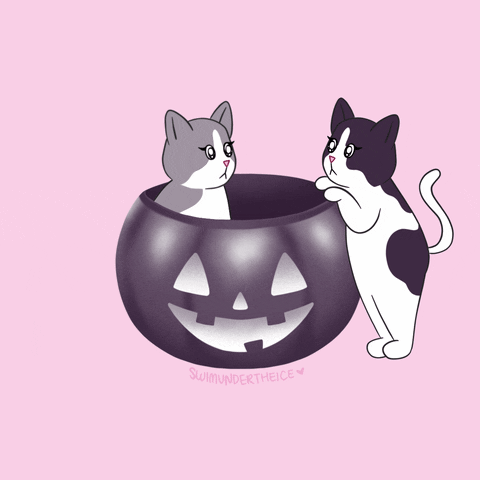 You can support me & to my content by buying me a Ko-fi or Buy me a Coffe
 🌙 Have you read any of these books? What do you think about them? & What will you be reading this month? Let me know everything in the comments, you know that I always love to know what you think 🌙