🔥 Hi, mis amores!! I hope you're having a wonderful day full of good readings & beautiful moments. ❤️ Super excited to have the chance to share with you again this post series, where every month I'll be bringing you the newest book releases of 2021, obviously focusing on those that sound more interesting and more appealing to me. 🌟 As I always say "Good news for the heart but bad for the pocket" right? that expression never gets old 😅 So if you're not afraid to let your TBR grow… even more, & you're dying to know what books are about to come out, this is the series for you. 👏🏻 In these posts, I always include those book releases that, as I said before, resonate the most with me or sound like something that I'll love, so I'll only highlight those that I plan to read at some point.
I hope you enjoy this post a lot & above all, that you can find new books to enjoy. 😍 Thank you for choosing to share this moment with me, make yourself comfortable, grab your favorite drink & LET'S GET STARTED! 🔥  
‼️ Small Clarification: The dates of some of these books may change due to Covid-19 and everything that's happening in the world right now, so if that's the case, don't hesitate to let me know!
September 7th, 2021 🔥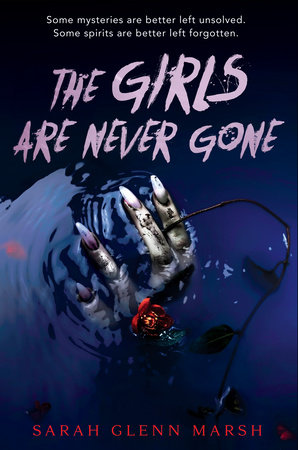 ---
Dare Chase doesn't believe in ghosts.

Privately, she's a supernatural skeptic. But publicly, she's keeping her doubts to herself—because she's the voice of Attachments, her brand-new paranormal investigation podcast, and she needs her ghost-loving listeners to tune in.

That's what brings her to Arrington Estate. Thirty years ago, teenager Atheleen Bell drowned in Arrington's lake, and legend says her spirit haunts the estate. Dare's more interested in the suspicious circumstances surrounding her death—circumstances that she believes point to a living culprit, not the supernatural. Still, she's vowed to keep an open mind as she investigates, even if she's pretty sure what she'll find.

But Arrington is full of surprises. Good ones like Quinn, the cute daughter of the house's new owner. And baffling ones like the threatening messages left scrawled in paint on Quinn's walls, the ghastly face that appears behind Dare's own in the mirror, and the unnatural current that nearly drowns their friend Holly in the lake. As Dare is drawn deeper into the mysteries of Arrington, she'll have to rethink the boundaries of what is possible. Because if something is lurking in the lake…it might not be willing to let her go.
| Goodreads |
Razorbill
---
---
Bestselling author Shawn Sarles' most terrifying YA horror yet…

It starts innocently enough. Four kids – three girls, one boy – are at one of their houses, playing games. One of them has read about "Bloody Mary" and the idea that if you look into a mirror and say her name thirteen times, she will show you the future. Some legends say she'll show you your one true love or a skull to mark your death within five years. Others say that conjuring Bloody Mary will bring her into your world.

Both sets of legends are true. The kids go through with the act, saying her name thirteen times. One girl looks in the mirror and sees her longtime crush. One girl looks in the mirror and sees the boy in the group. But she pretends to see something else. One girl looks in the mirror and sees a girl she's never seen before but can't get out of her mind. And the boy . . . he sees a skull. But he pretends to see something else. They try to laugh it off. And mostly they forget about it. Or at least they don't talk about it. Yes, over the next few years, whenever they look into a mirror, it's like there's always another figure standing in the background, getting closer.

Just short of five years later, the four of them are no longer friends, having gone on separate paths. The girl whose house it was has always tried to avoid the mirror they used – because she always sensed someone in the background. One morning as she's passing by, she sees much more than her own reflection – it's a scary figure taunting her. She startles and breaks the mirror. When the pieces are put back together (barely), the figure is gone.

That day in school, a new girl arrives. Her name is Mary… 
| Goodreads |
Scholastic Pressl
---
---
New York Times bestselling author Adrienne Young returns with The Last Legacy, a captivating standalone about family and blood ties, reinventing yourself, and controlling your own destiny.

When a letter from her uncle Henrik arrives on Bryn Roth's eighteenth birthday, summoning her back to Bastian, Bryn is eager to prove herself and finally take her place in her long-lost family.

Henrik has plans for Bryn, but she must win everyone's trust if she wants to hold any power in the delicate architecture of the family. It doesn't take long for her to see that the Roths are entangled in shadows. Despite their growing influence in upscale Bastian, their hands are still in the kind of dirty business that got Bryn's parents killed years ago. With a forbidden romance to contend with and dangerous work ahead, the cost of being accepted into the Roths may be more than Bryn can pay.
| Goodreads |
Wednesday Books
---
---
The Conjuring meets The Vow! This terrifying paperback original tells the unputdownable story of a girl, a dark angel, and the cult hellbent on taking over her small, coastal town.

Vera Martinez wants nothing more than to escape Roaring Creek and her parents' reputation as demonologists. Not to mention she's the family outcast, lacking her parents' innate abilities, and is terrified of the occult things lurking in their basement.

Maxwell Oliver is supposed to be enjoying the summer before his senior year, spending his days thinking about parties and friends. Instead he's taking care of his little sister while his mom slowly becomes someone he doesn't recognize. Soon he suspects that what he thought was grief over his father's death might be something more…sinister.

When Maxwell and Vera join forces, they come face to face with deeply disturbing true stories of cults, death worship, and the very nature that drives people to evil.

Underlined is a line of totally addictive romance, thriller, and horror paperback original titles coming to you fast and furious each month. Enjoy everything you want to read the way you want to read it. 
| Goodreads |
Underlined
---
---
Kyrie McCauley, author of If These Wings Could Fly, delivers a powerful contemporary YA novel about a trio of girls fighting for each other in the aftermath of a school shooting and the lasting bonds of friendship. Perfect for fans of Laura Ruby and Mindy McGinnis.

"Welcome to Bell, proud home of Bell Firearms for two hundred years, and where five months ago, the teen heir to the Bell fortune took his father's guns to school and killed his ex-girlfriend, Cassandra Queen." —WE CAN BE HEROES PODCAST

Beck and Vivian never could stand each other, but they always tried their best for their mutual friend, Cassie. After the town moves on from Cassie's murder too fast, Beck and Vivian finally find common ground: vengeance. They memorialize Cassie by secretly painting murals of her around town, a message to the world that Cassie won't be forgotten. But Beck and Vivian are keeping secrets, like the third passenger riding in Beck's VW bus with them—Cassie's ghost.

When their murals catch the attention of a podcaster covering Cassie's case, they become the catalyst for a debate that Bell Firearms can no longer ignore. With law enforcement closing in on them, Beck and Vivian hurry to give Cassie the closure she needs—by delivering justice to those responsible for her death.
| Goodreads |
Katherine Tegen Books
---
September 14th, 2021 🔥
---
When her siblings start to go missing, a girl must confront the dark thing that lives in the forest—and the growing darkness in herself—in this debut YA contemporary fantasy for fans of Wilder Girls.

Derry and her eight siblings live in an isolated house by the lake, separated from the rest of the world by an eerie and menacing forest. Frank, the man who raised them after their families abandoned them, says it's for their own good. After all, the world isn't safe for people with magic. And Derry feels safe—most of the time.

Until the night her eldest sister disappears. Jane and Derry swore to each other that they'd never go into the forest, not after their last trip ended in blood, but Derry is sure she saw Jane walk into the trees. When another sibling goes missing and Frank's true colors start to show, feeling safe is no longer an option. Derry will risk anything to protect the family she has left. Even if that means returning to the forest that has started calling to Derry in her missing siblings' voices.

As Derry spends more time amidst the trees, her magic grows more powerful . . . and so does the darkness inside her, the viciousness she wants to pretend doesn't exist. But saving her siblings from the forest and from Frank might mean embracing the darkness. And that just might be the most dangerous thing of all.  
| Goodreads |
HMH Books for Young Readers
---
---
 The Haunting of Hill House meets Get Out in this chilling YA psychological thriller and modern take on the classic haunted house story from New York Times bestselling author Tiffany D. Jackson!

Marigold is running from ghosts. The phantoms of her old life keep haunting her, but a move with her newly blended family from their small California beach town to the embattled Midwestern city of Cedarville might be the fresh start she needs. Her mom has accepted a new job with the Sterling Foundation that comes with a free house, one that Mari now has to share with her bratty ten-year-old stepsister, Piper.

The renovated picture-perfect home on Maple Street, sitting between dilapidated houses, surrounded by wary neighbors has its . . . secrets. That's only half the problem: household items vanish, doors open on their own, lights turn off, shadows walk past rooms, voices can be heard in the walls, and there's a foul smell seeping through the vents only Mari seems to notice. Worse: Piper keeps talking about a friend who wants Mari gone.

But "running from ghosts" is just a metaphor, right?

As the house closes in, Mari learns that the danger isn't limited to Maple Street. Cedarville has its secrets, too. And secrets always find their way through the cracks.  
| Goodreads |
Katherine Tegen Books
---
September 21st, 2021 🔥
---
Sixteen bloodless bodies. Two teenagers. One impossible explanation.

Summer 1958—a string of murders plagues the Midwest. The victims are found in their cars and in their homes—even in their beds—their bodies drained, but with no blood anywhere.

September 19- the Carlson family is slaughtered in their Minnesota farmhouse, and the case gets its first lead: 15-year-old Marie Catherine Hale is found at the scene. She is covered in blood from head to toe, and at first she's mistaken for a survivor. But not a drop of the blood is hers.

Michael Jensen, son of the local sheriff, yearns to become a journalist and escape his small-town. He never imagined that the biggest story in the country would fall into his lap, or that he would be pulled into the investigation, when Marie decides that he is the only one she will confess to.

As Marie recounts her version of the story, it falls to Michael to find the truth: What really happened the night that the Carlsons were killed? And how did one girl wind up in the middle of all these bodies?  
| Goodreads |
Quill Tree Books
---
---
Debut voice Alison Ames delivers with a chilling, feminist thriller, perfect for fans of Wilder Girls and Sawkill Girls.

Moon Basin has been haunted for as long as anyone can remember. It started when an explosion in the mine killed sixteen people. The disaster made it impossible to live in town, with underground fires spewing ash into the sky. But life in New Basin is just as fraught. The ex-mining town relies on its haunted reputation to bring in tourists, but there's more truth to the rumors than most are willing to admit, and the mine still has a hold on everyone who lives there.

Clem and Nina form a perfect loop—best friends forever, and perhaps something more. Their circle opens up for a strange girl named Lisey with a knack for training crows, and Piper, whose father is fascinated with the mine in a way that's anything but ordinary. The people of New Basin start experiencing strange phenomena—sleepwalking, night terrors, voices that only they can hear. And no matter how many vans of ghost hunters roll through, nobody can get to the bottom of what's really going on. Which is why the girls decide to enter the mine themselves.  
| Goodreads |
Page Street Kids
---
September 28st, 2021 🔥
---
Magic doesn't exist in the broken city of Lkossa anymore, especially for girls like sixteen-year-old Koffi. Indentured to the notorious Night Zoo, she cares for its fearsome and magical creatures to pay off her family's debts and secure their eventual freedom. But the night her loved ones' own safety is threatened by the Zoo's cruel master, Koffi unleashes a power she doesn't fully understand–and the consequences are dire.

As the second son of a decorated hero, Ekon is all but destined to become a Son of the Six–an elite warrior–and uphold a family legacy. But on the night of his final rite of passage, a fire upends his plans. In its midst, Ekon not only encounters the Shetani–a vicious monster that has plagued the city and his nightmares for nearly a century–but a curious girl who seems to have the power to ward off the beast. Koffi's power ultimately saves Ekon's life, but his choice to let her flee dooms his hopes of becoming a warrior.

Desperate to redeem himself, Ekon vows to hunt the Shetani down and end its reign of terror, but he can't do it alone. Meanwhile, Koffi believes finding the Shetani and selling it for a profit could be the key to solving her own problems. Koffi and Ekon–each keeping their true motives secret from the other–form a tentative alliance and enter into the unknowns of the Greater Jungle, a world steeped in wild magic and untold dangers. The hunt begins. But it quickly becomes unclear whether they are the hunters or the hunted.

In this much-anticipated series opener, fate binds two Black teenagers together as they strike a dangerous alliance to hunt down the ancient creature menacing their home–and discover much more than they bargained for.   
| Goodreads |
G.P. Putnam's Sons Books for Young
---
---
"An unforgettable and artfully crafted romance right down to the very last page." —Julie Murphy, #1 New York Times bestselling author of Dumplin'

"A romance for the ages. Fresh voices and original predicaments make this one perfect little novel."
—Stacey Lee, award-winning author of The Downstairs Girl

The Sun Is Also a Star meets Outlander in this vivid, utterly romantic debut novel about two teens who relive their tragic love story over and over until they uncover what they must do to change their fate.

Tamar is a musician, a warrior, a survivor. Fayard? He's a pioneer, a hustler, a hopeless romantic.

Together, Tamar and Fayard have lived a thousand lives, seen the world build itself up from nothing only to tear itself down again in civil war. They've even watched humanity take to the stars. But in each life one thing remains the same: their love and their fight to be together. One love story after another. Their only concern is they never get to see how their story ends. Until now.

When they finally discover what it will take to break the cycle, will they be able to make the sacrifice?   
| Goodreads |
Simon Schuster Books for Young
---
---
Andrew and Eddie did everything together, best friends bonded more deeply than brothers, until Eddie left Andrew behind to start his graduate program at Vanderbilt. Six months later, only days before Andrew was to join him in Nashville, Eddie dies of an apparent suicide. He leaves Andrew a horrible inheritance: a roommate he doesn't know, friends he never asked for, and a gruesome phantom with bleeding wrists that mutters of revenge.

As Andrew searches for the truth of Eddie's death, he uncovers the lies and secrets left behind by the person he trusted most, discovering a family history soaked in blood and death. Whirling between the backstabbing academic world where Eddie spent his days and the circle of hot boys, fast cars, and hard drugs that ruled Eddie's nights, the walls Andrew has built against the world begin to crumble, letting in the phantom that hungers for him.
| Goodreads |
Tordotcom
---
  ‼️ Visit & Support The Definitive Book Blogger List 📢 
Credit for the source of the original image HERE
 🔥 Now is the time to Chat! Are you excited about some of these New Releases? & What is your September's most anticipated book? Let me know everything in the comments, you know I LOVE to know what you think 🔥
You can support me & to my content by buying me a Ko-fi or Buy me a Coffe