🔥 Hi, mis amores!! I hope you're having a wonderful day full of good readings & beautiful moments. ❤️ Super excited to have the chance to share with you again this post series, where every month I'll be bringing you the newest book releases of 2021, obviously focusing on those that sound more interesting and more appealing to me. 🌟 As I always say "Good news for the heart but bad for the pocket" right? that expression never gets old 😂 So if you're not afraid to let your TBR grow… even more, & you're dying to know what books are about to come out, this is the series for you. 👏🏻 In these posts, I always include those book releases that, as I said before, resonate the most with me or sound like something that I'll love, so I'll only highlight those that I plan to read at some point.
I hope you enjoy this post a lot & above all, that you can find new books to enjoy. 😍 Thank you for choosing to share this moment with me, make yourself comfortable, grab your favorite drink & LET'S GET STARTED! 🔥 
‼️ Small Clarification: The dates of some of these books may change due to Covid-19 and everything that's happening in the world right now, so if that's the case, don't hesitate to let me know!
August 3rd, 2021 🔥
---
From William C. Morris Finalist Nafiza Azad comes a thrilling, feminist fantasy about a group of teenage girls endowed with special powers who must band together to save the life of the boy whose magic saved them all.

Meet the Wild Ones: girls who have been hurt, abandoned, and betrayed all their lives. It all began with Paheli, who was once betrayed by her mother and sold to a man in exchange for a favor. When Paheli escapes, she runs headlong into a boy with stars in his eyes. This boy, as battered as she is, tosses Paheli a box of stars before disappearing.

With the stars, Paheli gains access to the Between, a place of pure magic and mystery. Now, Paheli collects girls like herself and these Wild Ones use their magic to travel the world, helping the hopeless and saving others from the fates they suffered.

Then Paheli and the Wild Ones learn that the boy who gave them the stars, Taraana, is in danger. He's on the run from powerful forces within the world of magic. But if Taraana is no longer safe and free, neither are the Wild Ones. And that…is a fate the Wild Ones refuse to accept. Ever again. 
| Goodreads |
Margaret K. McElderry Books
---
---
For fans of Wilder Girls and Ninth House comes a dark, twisty, atmospheric thriller about a boarding school haunted by its history of witchcraft and two girls dangerously close to digging up the past.

Felicity Morrow is back at Dalloway School.

Perched in the Catskill mountains, the centuries-old, ivy-covered campus was home until the tragic death of her girlfriend. Now, after a year away, she's returned to graduate. She even has her old room in Godwin House, the exclusive dormitory rumored to be haunted by the spirits of five Dalloway students—girls some say were witches. The Dalloway Five all died mysteriously, one after another, right on Godwin grounds.

Witchcraft is woven into Dalloway's history. The school doesn't talk about it, but the students do. In secret rooms and shadowy corners, girls convene. And before her girlfriend died, Felicity was drawn to the dark. She's determined to leave that behind her now; all Felicity wants is to focus on her senior thesis and graduate. But it's hard when Dalloway's occult history is everywhere. And when the new girl won't let her forget.

It's Ellis Haley's first year at Dalloway, and she's already amassed a loyal following. A prodigy novelist at seventeen, Ellis is a so-called "method writer." She's eccentric and brilliant, and Felicity can't shake the pull she feels to her. So when Ellis asks Felicity for help researching the Dalloway Five for her second book, Felicity can't say no. Given her history with the arcane, Felicity is the perfect resource.

And when history begins to repeat itself, Felicity will have to face the darkness in Dalloway–and in herself. 
| Goodreads |
Delacorte Press
---
---
Stalking Jack the Ripper meets Devil in the White City. In order to save her sister, Zuretta takes a job at a notorious house of horrors—but she might never escape.
Zuretta never thought she'd encounter a monster—one of the world's most notorious serial killers. She had resigned herself to a quiet life in Utah. But when her younger sister, Ruby, travels to Chicago during the World's Fair, and disappears, Zuretta leaves home to find her.
But 1890s Chicago is more dangerous and chaotic than she imagined. She doesn't know where to start until she learns of her sister's last place of employment…a mysterious hotel known as The Castle.
Zuretta takes a job there hoping to learn more. And before long she realizes the hotel isn't what it seems. Women disappear at an alarming rate, she hears crying from the walls, and terrifying whispers follow her at night. In the end, she finds herself up against one of the most infamous mass murderers in American history—and his custom-built death trap.
| Goodreads |
Sourcebooks Fire
---
---
Courtney Gould's thrilling debut The Dead and the Dark is about the things that lurk in dark corners, the parts of you that can't remain hidden, and about finding home in places―and people―you didn't expect.

The Dark has been waiting for far too long, and it won't stay hidden any longer.

Something is wrong in Snakebite, Oregon. Teenagers are disappearing, some turning up dead, the weather isn't normal, and all fingers seem to point to TV's most popular ghost hunters who have just returned to town. Logan Ortiz-Woodley, daughter of TV's ParaSpectors, has never been to Snakebite before, but the moment she and her dads arrive, she starts to get the feeling that there's more secrets buried here than they originally let on.

Ashley Barton's boyfriend was the first teen to go missing, and she's felt his presence ever since. But now that the Ortiz-Woodleys are in town, his ghost is following her and the only person Ashley can trust is the mysterious Logan. When Ashley and Logan team up to figure out who—or what—is haunting Snakebite, their investigation reveals truths about the town, their families, and themselves that neither of them are ready for. As the danger intensifies, they realize that their growing feelings for each other could be a light in the darkness. 
| Goodreads |
Wednesday Books
---
---
Students at an elite prep school are forced to confront their secrets when their ex-best friend turns up dead.

Nancy Luo is shocked when her former best friend, Jamie Ruan, top ranked junior at Sinclair Prep, goes missing, and then is found dead. Nancy is even more shocked when word starts to spread that she and her friends–Krystal, Akil, and Alexander–are the prime suspects, thanks to "The Proctor," someone anonymously incriminating them via the school's social media app.

They all used to be Jamie's closest friends, and she knew each of their deepest, darkest secrets. Now, somehow The Proctor knows them, too. The four must uncover the true killer before The Proctor exposes more than they can bear and costs them more than they can afford, like Nancy's full scholarship. Soon, Nancy suspects that her friends may be keeping secrets from her, too.  
| Goodreads |
Bloomsbury YA
---
August 10th, 2021 🔥
---
A young witch tries to unravel the mystery of who is framing her for dark magic in Georgia Bowers' creepy YA debut fantasy, Mark of the Wicked.

Magic always leaves its mark.

All her life, Matilda has been told one thing about her magic: You use only when necessary. But Matilda isn't interested in being a good witch. She wants revenge and popularity, and to live her life free of consequences, free of the scars that dark magic leaves on her face as a reminder of her misdeeds.

When a spell goes awry and the new boy at school catches her in the act, Matilda thinks her secret might be out. But far from being afraid, Oliver already knows about her magic – and he wants to learn more. As Oliver and Matilda grow closer, bizarre things begin to happen: Animals show up with their throats slashed and odd markings carved into their bodies, a young girl dies mysteriously, and everyone blames Matilda. But she isn't responsible — at least, not that she can remember. As her magic begins to spin out of control, Matilda must decide for herself what makes a good witch, and discover the truth…before anyone else turns up dead. 
| Goodreads |
Swoon Reads
---
August 17th, 2021 🔥
---
Stranger Things meets One of Us Is Lying in this creepy paranormal mystery about four friends who find themselves hunted by a malevolent presence in their sleepy hometown.

It knows your fear…

Summer, 1989. Four best friends—Gabe, Kimberly, Charlie, and Sonya—are preparing for their last summer together before senior year, after which they'll all be splitting up to start college in different parts of the country. They make a promise to always find their way back to each other, no matter how far away from their sleepy Pennsylvania hometown they get.

But their plans are destroyed when a plane crashes right on top of their favorite hangout outside of town—and right on top of them.

In the catastrophic aftermath of the incident, Gabe, Sonya and Charlie are plagued by eerie visions and messages from an unknown watcher. They soon realize that the plane crash was no accident, and now they are being hunted by a sinister presence. And everyone is still searching for Kimberly, who has been missing ever since Gabe saw somebody wearing a gas mask carry her out of the woods the day the sky fell down on them… 
| Goodreads |
Swoon Reads
---
---
From the New York Times bestselling author of Mexican Gothic comes a "delicious, twisted treat for lovers of noir" about a daydreaming secretary, a lonesome enforcer, and the mystery of a missing woman they're both desperate to find.

1970s, Mexico City. Maite is a secretary who lives for one thing: the latest issue of Secret Romance. While student protests and political unrest consume the city, Maite escapes into stories of passion and danger.

Her next-door neighbor, Leonora, a beautiful art student, seems to live a life of intrigue and romance that Maite envies. When Leonora disappears under suspicious circumstances, Maite finds herself searching for the missing woman—and journeying deeper into Leonora's secret life of student radicals and dissidents.

Meanwhile, someone else is also looking for Leonora at the behest of his boss, a shadowy figure who commands goon squads dedicated to squashing political activists. Elvis is an eccentric criminal who longs to escape his own life: He loathes violence and loves old movies and rock 'n' roll. But as Elvis searches for the missing woman, he comes to observe Maite from a distance—and grows more and more obsessed with this woman who shares his love of music and the unspoken loneliness of his heart.

Now as Maite and Elvis come closer to discovering the truth behind Leonora's disappearance, they can no longer escape the danger that threatens to consume their lives, with hitmen, government agents, and Russian spies all aiming to protect Leonora's secrets—at gunpoint.

Velvet Was the Night is an edgy, simmering historical novel for lovers of smoky noirs and anti-heroes. 
| Goodreads |
Del Rey
---
August 31st, 2021 🔥
---
A teen girl disappears from her small town deep in the bayou, where magic festers beneath the surface of the swamp like water rot, in this chilling debut supernatural thriller for fans of Natasha Preston, Karen McManus, and Rory Power.

La Cachette, Louisiana, is the worst place to be if you have something to hide.

This tiny town, where seventeen-year-old Grey spends her summers, is the self-proclaimed Psychic Capital of the World–and the place where Elora Pellerin, Grey's best friend, disappeared six months earlier.

Grey can't believe that Elora vanished into thin air any more than she can believe that nobody in a town full of psychics knows what happened. But as she digs into the night that Elora went missing, she begins to realize that everybody in town is hiding something – her grandmother Honey; her childhood crush Hart; and even her late mother, whose secrets continue to call to Grey from beyond the grave.

When a mysterious stranger emerges from the bayou – a stormy-eyed boy with links to Elora and the town's bloody history – Grey realizes that La Cachette's past is far more present and dangerous than she'd ever understood. Suddenly, she doesn't know who she can trust. In a town where secrets lurk just below the surface, and where a murderer is on the loose, nobody can be presumed innocent–and La Cachette's dark and shallow lies may just rip the town apart. 
| Goodreads |
Razorbill
---
---
New from bestselling author Stephanie Perkins, and the perfect companion to her New York Times bestseller There's Someone Inside Your House, soon to be a Netflix feature.

Bears aren't the only predators in these woods.

Best friends Neena and Josie spent high school as outsiders, but at least they had each other. Now, with college and a two-thousand-mile separation looming on the horizon, they have one last chance to be together—a three-day hike deep into the woods of the Pisgah National Forest.

Simmering tensions lead to a detour off the trail and straight into a waking nightmare … and then into something far worse. Something that will test them in horrifying ways.

Stephanie Perkins, the bestselling author of There's Someone Inside Your House, returns with a heart-stopping, gut-wrenching novel about friendship, survival, and navigating unmarked paths even as evil watches from the shadows. 
| Goodreads |
Books for Young Readers
---
  ‼️ Visit & Support The Definitive Book Blogger List 📢
Credit for the source of the original image HERE
 🔥 Now is the time to Chat! Are you excited about some of these New Releases? & What is your August's most anticipated book? Let me know everything in the comments, you know I LOVE to know what you think 🔥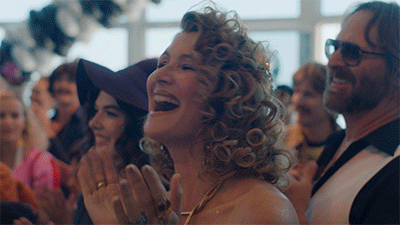 You can support me & to my content by buying me a Ko-fi or Buy me a Coffe