🔥 Hi, mis amores!! I hope you're having a wonderful day full of good readings & beautiful moments.❤️ Super excited to have the chance to share with you again this post series, where every month I'll be bringing you the newest book releases of 2021, obviously focusing on those that sound more interesting and more appealing to me. 🌟 As I always say "Good news for the heart but bad for the pocket" right? that expression never gets old 😂 So if you're not afraid to let your TBR grow… even more, & you're dying to know what books are about to come out, this is the series for you. 👏🏻 In these posts, I always include those book releases that, as I said before, resonate the most with me or sound like something that I'll love, so I'll only highlight those that I plan to read at some point.
I hope you enjoy this post a lot & above all, that you can find new books to enjoy. 😍 Thank you for choosing to share this moment with me, make yourself comfortable, grab your favorite drink & LET'S GET STARTED! 🔥
‼️ Small Clarification: The dates of some of these books may change due to Covid-19 and everything that's happening in the world right now, so if that's the case, don't hesitate to let me know!
June 1st, 2021 🔥
The Nature of Witches by Rachel Griffin
---
Practical Magic meets Twister in this debut contemporary fantasy standalone about heartbreaking power, the terror of our collapsing atmosphere, and the ways we unknowingly change our fate.

For centuries, witches have maintained the climate, their power from the sun peaking in the season of their birth. But now their control is faltering as the atmosphere becomes more erratic. All hope lies with Clara, an Everwitch whose rare magic is tied to every season.

In Autumn, Clara wants nothing to do with her power. It's wild and volatile, and the price of her magic―losing the ones she loves―is too high, despite the need to control the increasingly dangerous weather.

In Winter, the world is on the precipice of disaster. Fires burn, storms rage, and Clara accepts that she's the only one who can make a difference.

In Spring, she falls for Sang, the witch training her. As her magic grows, so do her feelings, until she's terrified Sang will be the next one she loses.

In Summer, Clara must choose between her power and her happiness, her duty and the people she loves…before she loses Sang, her magic, and thrusts the world into chaos.
| Goodreads |
Sourcebooks Fire
---
For the Wolf (Wilderwood #1) by Hannah F. Whitten
---
The first daughter is for the Throne.
The second daughter is for the Wolf.
For fans of Uprooted and The Bear and the Nightingale comes a dark fantasy novel about a young woman who must be sacrificed to the legendary Wolf of the Wood to save her kingdom. But not all legends are true, and the Wolf isn't the only danger lurking in the Wilderwood.
As the only Second Daughter born in centuries, Red has one purpose-to be sacrificed to the Wolf in the Wood in the hope he'll return the world's captured gods.
Red is almost relieved to go. Plagued by a dangerous power she can't control, at least she knows that in the Wilderwood, she can't hurt those she loves. Again.
But the legends lie. The Wolf is a man, not a monster. Her magic is a calling, not a curse. And if she doesn't learn how to use it, the monsters the gods have become will swallow the Wilderwood-and her world-whole.
| Goodreads |
Orbit Books
---
An Emotion of Great Delight by Tahereh Mafi
---
From bestselling and National Book Award–nominated author Tahereh Mafi comes a stunning novel about love and loneliness, navigating the hyphen of dual identity, and reclaiming your right to joy—even when you're trapped in the amber of sorrow.

It's 2003, several months since the US officially declared war on Iraq, and the American political world has evolved. Tensions are high, hate crimes are on the rise, FBI agents are infiltrating local mosques, and the Muslim community is harassed and targeted more than ever. Shadi, who wears hijab, keeps her head down.

She's too busy drowning in her own troubles to find the time to deal with bigots.

Shadi is named for joy, but she's haunted by sorrow. Her brother is dead, her father is dying, her mother is falling apart, and her best friend has mysteriously dropped out of her life. And then, of course, there's the small matter of her hear—

It's broken.

Shadi tries to navigate her crumbling world by soldiering through, saying nothing. She devours her own pain, each day retreating farther and farther inside herself until finally, one day, everything changes.

She explodes.

An Emotion of Great Delightis a searing look into the world of a single Muslim family in the wake of 9/11. It's about a child of immigrants forging a blurry identity, falling in love, and finding hope—in the midst of a modern war.
| Goodreads |
HarperCollins
---
Malibu Rising by Taylor Jenkins Reid
---
Malibu: August 1983. It's the day of Nina Riva's annual end-of-summer party, and anticipation is at a fever pitch. Everyone wants to be around the famous Rivas: Nina, the talented surfer and supermodel; brothers Jay and Hud, one a championship surfer, the other a renowned photographer; and their adored baby sister, Kit. Together the siblings are a source of fascination in Malibu and the world over–especially as the offspring of the legendary singer Mick Riva.
The only person not looking forward to the party of the year is Nina herself, who never wanted to be the center of attention, and who has also just been very publicly abandoned by her pro tennis player husband. Oh, and maybe Hud–because it is long past time for him to confess something to the brother from whom he's been inseparable since birth.
Jay, on the other hand, is counting the minutes until nightfall, when the girl he can't stop thinking about promised she'll be there.
And Kit has a couple secrets of her own–including a guest she invited without consulting anyone.
By midnight the party will be completely out of control. By morning, the Riva mansion will have gone up in flames. But before that first spark in the early hours before dawn, the alcohol will flow, the music will play, and the loves and secrets that shaped this family's generations will all come bubbling to the surface.
Malibu Rising is a story about one unforgettable night in the life of a family: the night they each have to choose what they will keep from the people who made them . . . and what they will leave behind.
| Goodreads |
Ballantine Books
---
Jay's Gay Agenda (Jay's Gay Agenda #1) by Jason June
---
There's one thing Jay Collier knows for sure—he's a statistical anomaly as the only out gay kid in his small rural Washington town. While all this friends can't stop talking about their heterosexual hookups and relationships, Jay can only dream of his own firsts, compiling a romance to-do list of all the things he hopes to one day experience—his Gay Agenda.

Then, against all odds, Jay's family moves to Seattle and he starts his senior year at a new high school with a thriving LGBTQIA+ community. For the first time ever, Jay feels like he's found where he truly belongs, where he can flirt with Very Sexy Boys and search for love. But as Jay begins crossing items off his list, he'll soon be torn between his heart and his hormones, his old friends and his new ones…because after all, life and love don't always go according to plan.

From debut novelist Jason June comes a moving and hilarious sex-positive story about the complexities of first loves, first hookups, and first heartbreaks—and how to stay true to yourself while embracing what you never saw coming.
| Goodreads |
HarperTeen
---
One Last Stop by Casey McQuiston
---
For cynical twenty-three-year-old August, moving to New York City is supposed to prove her right: that things like magic and cinematic love stories don't exist, and the only smart way to go through life is alone. She can't imagine how waiting tables at a 24-hour pancake diner and moving in with too many weird roommates could possibly change that. And there's certainly no chance of her subway commute being anything more than a daily trudge through boredom and electrical failures.

But then, there's this gorgeous girl on the train.

Jane. Dazzling, charming, mysterious, impossible Jane. Jane with her rough edges and swoopy hair and soft smile, showing up in a leather jacket to save August's day when she needed it most. August's subway crush becomes the best part of her day, but pretty soon, she discovers there's one big problem: Jane doesn't just look like an old school punk rocker. She's literally displaced in time from the 1970s, and August is going to have to use everything she tried to leave in her own past to help her. Maybe it's time to start believing in some things, after all.
| Goodreads |
Martin's Griffin
---
Ace of Spades by Faridah Àbíké-Íyímídé
---
Gossip Girl meets Get Out in Ace of Spades, a YA contemporary thriller by debut author Faridah Àbíké-Íyímídé about two students, Devon & Chiamaka, and their struggles against an anonymous bully.

When two Niveus Private Academy students, Devon Richards and Chiamaka Adebayo, are selected to be part of the elite school's senior class prefects, it looks like their year is off to an amazing start. After all, not only does it look great on college applications, but it officially puts each of them in the running for valedictorian, too.

Shortly after the announcement is made, though, someone who goes by Aces begins using anonymous text messages to reveal secrets about the two of them that turn their lives upside down and threaten every aspect of their carefully planned futures.

As Aces shows no sign of stopping, what seemed like a sick prank quickly turns into a dangerous game, with all the cards stacked against them. Can Devon and Chiamaka stop Aces before things become incredibly deadly?

With heart-pounding suspense and relevant social commentary comes a high-octane thriller from debut author Faridah Àbíké-Íyímídé.
| Goodreads |
Feiwel Friends
---
Strange Creatures by Phoebe North
---
A riveting, unexpected, and beautiful contemporary novel about a girl whose brother mysteriously disappears, the family and friends he leaves behind, and the stories—real and imagined—that they tell themselves to fill the empty space.

From the moment that Annie was born, she and her older brother, Jamie, were inseparable. Alike in almost every way, they promised to always take care of each other while facing the challenges of growing up different in suburban America. And when life became too much for them, they created their own space in the woods behind their house: a fantasy world of their own making, where no one else could find them. And it was enough, for a while. But then came middle school when Jamie grew dark and distant. He found new friends, a girlfriend, and a life away from Annie and their shared world. By the time Annie was in eighth grade, it was as if she hardly knew the brother who was her other half.

And then, one day, he disappears.

Annie, her family, and the entire community are devastated. And as the days turn into months turn into years, everyone begins to accept that Jamie is gone for good. Everyone, that is, except Annie, who believes that Jamie, somehow, has entered the world they created, and who believes that she's the only one who can bring him back. But as Annie searches for answers and finds a new relationship with a girl she did not expect, she makes startling discoveries about her brother's disappearance—and has to decide how much of herself she's willing to give up in order to keep hope alive.

As they follow the lives of Annie, Jamie, and the friends and family around them, acclaimed author Phoebe North weaves an unflinching, unforgettable story of the empty spaces inside all of us, and the devastating sacrifices we make in order to become whole.
| Goodreads |
Balzer + Bray
---
June 8th, 2021 🔥
Fire with Fire by Destiny Soria
---
Dani and Eden Rivera were both born to kill dragons, but the sisters couldn't be more different. For Dani, dragon slaying takes a back seat to normal high school life, while Eden prioritizes training above everything else. Yet they both agree on one thing: it's kill or be killed where dragons are concerned.

Until Dani comes face-to-face with one and forges a rare and magical bond with him. As she gets to know Nox, she realizes that everything she thought she knew about dragons is wrong. With Dani lost to the dragons, Eden turns to the mysterious and alluring sorcerers to help save her sister. Now on opposite sides of the conflict, the sisters will do whatever it takes to save the other. But the two are playing with magic that is more dangerous than they know, and there is another, more powerful enemy waiting for them both in the shadows.
| Goodreads |
HMH Books for Young Readers
---
All Our Hidden Gifts (All Our Hidden Gifts #1) by Caroline O'Donoghue
---
Maeve's strangely astute tarot readings make her the talk of the school, until a classmate draws a chilling and unfamiliar card—and then disappears.

After Maeve finds a pack of tarot cards while cleaning out a closet during her in-school suspension, she quickly becomes the most sought-after diviner at St. Bernadette's Catholic school. But when Maeve's ex–best friend, Lily, draws an unsettling card called The Housekeeper that Maeve has never seen before, the session devolves into a heated argument that ends with Maeve wishing aloud that Lily would disappear. When Lily isn't at school the next Monday, Maeve learns her ex-friend has vanished without a trace.

Shunned by her classmates and struggling to preserve a fledgling romance with Lily's gender-fluid sibling, Roe, Maeve must dig deep into her connection with the cards to search for clues the police cannot find—even if they lead to the terrifying Housekeeper herself. Set in an Irish town where the church's tight hold has loosened and new freedoms are trying to take root, this sharply contemporary story is witty, gripping, and tinged with mysticism.
| Goodreads |
Walker Books
---
Daughter of Sparta (Daughter of Sparta #1) by Claire M. Andrews
---
Sparta forged her into a deadly weapon. Now the Gods need her to save the world!

Seventeen-year-old Daphne has spent her entire life honing her body and mind into that of a warrior, hoping to be accepted by the unyielding people of ancient Sparta. But an unexpected encounter with the goddess Artemis—who holds Daphne's brother's fate in her hands—upends the life she's worked so hard to build. Nine mysterious items have been stolen from Mount Olympus and if Daphne cannot find them, the gods' waning powers will fade away, the mortal world will descend into chaos, and her brother's life will be forfeit.

Guided by Artemis's twin-the handsome and entirely-too-self-assured god Apollo-Daphne's journey will take her from the labyrinth of the Minotaur to the riddle-spinning Sphinx of Thebes, team her up with mythological legends such as Theseus and Hippolyta of the Amazons, and pit her against the gods themselves.

A reinterpretation of the classic Greek myth of Daphne and Apollo, Daughter of Sparta by debut author Claire Andrews turns the traditionally male-dominated mythology we know into a heart-pounding and empowering female-led adventure.
| Goodreads |
Jimmy Patterson Books
---
Girls at the Edge of the World by Laura Brooke Robson
---
Set in a world on the edge of an apocryphal flood, this heart-stoppingly romantic fantasy debut is perfect for fans of Rachel Hartman and Rae Carson.

In a world bound for an epic flood, only a chosen few are guaranteed safe passage into the new world once the waters recede. The Kostrovian royal court will be saved, of course, along with their guards. But the fate of the court's Royal Flyers, a lauded fleet of aerial silk performers, is less certain. Hell-bent on survival, Principal Flyer, Natasha Koskinen, will do anything to save the Flyers, who are the only family she's ever known. Even if "anything" means molding herself into the type of girl who could be courted by Prince Nikolai. But unbeknownst to Natasha, her newest recruit, Ella Neves, is driven less by her desire to survive the floods than her thirst for revenge. And Ella's mission could put everything Natasha has worked for in peril.

As the oceans rise, so too does an undeniable spark between the two flyers. With the end of the world looming, and dark secrets about the Kostrovian court coming to light, Ella and Natasha can either give in to despair . . . or find a new reason to live.
| Goodreads |
Dial Books
---
June 15th, 2021 🔥
Indestructible Object by Mary McCoy
---
Perfect for fans of What If It's Us and Mary H. K. Choi, this stunning coming-of-age novel from Printz Honor author Mary McCoy follows a Memphis teen whose quest to uncover the secrets of love reveals new truths about herself.

For the past two years, Lee has been laser-focused on two things: her job as a sound tech at a local coffee shop and her podcast "Artists in Love," which she cohosts with her boyfriend Vincent.

Until he breaks up with her on the air right after graduation.

When their unexpected split, the loss of her job, and her parent's announcement that they're separating coincide, Lee's plans, her art, and her life are thrown into turmoil. Searching for a new purpose, Lee recruits her old friend Max and new friend Risa to produce a podcast called "Objects of Destruction," where they investigate whether love actually exists at all.

But the deeper they get into the love stories around them, the more Lee realizes that she's the one who's been holding love at arm's length. And when she starts to fall for Risa, she finds she'll have to be more honest with herself and the people in her life to create a new love story of her own.

Funny, romantic, and heartfelt, this is a story about secrets, lies, friendship, found family, an expired passport, a hidden VHS tape, fried pickles, the weird and wild city of Memphis, and, most of all, love.
| Goodreads |
Simon Pulse
---
Blood Like Magic (Blood Like Magic #1) by Liselle Sambury
---
A rich, dark urban fantasy debut following a teen witch who is given a horrifying task: sacrificing her first love to save her family's magic. The problem is, she's never been in love—she'll have to find the perfect guy before she can kill him.

After years of waiting for her Calling—a trial every witch must pass in order to come into their powers—the one thing Voya Thomas didn't expect was to fail. When Voya's ancestor gives her an unprecedented second chance to complete her Calling, she agrees—and then is horrified when her task is to kill her first love. And this time, failure means every Thomas witch will be stripped of their magic.

Voya is determined to save her family's magic no matter the cost. The problem is, Voya has never been in love, so for her to succeed, she'll first have to find the perfect guy—and fast. Fortunately, a genetic matchmaking program has just hit the market. Her plan is to join the program, fall in love, and complete her task before the deadline. What she doesn't count on is being paired with the infuriating Luc—how can she fall in love with a guy who seemingly wants nothing to do with her?

With mounting pressure from her family, Voya is caught between her morality and her duty to her bloodline. If she wants to save their heritage and Luc, she'll have to find something her ancestor wants more than blood. And in witchcraft, blood is everything.
| Goodreads |
Margaret K. McElderry
---
June 29th, 2021 🔥
Survive the Night by Riley Sager
---
It's November 1991. George H. W. Bush is in the White House, Nirvana's in the tape deck, and movie-obsessed college student Charlie Jordan is in a car with a man who might be a serial killer.

Josh Baxter, the man behind the wheel, is a virtual stranger to Charlie. They met at the campus ride board, each looking to share the long drive home to Ohio. Both have good reasons for wanting to get away. For Charlie, it's guilt and grief over the murder of her best friend, who became the third victim of the man known as the Campus Killer. For Josh, it's to help care for his sick father. Or so he says. Like the Hitchcock heroine she's named after, Charlie has her doubts. There's something suspicious about Josh, from the holes in his story about his father to how he doesn't seem to want Charlie to see inside the car's trunk. As they travel an empty highway in the dead of night, an increasingly worried Charlie begins to think she's sharing a car with the Campus Killer. Is Josh truly dangerous? Or is Charlie's suspicion merely a figment of her movie-fueled imagination?

What follows is a game of cat-and-mouse played out on night-shrouded roads and in neon-lit parking lots, during an age when the only call for help can be made on a pay phone and in a place where there's nowhere to run. In order to win, Charlie must do one thing–survive the night.
| Goodreads |
Dutton Books
---
That Weekend by Kara Thomas
---
Three best friends, a lake house, a secret trip – what could go wrong?

It was supposed to be the perfect prom weekend getaway. But it's clear something terrible happened when Claire wakes up alone and bloodied on a hiking trail with no memory of the past forty-eight hours.

Three went up the mountain, but only one came back.

Now everyone wants answers – most of all, Claire. She remembers Friday night, but after that… nothing. And now Kat and Jesse – her best friends – are missing.

That weekend changes everything.

What happened on the mountain? And where are Kat and Jesse? Claire knows the answers are buried somewhere in her memory, but as she's learning, everyone has secrets – even her best friends. And she's pretty sure she's not going to like what she remembers.
| Goodreads |
Delacorte Press
---
‼️ Visit & Support The Definitive Book Blogger List
Credit for the source of the original image HERE
🔥 Now is the time to Chat! Are you excited about some of these New Releases? & What is your June's most anticipated book? Let me know everything in the comments, you know I LOVE to know what you think 🔥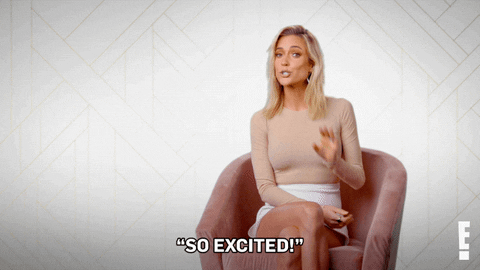 You can support me & to my content by buying me a Ko-fi or Buy me a Coffe