⚡️ Hi, guys! I hope you're having a wonderful day, surrounded by good readings and lots of love! ❤️ Today I'm here to bring you a combination of posts that I love doing at the beginning of each year and since I'm not having much free time I've chosen to do a kind of fun "mash-up" of both topics to chat a little with you about it.
Super excited to share with you my Goals for 2021 in terms of reading & blogging, as well as I will be showing you the 5 books I hope to read during the year. 😍 I always make a longer list with the books I want to read during the year, but I've realized that later I end up not reading them all and that's frustrating, so I prefer to create a smaller list and make sure I stuck with it. To make the post more fun and to make my readings more varied, I'll be playing around with the categories where I'll place each book, for example, varying the genres as well as the release dates and others. 👏🏻
As for my goals for the year, this 2021 I have many personal goals that I could share with you later, of course, but this time in this post I choose to share with you all those goals related to blogging and my readings.
I hope you enjoy the post, my loves, I'm happy to have the possibility to share with you and above all, I'm excited that you also share with me what plans you have for this new year, you know that I love knowing what you think and exchanging opinions is so much fun! 😊
Thank you SO much for choosing to stay for one more post, you're wonderful 🥺, I hope you like it! Make yourself your favorite drink, and get comfortable because I'm ready to START! ⚡️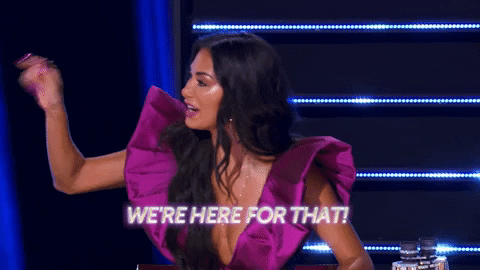 ⚡️ Read 50 Books
This one is pretty self-explanatory, right? lol, I've set my Goodreads Challenge to 50 books this year, probably my lowest year, but that's okay, I know it will be a busy year and I prefer to set a goal that I know I can comfortably reach and if I get to read more even better! but I'm happy and I feel good about the number for this year. I would like to know what your goal is for this year! Are you doing a reading challenge? How many books do you expect to read?
---
⚡️ Create Monthly TBRs with Variety
What does this mean? Well, I plan to continue with my monthly TBRs as it's something that I love to do and enjoy creating, but this 2021 I want to fill it with diversity in all its forms. I also want to vary in genres and read both new books and those that have been in my TBR for the longest time. I also want to focus on finishing some series and maybe starting new ones. On the other hand, I also want to read more Mystery/Thriller since it's a genre that I love and I've left a lot aside in 2020, but obviously, I continued reading Fantasy & Contemporary as well.
In summary, I want to give a chance to all kinds of books this year even those that intimidate me a bit like Romance, I think it will be an annual experiment for me to try new genres and new styles of books to share with you.
---
⚡️ Try the Audiobooks format More
I want and really need to read more Audiobooks!! I've read a couple in 2020 and I love the experience, but then for lack of habit, I put it aside a bit, but it's a format that I want to try again this year, in fact, I'm now listening to an audiobook right now, and not having a lot of time to sit down to reading physically myself, audiobooks have been wonderful! So I hope I can also read a little more with the help of this format so super excited for all those incredible audiobooks waiting for me!
---
⚡️ Support the Community through my Blog
You know that I love this wonderful book community I have the honor of being a part of, so I always like to find ways to support other book blogs and thus grow all together supporting us, giving us encouragement and love! This year I plan to continue with my mission to support all book bloggers out there, you know that I'm working on building a Book Bloggers list, so super excited about that, I'll be giving you news about it soon, I promise!
Besides this, I have many ideas to continue sharing and spreading my love for the community, which will always be one of my goals every year. I also obviously want to continue checking out blogs, commenting and liking, to show my love for your wonderful content.
---
⚡️ Prioritize Quality over Quantity
This goes both for my blog and for my readings this 2021, I've been thinking a lot, and sometimes makes me sad not having the time to dedicate to my blog as I would like, but I've decided to leave those negative feelings behind and turn the time I have into something valuable for my blog, and even if I can only upload a couple of posts per week or just one, I prefer that they be quality posts and rich in content. I'll work to bring you the best of me. You know that I'm passionate about what I do and I love my blog, so I'll always give my all to make it work, I want you to know that doesn't matter if you don't have much time to do what you love, don't give up, continue, even when you have half an hour of your day, do what makes you happy, because in the end it can be the difference and that light of happiness that your day has is super important to prioritize it!!
---
⚡️ The Invisible Life of Addie LaRue by V.E. Schwab | A Life No One Will Remember. A Story You Will Never Forget.
France, 1714: in a moment of desperation, a young woman makes a Faustian bargain to live forever and is cursed to be forgotten by everyone she meets.
Thus begins the extraordinary life of Addie LaRue, and a dazzling adventure that will play out across centuries and continents, across history and art, as a young woman learns how far she will go to leave her mark on the world.
But everything changes when, after nearly 300 years, Addie stumbles across a young man in a hidden bookstore and he remembers her name.
---
⚡️ Felix Ever After by Kacen Callender | From Stonewall and Lambda Award-winning author Kacen Callender comes a revelatory YA novel about a transgender teen grappling with identity and self-discovery while falling in love for the first time.
Felix Love has never been in love—and, yes, he's painfully aware of the irony. He desperately wants to know what it's like and why it seems so easy for everyone but him to find someone. What's worse is that, even though he is proud of his identity, Felix also secretly fears that he's one marginalization too many—Black, queer, and transgender—to ever get his own happily-ever-after.
When an anonymous student begins sending him transphobic messages—after publicly posting Felix's deadname alongside images of him before he transitioned—Felix comes up with a plan for revenge. What he didn't count on: his catfish scenario landing him in a quasi–love triangle….
But as he navigates his complicated feelings, Felix begins a journey of questioning and self-discovery that helps redefine his most important relationship: how he feels about himself.
Felix Ever After is an honest and layered story about identity, falling in love, and recognizing the love you deserve.
---
⚡️ The House in the Cerulean Sea by T.J. Klune | A magical island. A dangerous task. A burning secret. Linus Baker leads a quiet, solitary life. At forty, he lives in a tiny house with a devious cat and his old records. As a Case Worker at the Department in Charge Of Magical Youth, he spends his days overseeing the well-being of children in government-sanctioned orphanages. When Linus is unexpectedly summoned by Extremely Upper Management he's given a curious and highly classified assignment: travel to Marsyas Island Orphanage, where six dangerous children reside: a gnome, a sprite, a wyvern, an unidentifiable green blob, a were-Pomeranian, and the Antichrist. Linus must set aside his fears and determine whether or not they're likely to bring about the end of days. But the children aren't the only secret the island keeps. Their caretaker is the charming and enigmatic Arthur Parnassus, who will do anything to keep his wards safe. As Arthur and Linus grow closer, long-held secrets are exposed, and Linus must make a choice: destroy a home or watch the world burn. An enchanting story, masterfully told, The House in the Cerulean Sea is about the profound experience of discovering an unlikely family in an unexpected place—and realizing that family is yours.
---
⚡️ Lovely War by Julie Berry | It's 1917, and World War I is at its zenith when Hazel and James first catch sight of each other at a London party. She's a shy and talented pianist; he's a newly minted soldier with dreams of becoming an architect. When they fall in love, it's immediate and deep–and cut short when James is shipped off to the killing fields.
Aubrey Edwards is also headed toward the trenches. A gifted musician who's played Carnegie Hall, he's a member of the 15th New York Infantry, an all-African-American regiment being sent to Europe to help end the Great War. Love is the last thing on his mind. But that's before he meets Colette Fournier, a Belgian chanteuse who's already survived unspeakable tragedy at the hands of the Germans.
Thirty years after these four lovers' fates collide, the Greek goddess Aphrodite tells their stories to her husband, Hephaestus, and her lover, Ares, in a luxe Manhattan hotel room at the height of World War II. She seeks to answer the age-old question: Why are Love and War eternally drawn to one another? But her quest for a conclusion that will satisfy her jealous husband uncovers a multi-threaded tale of prejudice, trauma, and music and reveals that War is no match for the power of Love.
A sweeping, multi-layered romance with a divine twist, by the Printz Honor-winning author of The Passion of Dolssa, set in the perilous days of World Wars I and II.
---
⚡️ Watch Over Me by Nina LaCour | Nina LaCour delivers another emotional knockout with Watch Over Me, the eagerly anticipated follow-up to the Printz Award-winning We Are Okay.
Mila is used to being alone. Maybe that's why she said yes to the opportunity: living in this remote place, among the flowers and the fog and the crash of waves far below.
But she hadn't known about the ghosts.
Newly graduated from high school, Mila has aged out of the foster care system. So when she's offered a job and a place to stay at a farm on an isolated part of the Northern California Coast, she immediately accepts. Maybe she will finally find a new home, a real home. The farm is a refuge, but also haunted by the past traumas its young residents have come to escape. And Mila's own terrible memories are starting to rise to the surface.
Watch Over Me is another stunner from Printz Award-Winning author Nina LaCour, whose empathetic, lyrical prose is at the heart of this modern ghost story of resilience and rebirth.
---
Credits for the source of the original image HERE
Hope you guys enjoyed it! I hope you're having a wonderful start to the year enjoying the best readings. I'm SO excited for this new year, I hope it's full of health for all of us ❤️
You can support me & to my content by buying me a Ko-fi or Buy me a Coffe
⚡️ It's time for us to chat! What are your goals for this 2021? & What are the books you hope to read this year? Let me know everything in the comments, you know I LOVE to know what you think ⚡️