📢 Hi, beautiful bookish friends! I hope you're having a beautiful day full of good readings & incredible moments.❤️ Today I'm super excited to share with you this new project that I'll be working on for the blog but above all for the book community that will include each one of you. 🥺
This will be a different post because it's a post not only to tell you about my idea and to share it with you, but it's also a post to ask if you're interested in be part of it? & ask for your collaboration to share this post and thus reach the largest number of book bloggers within the community. 😍  This post will not be long, I want to tell you a little about where my idea came from, why I want to do it & what has motivated me.
I'm very excited, so I hope it's something that interests you and that gets you excited as well. You know that I love to receive all your advice and thoughts, so let me know everything in the comments, I accept suggestions of any kind as long as they're made with love and respect. 🙌🏻 Now without further ado, let's get started! 📢
The idea came to me like a flash just a couple of days ago, you know that I've always loved being able to share the work of other book bloggers here on my blog, as I do every month, but I still wanted to do MORE.
Sometimes when I'm checking out other bloggers that I adore, in my heart I feel and know that they deserve a lot more recognition than they have. Some small book blogs are so wonderfully created that it never ceases to amaze me, the way in which these bloggers design their blogs and create their content in such professional ways, where you can see the dedication and passion they put into it makes me admire them a lot and want to share it with everyone because they deserve greater recognition for their work.
On the other hand, there are much bigger book bloggers who have already done this for a while and they're really incredible and they also deserve the love they receive, of course, I would never leave them out.
And that's precisely what my idea is about, I want to give a whole page on my blog to ALL the book bloggers that I possibly can, I want to highlight each of your blogs and share it in each of my posts, and in this way, I hope to be able to return a bit of love and the support that so many of you have given me, but it's also a way for me to help you from my humble place to grow and be more recognized.
My idea is basically to be able to help highlight as many book blogs as possible, I want each person who enters my blog to have the chance to see a HUGE list with many more book bloggers that they can visit and possibly follow & love.
But I also want this to be something that we all create together, as book bloggers people always minimized us, right? leaving our work below many other blogs in the world, that's why it's extremely important that we're united and show the greatest support we can for each other, so I invite you to share the page once I create it and obviously to be part and share this idea with more book bloggers who might like to be included as well.
It doesn't matter if you're just starting out or have been with your blog for years, it doesn't matter where you are from or what language you speak, or what kind of books you read, the more diversity the BETTER! so I want you to let me know if you're interested and with a simple "I WANT TO BE ON THE LIST" I'll be writing the name of your blog down to including your blog in my final list.
This list is not something that will close tomorrow or something like that lol, it will be open whenever you want to be part of it, you just have to let me know. I promise to do my part and share this page whenever I can & I also plan to include a link to invite my readers to visit all these blogs in each of my posts from now on.
Of course, it's a work in progress, so will take some time, but once I collect a good amount of book bloggers who are interested I'll be creating the page and maybe it could be something that I'll update every week, that would be fun.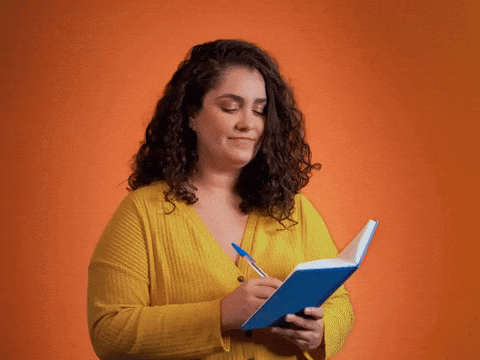 Now it's your turn to let me know if you would like your blog to be on the list!! For me, I would include all those that I already follow and love, but I don't want to do it without your consent, so I want to be respectful and respect each of your decisions, so just let me know in the comments if you're a book blogger and you would like your blog being one of the highlights on my list and I'll write you down for when I start creating it, which I'll do very soon.
THANK YOU SO MUCH, for the love and support that you always give me and my blog, I hope this idea is something that you like and gets you all excited! I think it's super important that we support each other and put a bit of ourselves to help others, so I hope that with this I can help someone and you can feel as well all the love and respect that I feel for you.
Credits for the source of the original image HERE
I hope you liked the idea of creating a Book Blogger List, I think it will be a nice way to support this beautiful community a little more 💕
 📢 As you always know, I LOVE knowing your thoughts, so let me know what you think about the idea in the comments & also let me know if you want me to include your blog on the list! 📢 
You can support me & to my content by buying me a Ko-fi or Buy me a Coffe