❄️ Hi, my beautiful bookish friends! I hope you're having the most incredible day with the best readings.❤️ Today I bring you a new Monthly TBR, where I share with you my reading plans for the month of July. This month will be the month where I'll try to catch up on my readings after having a very bad June, thank God it was a pretty short month for me because I was urgent to start with a new month and new energy. 💫 I know I say this every month, you probably think I'm crazy, but I'm excited for this month and I think it will be the month when I finally read a lot and catch up on many readings I've been wanting to read since the beginning of the year. 😍  
I've planned this structure where I've chosen books that I'm really excited about, some ARCs and new releases, in this way, I think I'll be able to defeat the reading slump and stay motivated throughout the month. 👏🏻 In addition to these plans, I'll be participating in PopCulture Readathon 🤩 , which not only sounds incredible but IS INCREDIBLE. When I found out about it on Twitter, I knew that I had to participate even when I wasn't reading anything at the time. I LOVE the idea, is inspired by movies from the '90s! I think it's brilliant and I love how Whitney, the creator, has organized everything in a way that we all have many options and a wide range of promps and boards: "Teen Dream" "Family Affair" "Thrill Ride" & "The Adult Table", which I LOVE! I also think that there's no specific goal, you can do it as you like and how it resonates with you, try to fill the board you choose or you can do it in a bingo-style or as you want, in my case, I'll try to read as many books as I can of the board that I've chosen. 😊  In case you want to know more about the readathon and places to find it, I'll leave you all the links here above and I'm very happy to see that many of us will be participating or, in my case, trying to participate, so it will be even more fun!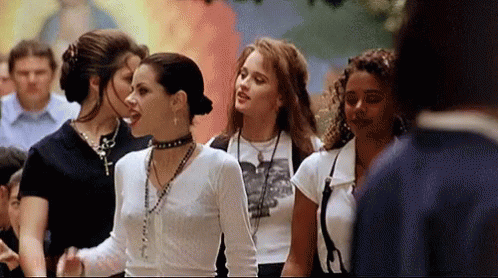 ---
❤️ ❤️ ❤️ ❤️ ❤️ ❤️ Before starting I want to thank you for being there for me throughout the month of June supporting my work on the blog and to me as a person, I don't deserve you, you're wonderful and I'm absolutely proud and happy to be part of the community. I know that lately, our family that we have created here, has been somewhat problematic in general, so I want to let you know that this will always be a safe place for you, as positive as it can be and you'll always have all the freedom to express yourself as you want to do it. I also want to say that if you're feeling uncomfortable or un-motivated, please don't hesitate to stay away for a while if it's what you need, it's totally understandable and your mental health comes first. I LOVE YOU & I'm planning a discussion on how to combat reading slump for this month if you're interested stay around because I know that sadly many of us are going through the same thing, but I know that we going to do it so much better this month, July will be our month of reading! ❤️ ❤️ ❤️ ❤️ ❤️ ❤️
---
I have a huge stack of books planned to share with you below, I've decided to choose a book for each promp on the board because I think it's fun and I just wanted to choose to have a lot of variety and possibilities, even so, I'm aware that I'll not read all this and it's ok, I still wanted to try to read as much as I can. 🥰 I'm excited to share it with you, let me know EVERYTHING in the comments & without further ado, LET'S START! ❄️ 
My Board
"Nancy Downs"
Book with a Power Hungry Character
❄️ Vicious (Villains #1 by V.E. Schwab | A masterful tale of ambition, jealousy, desire, and superpowers.
Victor and Eli started out as college roommates—brilliant, arrogant, lonely boys who recognized the same sharpness and ambition in each other. In their senior year, a shared research interest in adrenaline, near-death experiences, and seemingly supernatural events reveals an intriguing possibility: that under the right conditions, someone could develop extraordinary abilities. But when their thesis moves from the academic to the experimental, things go horribly wrong.
Ten years later, Victor breaks out of prison, determined to catch up to his old friend (now foe), aided by a young girl whose reserved nature obscures a stunning ability. Meanwhile, Eli is on a mission to eradicate every other super-powered person that he can find—aside from his sidekick, an enigmatic woman with an unbreakable will. Armed with terrible power on both sides, driven by the memory of betrayal and loss, the archnemeses have set a course for revenge—but who will be left alive at the end?
In Vicious, V. E. Schwab brings to life a gritty comic-book-style world in vivid prose: a world where gaining superpowers doesn't automatically lead to heroism, and a time when allegiances are called into question.
---
"Jurassic Park"
Book set on an Island/Coast/Body of Water
❄️ Sawkill Girls by Claire Legrand | Beware of the woods and the dark, dank deep.
He'll follow you home, and he won't let you sleep.
Who are the Sawkill Girls?
Marion: the new girl. Awkward and plain, steady and dependable. Weighed down by tragedy and hungry for love she's sure she'll never find.Zoey: the pariah. Luckless and lonely, hurting but hiding it. Aching with grief and dreaming of vanished girls. Maybe she's broken—or maybe everyone else is.Val: the queen bee. Gorgeous and privileged, ruthless and regal. Words like silk and eyes like knives, a heart made of secrets and a mouth full of lies.Their stories come together on the island of Sawkill Rock, where gleaming horses graze in rolling pastures and cold waves crash against black cliffs. Where kids whisper the legend of an insidious monster at parties and around campfires.Where girls have been disappearing for decades, stolen away by a ravenous evil no one has dared to fight… until now.
---
"What's Your Favorite Scary Movie"
Read a Book of one of your Favorite Authors
❄️ Rebel (Legend #4) by Marie Lu | Respect the Legend. Idolize the Prodigy. Celebrate the Champion. But never underestimate the Rebel.
Eden Wing has been living in his brother's shadow for years. Even though he's a top student at his academy in Ross City, Antarctica, and a brilliant inventor, most people know him only as Daniel Wing's little brother.
A decade ago, Daniel was known as Day, the boy from the streets who led a revolution that saved the Republic of America. But Day is no longer the same young man who was once a national hero. These days he'd rather hide out from the world and leave his past behind. All that matters to him now is keeping Eden safe―even if that also means giving up June, the great love of Daniel's life.
As the two brothers struggle to accept who they've each become since their time in the Republic, a new danger creeps into the distance that's grown between them. Eden soon finds himself drawn so far into Ross City's dark side, even his legendary brother can't save him. At least not on his own . . .
With unmatched suspense and her signature cinematic storytelling, #1 New York Times—bestselling author Marie Lu plunges readers back into the unforgettable world of Legend for a truly grand finale. 
---
"The Faculty"
Read a Dark Academia Book
❄️ Ninth House (Alex Stern #1) by Leigh Bardugo | Galaxy "Alex" Stern is the most unlikely member of Yale's freshman class. Raised in the Los Angeles hinterlands by a hippie mom, Alex dropped out of school early and into a world of shady drug dealer boyfriends, dead-end jobs, and much, much worse. By age twenty, in fact, she is the sole survivor of a horrific, unsolved multiple homicide. Some might say she's thrown her life away. But at her hospital bed, Alex is offered a second chance: to attend one of the world's most elite universities on a full ride. What's the catch, and why her?
Still searching for answers to this herself, Alex arrives in New Haven tasked by her mysterious benefactors with monitoring the activities of Yale's secret societies. These eight windowless "tombs" are well-known to be haunts of the future rich and powerful, from high-ranking politicos to Wall Street and Hollywood's biggest players. But their occult activities are revealed to be more sinister and more extraordinary than any paranoid imagination might conceive.
---
"I Know What You Did Last Summer"
Read a 2019 Release
❄️ Spin the Dawn (The Blood of Stars #1) by Elizabeth Lim | Project Runway meets Mulan in this sweeping YA fantasy about a young girl who poses as a boy to compete for the role of imperial tailor and embarks on an impossible journey to sew three magic dresses, from the sun, the moon, and the stars.
Maia Tamarin dreams of becoming the greatest tailor in the land, but as a girl, the best she can hope for is to marry well. When a royal messenger summons her ailing father, once a tailor of renown, to court, Maia poses as a boy and takes his place. She knows her life is forfeit if her secret is discovered, but she'll take that risk to achieve her dream and save her family from ruin. There's just one catch: Maia is one of twelve tailors vying for the job.
Backstabbing and lies run rampant as the tailors compete in challenges to prove their artistry and skill. Maia's task is further complicated when she draws the attention of the court magician, Edan, whose piercing eyes seem to see straight through her disguise.
And nothing could have prepared her for the final challenge: to sew three magic gowns for the emperor's reluctant bride-to-be, from the laughter of the sun, the tears of the moon, and the blood of stars. With this impossible task before her, she embarks on a journey to the far reaches of the kingdom, seeking the sun, the moon, and the stars, and finding more than she ever could have imagined.
Steeped in Chinese culture, sizzling with forbidden romance, and shimmering with magic, this young adult fantasy is pitch-perfect for fans of Sarah J. Maas or Renée Ahdieh.
---
"Everybody's A Suspect"
Read a Mystery or Thriller
❄️ The Whisper Man by Alex North | In this dark, suspenseful thriller, Alex North weaves a multi-generational tale of a father and son caught in the crosshairs of an investigation to catch a serial killer preying on a small town.
After the sudden death of his wife, Tom Kennedy believes a fresh start will help him and his young son Jake heal. A new beginning, a new house, a new town. Featherbank.
But the town has a dark past. Twenty years ago, a serial killer abducted and murdered five residents. Until Frank Carter was finally caught, he was nicknamed "The Whisper Man," for he would lure his victims out by whispering at their windows at night.
Just as Tom and Jake settle into their new home, a young boy vanishes. His disappearance bears an unnerving resemblance to Frank Carter's crimes, reigniting old rumors that he preyed with an accomplice. Now, detectives Amanda Beck and Pete Willis must find the boy before it is too late, even if that means Pete has to revisit his great foe in prison: The Whisper Man.
And then Jake begins acting strangely. He hears a whispering at his window…
---
"Buffy The Vampire Slayer"
Chosen One Trope
❄️ Chosen Ones (The Chosen Ones #1) by Veronica Roth | The first novel written for an adult audience by the mega-selling author of the Divergent franchise: five twenty-something heroes famous for saving the world when they were teenagers must face even greater demons—and reconsider what it means to be a hero . . . by destiny or by choice.
A decade ago near Chicago, five teenagers defeated the otherworldly enemy known as the Dark One, whose reign of terror brought widespread destruction and death. The seemingly un-extraordinary teens—Sloane, Matt, Ines, Albie, and Esther—had been brought together by a clandestine government agency because one of them was fated to be the "Chosen One," prophesized to save the world. With the goal achieved, humankind celebrated the victors and began to mourn their lost loved ones.
Ten years later, though the champions remain celebrities, the world has moved forward and a whole, younger generation doesn't seem to recall the days of endless fear. But Sloane remembers. It's impossible for her to forget when the paparazzi haunt her every step just as the Dark One still haunts her dreams. Unlike everyone else, she hasn't moved on; she's adrift—no direction, no goals, no purpose. On the eve of the Ten Year Celebration of Peace, a new trauma hits the Chosen: the death of one of their own. And when they gather for the funeral at the enshrined site of their triumph, they discover to their horror that the Dark One's reign never really ended.
---
"Calling The Corners"
Book with One of the Four Elements
❄️ Incendiary (Hollow Crown #1) by Zoraida Córdova | An epic tale of revenge and redemption in a world where a memory thief must fight against terrifying monarchs bent on the destruction of her people.
When the royal family of Puerto Leones sets out to destroy magic through a grand and terrible inquisition, spy and memory-thief Renata seeks to kill the prince, leader of the King's Justice, who plans to use a terrible new weapon to wipe out the magic of the Moria…
For fans who enjoyed the ferocity of Ember in the Ashes, INCENDIARY explores the double-edged sword of memory and the triumph of hope and love in the midst of fear and oppression.
---
"It's Just a Bunch of Hocus Pocus"
Read a Book that Includes Magic
❄️ Mayhem by Estelle Laure | A YA feminist mash up inspired by The Lost Boys and The Craft.
It's 1987 and unfortunately it's not all Madonna and cherry lip balm. Mayhem Brayburn has always known there was something off about her and her mother, Roxy. Maybe it has to do with Roxy's constant physical pain, or maybe with Mayhem's own irresistible pull to water. Either way, she knows they aren't like everyone else. But when May's stepfather finally goes too far, Roxy and Mayhem flee to Santa Maria, California, the coastal beach town that holds the answers to all of Mayhem's questions about who her mother is, her estranged family, and the mysteries of her own self. There she meets the kids who live with her aunt, and it opens the door to the magic that runs through the female lineage in her family, the very magic Mayhem is next in line to inherit and which will change her life for good. But when she gets wrapped up in the search for the man who has been kidnapping girls from the beach, her life takes another dangerous turn and she is forced to face the price of vigilante justice and to ask herself whether revenge is worth the cost.
From the acclaimed author of This Raging Light and But Then I Came Back, Estelle Laure offers a riveting and complex story with magical elements about a a family of women contending with what appears to be an irreversible destiny, taking control and saying when enough is enough.
---
"Light as a Feather, Stiff as a Board"
Book with a Creepy or Hunted Feel
❄️ Be Not Far from Me by Mindy McGinnis | The world is not tame.
Ashley knows this truth deep in her bones, more at home with trees overhead than a roof. So when she goes hiking in the Smokies with her friends for a night of partying, the falling dark and creaking trees are second nature to her. But people are not tame either. And when Ashley catches her boyfriend with another girl, drunken rage sends her running into the night, stopped only by a nasty fall into a ravine. Morning brings the realization that she's alone – and far off trail. Lost in undisturbed forest and with nothing but the clothes on her back, Ashley must figure out how to survive despite the red streak of infection creeping up her leg. 
---
"Candyman"
Book with a Supernatural Creature
❄️ Tunnel of Bones (Cassidy Blake #2) by Victoria Schwab | Trouble is haunting Cassidy Blake . . . even more than usual.
She (plus her ghost best friend, Jacob, of course) are in Paris, where Cass's parents are filming their TV show about the world's most haunted cities. Sure, it's fun eating croissants and seeing the Eiffel Tower, but there's true ghostly danger lurking beneath Paris, in the creepy underground Catacombs.
When Cass accidentally awakens a frighteningly strong spirit, she must rely on her still-growing skills as a ghosthunter — and turn to friends both old and new to help her unravel a mystery. But time is running out, and the spirit is only growing stronger.
And if Cass fails, the force she's unleashed could haunt the city forever.
---
"Scream 2"
Read a Book in your 2nd Favorite Genre
❄️ The Chalk Man by C.J. Tudor | In 1986, Eddie and his friends are just kids on the verge of adolescence. They spend their days biking around their sleepy English village and looking for any taste of excitement they can get. The chalk men are their secret code: little chalk stick figures they leave for one another as messages only they can understand. But then a mysterious chalk man leads them right to a dismembered body, and nothing is ever the same.
In 2016, Eddie is fully grown, and thinks he's put his past behind him. But then he gets a letter in the mail, containing a single chalk stick figure. When it turns out that his friends got the same message, they think it could be a prank . . . until one of them turns up dead.
That's when Eddie realizes that saving himself means finally figuring out what really happened all those years ago.
---
"Sidney Prescott"
Book with a Bad-Ass Main Character
❄️ The Guinevere Deception (Camelot Rising #1) by Kiersten White | From New York Times bestselling author Kiersten White comes a new fantasy series reimagining the Arthurian legend, set in the magical world of Camelot.
There was nothing in the world as magical and terrifying as a girl.
Princess Guinevere has come to Camelot to wed a stranger: the charismatic King Arthur. With magic clawing at the kingdom's borders, the great wizard Merlin conjured a solution–send in Guinevere to be Arthur's wife . . . and his protector from those who want to see the young king's idyllic city fail. The catch? Guinevere's real name–and her true identity–is a secret. She is a changeling, a girl who has given up everything to protect Camelot.
To keep Arthur safe, Guinevere must navigate a court in which the old–including Arthur's own family–demand things continue as they have been, and the new–those drawn by the dream of Camelot–fight for a better way to live. And always, in the green hearts of forests and the black depths of lakes, magic lies in wait to reclaim the land. Arthur's knights believe they are strong enough to face any threat, but Guinevere knows it will take more than swords to keep Camelot free.
Deadly jousts, duplicitous knights, and forbidden romances are nothing compared to the greatest threat of all: the girl with the long black hair, riding on horseback through the dark woods toward Arthur. Because when your whole existence is a lie, how can you trust even yourself?

---
"The Mummy"
Book with the Undead
❄️ A Whisper in the Dark (Charlie Travesty #1) by Jessi Elliott & K.J. Sutton | A city ruled by vampires. A disgraced princess. A world underground.
Charlotte Travesty lives in a world of comfort. Glittering nightclubs, a lavish mansion, and a staff of humans at her beck and call. Being a royal vampire means her future is secured—all she has to do is get through the Awakening, an ancient ceremony every vampire experiences when they come of age.
But when her Awakening arrives at last, everything changes in one terrifying instant.
Cast from her home and rejected by the royal family, Charlie is forced into a life of fear and brutality. Where creatures called weepers live below the city, kept at bay by an unlucky sector of fighters enslaved by the very king who cast her out. Charlie now finds herself among the ranks.
She soon learns that weepers aren't all she needs to fear in her new life. Other workers are dying in the tunnels below ground. Charlie knows that if she's going to survive, she must form alliances with the very humans that despise her. But will she win their trust in time? Or will she die in the very darkness she was born to rule?
For fans of Sarah J. Maas's Crescent City and Charlaine Harris's Sookie Stackhouse series, A Whisper in the Dark is the first volume in the Charlie Travesty serial. 
---
"Blair Witch Project"
Book with a Black or White Cover
❄️ The 7½ Deaths of Evelyn Hardcastle by Stuart Turton | "Gosford Park" meets "Groundhog Day" by way of Agatha Christie – the most inventive story you'll read this year.
Tonight, Evelyn Hardcastle will be killed… again.
It is meant to be a celebration but it ends in tragedy. As fireworks explode overhead, Evelyn Hardcastle, the young and beautiful daughter of the house, is killed.
But Evelyn will not die just once. Until Aiden – one of the guests summoned to Blackheath for the party – can solve her murder, the day will repeat itself, over and over again. Every time ending with the fateful pistol shot.
The only way to break this cycle is to identify the killer. But each time the day begins again, Aiden wakes in the body of a different guest. And someone is determined to prevent him ever escaping Blackheath…

---
"Pratical Magic"
Book that Involves a Curse
❄️ A Curse So Dark and Lonely (Cursebreakers #1) by Brigid Kemmerer | Fall in love, break the curse.
Cursed by a powerful enchantress to repeat the autumn of his eighteenth year, Prince Rhen, the heir of Emberfall, thought he could be saved easily if a girl fell for him. But that was before he turned into a vicious beast hell-bent on destruction. Before he destroyed his castle, his family, and every last shred of hope.
Nothing has ever been easy for Harper. With her father long gone, her mother dying, and her brother constantly underestimating her because of her cerebral palsy, Harper learned to be tough enough to survive. When she tries to save a stranger on the streets of Washington, DC, she's pulled into a magical world.
Break the curse, save the kingdom.
Harper doesn't know where she is or what to believe. A prince? A curse? A monster? As she spends time with Rhen in this enchanted land, she begins to understand what's at stake. And as Rhen realizes Harper is not just another girl to charm, his hope comes flooding back. But powerful forces are standing against Emberfall . . . and it will take more than a broken curse to save Harper, Rhen, and his people from utter ruin. 
---
Besides the Goodreads link, that I always add in case you want to add the book to your TBR,  I also leave you my link to Book Depository, in case you want to order some book there. In that case, I want you to know that as an affiliate, I'll receive a small percentage of your purchase and it would be REALLY helpful to me, to buy more books, and keep sharing with you ❤️
Credits for the source of the original image HERE
Have you read any of these books? | What do you think about them? | What will you be reading this month?
🌿 Let me know everything in the comments, you know that I always love to know what you think 🌿