⚡️ Hi guys, I hope you're having an AMAZING day, full of good readings! 💞 Today I bring you another discussion post! (super excited), It's something that really makes me happy to have started doing this year and I don't want to start without thanking you for the support you have given me in my previous posts, it means the world to me. So, I love checking out this type of posts around the blogosphere, so I think it could be fun to start writing them myself and share with you so we can all talk about different topics related to the literary world, books & blogging. In the past I've felt kind of insecure about doing this because English isn't my first language and something in my mind was afraid that my concepts wouldn't be understood correctly, you know? But you know what? I stop being afraid this 2020 and I'm really encouraging and daring to new things, I also feel much more confident with my writing and I know that you'll understand me, so it really shouldn't be a problem. 🥰
I've been wanting to write and discuss with you a little bit, this topic all about the Pressure you can feel when Blogging, so that's exactly what we'll do today. This is a much heavier topic than the others I've touched on so far, especially since each person carries it or go throughout it differently, so it will be very interesting to share each experience in the comments and also be able to express our personal stories about it. Above all, I think it's a great way to see that there are other people going through the same thing, that we aren't alone and that, of course, this is something temporary. I'll also be giving you my top 5 most important tips to cope up with this pressure, which have worked for me throughout these 3 years with the blog. ❤️ Of course, I don't have the absolute truth, but I do hope I can bring you some kind of reassurance and help if you're going through this situation right now. 
If you want to check more of my discussion posts, here they are: The first is all about Book Reviews, the second is all about The Meaning of being an International Book Blogger & the third one and last is all about Rating Systems.
I LOVE you, THANK YOU SO SO MUCH, for the support 😊, I don't want to stop saying it, I feel honored to you to be in my life and that you allow me to be in a piece of yours. So without further ado, let's get started! & I hope you enjoy it ⚡️
---
Why do we feel so much pressure, right? Well, I think that everything begins with a doubt in ourselves, it can be about our capabilities, about our blog, our style, our design, whatever it is; It can also come as a question or a comparison and above all, of an insecurity that we didn't know was there until some event triggered it. Whatever the reason for this hated and unwelcome pressure is, I'm sure that if you own a blog, no matter what your blog is or talks about, you have felt the pressure. I know and I'm very aware that this is not something that only happens if you have a blog, this can happen to you in any field in your life, especially if you're working on something that you're very passionate about because I think it's there when you put everything on the table and you put all your heart and soul into doing something you love, that at some point you'll feel with that terrible doubt and those questions will begin to appear in your head: Why am I even doing this? Is it worth continuing? Am I capable enough? Is my work good enough? And this could go on and on. So, even though I know that this pressure will appear in many situations in your life, in this post I'll focus specifically on the pressure that bloggers can experience.
This pressure that we feel when having blogs can come from external factors, but it only happens if we let our thoughts of doubts and anxiety dominate us. I myself experience this pressure and sometimes you can feel that it will never go away and will be there forever ready to attack, right? Well, when I just created my blog everything was fine, I knew what I wanted to do with it, I had no idea how I would do it, but I didn't worry too much, in fact, I enjoyed every step, BUT then it became something more important in my life, an escape place for reflection and then a place to share my opinion, grow and learn. So as time passed, I began to get more involved with it and therefore and consequently also with the book blogger community, in my case. Because of this, a lot of information begins to come to me, and that's when you should sit down for a second to meditate on why you start to feel overwhelmed because it's something that happened to me. I continued to enjoy it, though, I still love doing it, so there will always be more positive situations or experiences than negative ones, but it happens and it's a fact.
And there when I saw myself absolutely into it that the disaster began … I was accepting all the ARCs that I received because I thought I would be more relevant, I was reading books simply because they were the ones that everyone read and I thought that I would be more current or more people would see my reviews. I went through a stage where I started to check other blogs, that I honestly and heartily loved and still love, and there came the terrible and so hated comparison, I realized that my blog wasn't even the 10% as incredible as other ones, and in at that time, your mind doesn't even realize that those people have been blogging for years and have perfected and worked for it, you know? Now I see it and it's something that is in my past, but I want to share it because I know that the comparison is one of the biggest factors of insecurity in the community. Well, after going through that, a wave of insecurity came over me about my writing, because you already know that English isn't my mother language, so I thought that I couldn't make myself understood or express myself as I wanted to. And this last factor has always been one of my biggest insecurities that I'm just overcoming this year, making these posts, so I'm very proud of it.
So at this point, I was already going through the pressure… feeling it deep inside my mind and obviously suffering from the consequences that come with it, I was anxious, anguished, I was doubting myself and my content ALL THE TIME. I thought it was impossible that I could be everywhere: be on all the networks, share my content for someone to see it, use thousands of tools that I'd never used, etc, etc. Basically, it was a mess, until the fact that I thought about giving up and leaving everything, and that's exactly why I'm doing this post because I know that the pressure that is put on us and even more the pressure that we put on ourselves can self-sabotage us, we are self-sabotaging ourselves until we give up and leave something that deep down we know is good for us.
I obviously got over this and now I know how valuable I am and how valuable my blog is, I put all my energy into doing my best but the best that Sofi can do, you know?, and the only comparison I make is with myself and my past work. When I realized that all that pressure was not doing anything good for me, I decided to stop for a second and after using ALL the tools at my disposal, which I continued to share with you, I went back to my roots and started again with a lighter head and my heart all put on my blog that I love so much, and the funny thing is that this is when my blog started to grow, because I honestly believe that everything you do with a good state of mind and you put powerful energy of love and honesty with yourself, it endures, progresses and grows. ❤️ 
---
 📝 #1- Don't Compare Yourself
This is basic, and it's essential that you don't compare yourself with other bloggers. And I know you're going to tell me that it's easier said than done, right? and I know, I've been there! But if you learn and train your mind to stop seeing other bloggers as a competition, then you can enjoy much more of the experience with your blog, and even more important, you can relax and stop worrying about feeling that pressure. Because let me say, the only competition you have in your life is with yourself, nobody else. Also, there's nobody out there ANYONE, like you, you have the absolute power to be 100% original and wonderful in your own way and with time, you'll see that you'll achieve your own spark and your own essence.
I think sometimes, in addition, and unfortunately, this type of comparison gives rise to plagiarism, envy, jealousy and all kinds of feelings and unpleasant situations for yourself and for the other blogger who surely has started from scratch like you and has had to go through a journey to find their own style.
So get rid of all those negative feelings and that feeling that you have to constantly be comparing yourself to get validation because it's not the way it works, let it go, and start focusing that energy on your own content and unique style.
---
 📝 #2- Take Breaks
Taking breaks isn't only an option it should be something that we all do as a responsibility for our mental health, it's really incredible what a good rest can do to you. I'm not saying you should leave everything and go for months, but take at least a couple of weeks a year, I think it's super important, guys.
When you start to feel pressure sometimes the best option is to take a step back and put your attention on something else that makes you feel good, and then come back renewed with another type of energy. Not only from your blog, but I think it's also super healthy to take breaks from our social networks because sometimes it can also be overwhelming, we all know that, right? I've seen many people and bloggers that I love taking breaks this year, and I think it's wonderful, we all deserve our space without feeling guilty about it and I know that all our beautiful and wonderful readers will be there to understand us, support us and encourage us on our return.
---
 📝 #3- Don't Get Obsessed
It's good when you're there for your blog and you put work into it because I'm sure that if you focus on it you'll have many rewards and it will grow and it will be a great experience, but it's very important that you learn to manage your times. Don't be 24/7 thinking what you will do for your blog or working on or doing advertising, everything should be done in its proper measure in a moderate time where you have also time, obviously, to do something lighter to clear your mind. Sometimes because we have this fervent desire that our blogs look good and be the best we can give, we obsess over it and we don't stop doing and doing things. I also know that many of us have stages where we obsess a lot with checking statistics to see how our blog is doing, and it's good to have that spark and that desire to grow, but it's a dangerous game when you start obsessing because with the obsession comes the weight of disappointment and anxiety, besides of course a huge pressure falls on you to do everything right now or never, you know?. Take it easy, manage your time well, and don't obsess over things you can't control.
In addition, with this obsession comes something that I myself have experienced and it's the creative block, sometimes we think that because we are super aware of our blogs and we are all day thinking then the most incredible things occur to us, and it's the opposite in fact. I personally think that if you relax and let it flow naturally then more ideas will come to you, remember to write them down of course, and then do your own things again. I swear, I always have the best ideas for my blog in the shower, I don't know why but it's my inspirational moment lol.
---
 📝 #4- Go Back to Your Roots
Sometimes when we're going through these periods of absolute pressure, we can feel really overwhelmed and anxious and even a little depressed because things are getting out of control, we may tend to lose ourselves along the way. We're so obsessed with complying with everything, doubting ourselves along the way, making content that we believe will be successful without feeling it, and ALL of that is a path of loss of identity. By this, I mean that maybe we sit down to see all of our content and what we're reading, and ask ourselves honestly: Why are we doing it? Is it cause we are enjoying it or is it because we have to? What is the point?
At that moment I highly recommend going back to your roots, go back to that moment when your blog just started and you enjoyed every little thing that happened with it, your first comments, your first views, your first likes, your first achievements, and feel it… What did you like to write about? What made you feel excited? What did you like to read? And start from scratch, fresh start again with this new energy, knowing exactly what you like and what it's or what you want to transmit from the bottom of your heart, and enjoy your blog again. It's as simple as remembering why you started in the first place! We all have the ability to regenerate ourselves and redo our blog to create something that we can be proud of because it's 100% ourselves and what we're passionate about.
---
 📝 #5- Try New Content
Trying new content will not only give you that feeling of renewal, but it will also relieve you of many pressures. Sometimes we can fall into a kind of routine with our blogs, where we always do the same things, and that's not bad I'm not criticizing at all, in fact, it's content that I do myself, like reviews, tags, memes, all of them I LOVE doing, But what happens when we are under pressure? Well, we tend to always be comparing our content with others, and at that moment ask yourself what is the best measure to take, because I know you don't want to feel that way, it just happens, so for a moment, relax without pressure and let some idea flow to you. I believe from here, my little corner of the universe, that you have something original and unique to give to the world. We always have an idea that maybe we have been putting off because of fear or that maybe we don't know how to incorporate it into our blogs, well, maybe it's time to knock down all those limiting walls and go for it! What pressure could you feel if you're doing something that came from you and only you? Creating something new, even if it's something small, even a Q&A post sharing more about you can change your focus into something more positive that you're passionate about and that returns you to your roots. In this way, we're renewing ourselves and to our blog, and leaving behind all those limiting thoughts that are pushing us back and freeing ourselves from that pressure. Enjoy discovering, do crazy things, no matter what it is just that comes from yourself and makes you feel good inside. Putting something as simple as new content on your blog can give you a total change of energy and free you from that overwhelming pressure.
---
Credits for the source of the original image HERE
Thank you SO much in advance for reading this and I hope you liked it & thank you, as well, for all the support and love! ❤️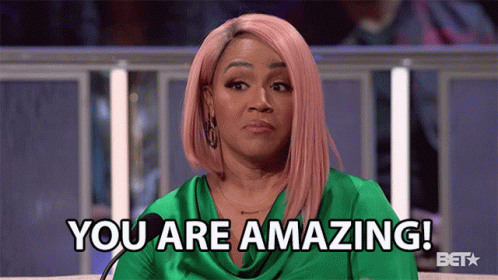 🌿 

Now, is the time to Chat

!:
Have you experienced this pressure when blogging? | What would you recommend to get out of that state? | Let me know all your experiences & Tips, I'm sure they'll be of great help to all who read it

🌿
Feel free to leave your comment below, I always love to know what you think