Guys, I'm re-posting this, so I'm sorry, but I had some problems with the editor and WordPress in general. Anyway, I hope you enjoy it and I LOVE you, thanks for understanding ❤️  
🍃 Hi, guys! I hope you're having a WONDERFUL day, full of good readings and magical moments.❤️ Today I feel SO honored to return with a new book award, which I've been nominated for. Again, I got distracted a little from my goal of doing all my tags and awards (shame on me lol) but don't worry because I'm back on track! I'm always very excited when I know that someone has tagged me so never think you bother me in any way, otherwise, it's an honor, it just takes time to do, so soon this year I hope to do all of them. This time I'm here thanks to the beautiful Meghan | Whimsically Meghan | who has nominated me for this amazing award, which I love! I've already done some tags or awards in the past because Meghan has tagged me, so you may have already heard (read) this, but I need to say it, I hope you already follow this wonderful blogger, not only talks about books but also dedicates her time to share with us a lot of incredible content about movies and travel. So if you don't know her yet, check her blog out, you won't regret it! 🥰 
The first time I was nominated for this award was only last month, so I already have another one of this post in case you want to check it out & super happy and excited to bring you some new fun and entertaining questions to get to know each other more and share our thoughts 💞. I LOVE to see this type of post as a relaxing/chill time, so make yourself a coffee, a tea or whatever you like to drink and some snack, my love because I'm ready to BEGIN! 😍  I hope you enjoy it 🍃
---
The award was created by Maggie @Dreaming of Guatemala. This is an award for the absolutely wonderful writers all across the blogging world. They have beautiful blogs, are kind and lovely, and always find a way to add happiness and laughter to the lives of their readers. That is what truly defines an awesome blogger.
The Awesome Blogger Award Rules
Thank the blogger who nominated you
Credit the creator
Tag this post with #AwesomeBloggerAward
Answer all the questions given to you
Nominate some people
Write 10 questions for them to answer
---
 🍃 How many books do you want to read this year? 🍃 
I would love to read 70 books this year, it's the goal that I set for myself in Goodreads, but if I read more it would be even better! Several years ago I used to read up to 100 per year, but then life gets busier, so I couldn't reach that amount anymore, yet I'm very comfortable with 70 and the important thing, in the end, is that they're good books and I hope to enjoy most of them and try new genres, that's really one of my goals
---
 🍃 What's one thing you are planning to leave behind in 2019? 🍃 
I left in 2019 all kinds of insecurity with myself especially with my creative side and the fear of not doing enough or not being enough. I'm really working since the beginning of the year and even before on leaving all those negative feelings behind because I do realize that the only one who's stopping myself is me, you know? and I don't want to be an obstacle again in my own life, in any situation. Today I try to love myself more and appreciate each goal accomplished no matter how small. Taking another perspective on life is SO important & every day, I wake up and I repeat to myself "I'm capable, enough and powerful" is like my little mantra, it helps me a lot.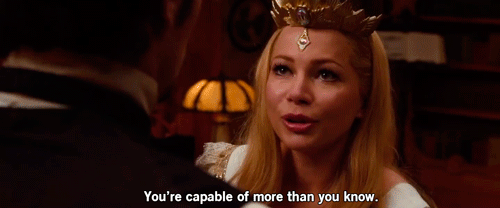 ---
 🍃 What's something you'd like to do/or gain in 2020? 🍃 
Well, I have several personal goals, but in terms of the blog and my readings, I have a whole post talking about it, I'll leave HERE in case you want to know more in detail.
Basically, I'm wanting to try new genres this year that, some that I usually don't read, I'm writing and working on my WIP, which is SO SO excited for me and I've started post discussions on the blog, which I must say, I'm proud of. There are also more challenges, I'm thinking of doing a "24 hours reading" but in post format, I want to read your favorite books, I think that will be fun and I'll be participating in some read-a-thons, besides I have several challenges that I put myself, among them this year I'm reading very well-known old YA series and it's pretty fun so far so I hope that you having fun as well. And soon a renewal may come, as a good Piscesian, I love to make some changes from time to time, so I'm working on it. I really need to clone myself to be able to do more things lol
---
 🍃 It's nice to be important but it's important to be nice. What is the nicest thing someone has ever done for you? 🍃 
Wow! That is a deep question of truth … I'm honestly blessed for having my maternal family, I'm surrounded by strong women, I also had the best grandfather a person can have, so I'm very fortunate to have all these people in my life always doing things for me. I'm the first granddaughter, first niece, and first daughter so I've always been quite spoiled lol, but choosing something specific is SO difficult. I'll share an example with you, when I moved out with my boyfriend we didn't have a single thing of our own, so my family helped us to furnish my apartment and that was absolutely beautiful, I still appreciate it so much. I think I 've been raised to give to others since that's what I've always seen and it makes me feel so proud to be able to say that. My mom is the kind of person that if she has two pieces of bread, she'll give you both, you know? It's a beautiful inspiration in my life. So I can humbly say that I've been blessed with my family and they're people who will always be there for me and of course my wonderful boyfriend who has taught me so much as a person, I just love him.
And of course! VERY grateful to all of  YOU for every support comment here on the blog, it means so much to me, it really is a beautiful gesture of you.
---
 🍃 What are your hopes for your blog this year? 🍃 
I think I've said enough in my previous answers about this, so I'll be very brief. I honestly hope to grow but not only in number, you know? but in knowledge, in quality of content and image, and also I want to commit much more to the community and be a little more active.
---
 🍃 Who or what are you most grateful for in life? 🍃 
Well, I think this is also quite similar to what I already told, but it is absolutely my family, I'm SO grateful for my brothers, they're EVERYTHING for me. I'm also very grateful to have the possibility of getting up every morning and being able to work on the blog and write and have a computer with which to do it, you know? This year I'm practicing being more grateful and I've realized that we take for granted SO many things, things that not everyone has. Things like knowing how to read and write, have access to the internet, have health, have someone's support, buy books, have a job, have a roof over your head or a car. all these things, maybe it's something we take for granted but not everyone has the same possibilities, so we must be very grateful for every little thing, it's so important.
---
 🍃 Who is your favourite musician/band/singer? 🍃 
Ask me to choose only one will be impossible because I always listen to everything, so I don't know … I think Lana del Rey is one of my most favorite, I love her with my soul and to all her songs and I will take the opportunity to say that she deserves more recognition!! Halsey is absolutely brilliant too. I love Taylor Swift a lot, she's a woman who is reborn and is reinvented herself all the time. Then I also love Camila, Lauren, Selena and The Weekend & many more lol, these are like the ones I always going to listen to, but at the moment I also listen to other things or songs that I just like.
Have you heard Physical from Dua Lipa? SUCH A GEM
---
 🍃 What would you like to be remembered for? 🍃 
I would like to be remembered first for being kind, and I know it sounds silly, but touching people in some way and making them feel good is super special to me, I really enjoy interactions where I can encourage someone or make them feel special, because I really think there's so much potential in people and we are such insecure beings that sometimes we don't see it, so I love treating others the way I like to be treated, you know?
I would like to be remembered also for inspiring in some way, I don't expect to be the greatest inspiration of anyone, just maybe as I said before, having some impact on the people go through my life and motivate them in any way to look for their passions and be kind and worry about themselves and for others.
Maybe it sounds silly, I don't know, it's something so deep and so hard to explain
---
 🍃 Do you prefer Bookstagram or Book Twitter? Share your social links. 🍃 
For now, I enjoy Book Twitter a lot, because I don't have Bookstagram yet, so I can't compare. Maybe one day I'll make an account for sure, but for now, I don't trust my skills of taking photos, and I'm quite a perfectionist, so if I don't think I'll make it perfect I'd rather not do it yet, you know? At the moment I really like Book Twitter, interacting with people who love books is really fun anywhere.
---
 🍃 Random question: do you have a specific mug for specific beverages? Ex. a mug only for coffee, a mug only for tea, etc.? (I can't be the only one!) 🍃 
OMG, Meghan!! You're the best, I thought I was the only one who had a cup for everything. I'm a big fan of buying mugs, is like my second favorite thing to buy after books, so I have several and I have some for coffee others for tea and others for yogurt as well, then I have others in case I want to drink or eat something else there lol. It's a very special case, don't bully me 
---
My Nominations
Caitlin Althea | Charis Rae | Shades 0f Paper | The Portuguese Bibliophile | The Uncharted Word | Always Booking | My Bookish Dream | The Critiques of a Fangirl | Stephen Writes |  Sophie's Corner
It's no obligation, at all, to do it, only if you want to, guys ❤️
---
Questions
I'll put here some of Meghan's questions because I would love to know your answers as well as some of my own
What are your hopes for your blog this year?

Who or what are you most grateful for in life?

If you could write a book with one of your favorite authors, which one would it be?

What's one thing you're leaving behind in 2019?

Describe your blog in three words

What idea or concept do you think is still missing in the book community to be better?

What would be an incredible but unlikely literary couple?

Name 3 books that you think deserve greater recognition?

Which popular book do you think is overrated?

Stop time or go back in time? & Why?
---
Credits for the source of the original image HERE
I hope you enjoyed the post, guys! 🥰 
Let me know, What would you like to be remembered for? & What's something you'd like to do/or gain this 2020?
 🍃 Let me know everything in the comments, you know I love to know what you think 🍃