💫 Hi, my beautiful bookish people, I hope you're having the most amazing day. 💞 This is a blog post series, where every month I'll highlight a series of blog posts, from around the book blogger community, that I enjoyed reading or that I think are amazing and deserve more love and recognition. With this, I hope to be able to somehow support other book bloggers more, and I also hope you can find new book blogs to follow or content that interests you or help you.
Maybe the look of this post will be simpler to what you usually see on the blog, but I like this idea and it's honestly with the simple purpose of supporting each other more and we can find new content in a simple and organized way.
I don't have a certain amount to I'm highlighting per month, they're just posts I've come across with and I think they're INCREDIBLE, so I want to share them with you all. I used to make a small top 5 with my favorite posts of the month, but I realized that I had to delete many posts to be able to select only 5, and I don't think it's fair, there are SO many wonderful posts and everyone deserves the same love and recognition, so that's why I decided to make this post apart. 😊 
I hope you enjoy, like and support this idea. I LOVE YOU 🥰 and let's start! 💫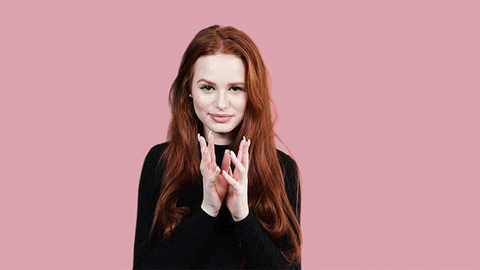 ---
⭐️ Sprinkles of Dreams | Year of the Asian Reading Challenge #YARC2020 // Welcome & Introduction
⭐️ The Night is Dark and Full of Books | Reviewing All of My 2019 Reads in Only Two Sentences
⭐️ Sometimes Leelynn Reads | [Diverse or Nah] My Thoughts on the Goodreads Awards
⭐️ The Lexington Bookie | 15 Simple Steps to Audit Your Book Blog
⭐️ Bookshelves & Paperbacks | 20 RELEASES I'M ANTICIPATING IN 2020
⭐️ Curiouser and Curiouser | Physical Books vs e-Books
⭐️ The Wolf & Books | How to Read More Books in 2020
⭐️ Annie Likes Words | 11 THINGS TO NEVER SAY TO A WRITER… AND WHAT TO SAY INSTEAD.
⭐️ Elaine Howlin | 2020 Reading Journal Flip Through and Journal With Me
⭐️ as told by Zaheerah | BOOKS THAT DEFINED MY DECADE
⭐️ Whimsy Pages | Little Women by Louisa May Alcott | The sweetest, most heartwarming book I've ever read! & Caraval (Caraval #1) by Stephanie Garber | Surprisingly, it's not a bad book!
⭐️ Bookmark Your Thoughts | A NEW YEAR, A NEW JOURNAL! BULLET JOURNAL FOR 2020 || PLAN WITH ME
⭐️ The Orangutan Librarian | Best Books of the Last Decade
⭐️ Drizzle & Hurricane Books | WHY I DON'T READ MULTIPLE BOOKS AT A TIME
⭐️ Pages Unbound | 10 NONFICTION BOOKS TO ADD TO YOUR READING LIST–EVEN IF YOU DON'T NORMALLY READ NONFICTION & 20 DISCUSSION POST IDEAS FOR YOUR BOOK BLOG IN 2020
⭐️ mousaibookscom | Review: The Never-Tilting World by Rin Chupeco
⭐️ allonsythornraxx | MY MOST ANTICIPATED RELEASES OF 2020 (OH MY GOD IT'S 2020!!) 😍😍😍
⭐️ Ashleigh Writes | The Importance of Taking Blogging Breaks
⭐️ Bookish Wanderess | 9 Books with Depression Representation & 8 Books with Afro-Latinx Characters by Afro-Latinx Authors for Black History Month
⭐️ Foxes and Fairy Tales | Top 5 Unreliable Narrators
⭐️ Bionic Book Worm |Top 5 Reasons I Rate a Book 5 Stars
⭐️ The Crooked Pen | How to NOT Suck at Reviewing in Five Easy Steps
⭐️ Reads & Reels | Book Review: Seven Deadly Shadows by Courtney Alameda & Valynne E. Maetani
⭐️ thebookcorps | MY UNPOPULAR HARRY POTTER OPINIONS
---
---
Original Background Image HERE
Thank you SO much to all these wonderful bloggers for all the work they put in their blogs, It's really admirable 💕
 🌿 I'm SO glad you liked the idea, I hope you can find a new blogger to follow & remember that supporting each other is one of the most wonderful things about being part of the community 🌿