🚀 Hi, guys! I hope you 're having the best day ever and that you 're enjoying your reading!❤️ Today I bring you a new Top 5 because seems like I've become addicted to them 😅 , and I thought it would be fun to add some challenge, so in this "top 5" I'll be sharing with you some sci-fi books that I want to try to read in this 2020.
This is a huge challenge for me because this genre has always been a hit or miss, but I thought it would be fun to see what I think about those who most attract my attention right now. In this list I'll be showing you 5 sci-fi books that I think sound great, they're also very popular and loved & they're also books that are mostly located in space or on other planets, that's why I've chosen them. We know that there are many types of sci-fi, but the only ones that represent a challenge for me are those that have to do with space things, spaceships travel and universe planets, so obviously that will be what I'll be trying to read.  🌌 
I would never do this if I don't think that there's a possibility that I enjoy these books, I used to judge the genre a lot, to the point that I closed myself to want to read more because while I enjoy a lot of technological, alien things and time travel stuff, the things that happen in spaceships are another story. So, what changed my mind so I want to try again with this kind of genre? well, I read a book last year that I absolutely LOVED and made me re-think the idea that maybe I can enjoy space things and that was: Skyward by Brandon Sanderson, not only was amazing but it was in my top of favorite books of the year, it was a great surprise for me to enjoy it so much, so I thought, let's do it! I'm going to put myself on this kind of annual challenge and obviously, you'll witness my progress during 2020. I'll not have any type of restriction to myself, by this I mean that if I'm not really enjoying the book, then I'll not have problems and I'll no doubt In "DNF", this is just an experiment where I intend to see if I really have a real problem with this genre or I just haven't read the indicated books, so this pretend to be fun and entertaining especially for me, in the first place, so if stop being it, I'll stop and put at end to this relationship.  😂 
It can be fun but it can also be a disaster so we'll see what happens, it will surely be interesting. I hope you like the idea and decide to join me in this space adventure. 🥰 
Now without further ado, let's start! 🚀 
---
---
---
With millions of dollars at stake, walking away isn't an option.
Emmett Atwater agrees to leave Earth behind when Babel Communications offers him a fortune. The catch? He has to launch into deep space to get it. One of ten selected recruits, Emmett boards the company's spaceship and sets course for a planet that Babel has kept hidden from the rest of the world.
Before long, Emmett discovers that all of Babel's recruits have at least one thing in common: they're broken. Broken enough that Babel can remold them however it pleases.
Every training session is a ruthless competition where friendships are tested and enemies are made. Each recruit must earn the right to travel down to the planet of Eden—where they will mine nyxia, a substance that has quietly become the most valuable material in the universe.
But Babel's ship is full of secrets. Secrets about the volatile substance they're hoping to mine, about the reclusive humanoids already living on Eden, and about the true intentions for the recruits.
Emmett will face the ultimate choice: win the fortune at any cost, or find a way to fight that won't forever compromise what it means to be human.
---
---
Petty criminal Zara Cole has a painful past that's made her stronger than most, which is why she chose life in New Detroit instead of moving with her family to Mars. In her eyes, living inside a dome isn't much better than a prison cell.
Still, when Zara commits a crime that has her running scared, jail might be exactly where she's headed. Instead Zara is recruited into the Honors, an elite team of humans selected by the Leviathan—a race of sentient alien ships—to explore the outer reaches of the universe as their passengers.
Zara seizes the chance to flee Earth's dangers, but when she meets Nadim, the alien ship she's assigned, Zara starts to feel at home for the first time. But nothing could have prepared her for the dark, ominous truths that lurk behind the alluring glitter of starlight. 
---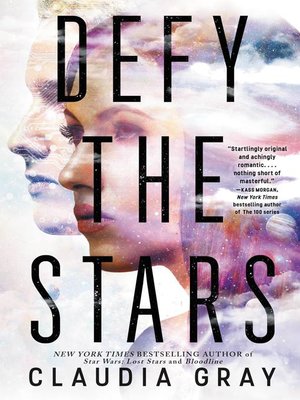 ---
She's a soldier – Noemi Vidal is willing to risk anything to protect her planet, Genesis, including her own life. To their enemies on Earth, she's a rebel.
He's a machine – Abandoned in space for years, utterly alone, Abel's advanced programming has begun to evolve. He wants only to protect his creator, and to be free. To the people of Genesis, he's an abomination.
Noemi and Abel are enemies in an interstellar war, forced by chance to work together as they embark on a daring journey through the stars. Their efforts would end the fighting for good, but they're not without sacrifice. The stakes are even higher than either of them first realized, and the more time they spend together, the more they're forced to question everything they'd been taught was true.
Fast-paced, romantic, and captivating, Defy The Stars is a story about what it means to be human, about deciding what you truly believe in, and about finding your place in a dangerous world. 
---
---
The year is 2380, and the graduating cadets of Aurora Academy are being assigned their first missions. Star pupil Tyler Jones is ready to recruit the squad of his dreams, but his own boneheaded heroism sees him stuck with the dregs nobody else in the Academy would touch…
A cocky diplomat with a black belt in sarcasm
A sociopath scientist with a fondness for shooting her bunkmates
A smart-ass techwiz with the galaxy's biggest chip on his shoulder
An alien warrior with anger management issues
A tomboy pilot who's totally not into him, in case you were wondering
And Ty's squad isn't even his biggest problem—that'd be Aurora Jie-Lin O'Malley, the girl he's just rescued from interdimensional space. Trapped in cryo-sleep for two centuries, Auri is a girl out of time and out of her depth. But she could be the catalyst that starts a war millions of years in the making, and Tyler's squad of losers, discipline-cases and misfits might just be the last hope for the entire galaxy.
They're not the heroes we deserve. They're just the ones we could find. Nobody panic. 
---
---
Kady thought breaking up with Ezra was the worst thing she'd ever been through. That was before her planet was invaded. Now, with enemy fire raining down on them, Kady and Ezra are forced to fight their way onto one of the evacuating craft, with an enemy warship in hot pursuit.
But the warship could be the least of their problems. A deadly plague has broken out and is mutating, with terrifying results; the fleet's AI, which should be protecting them, may actually be their biggest threat; and nobody in charge will say what's really going on. As Kady plunges into a web of data hacking to get to the truth, it's clear only one person can help her bring it all to light: Ezra.
Told through a fascinating dossier of hacked documents–including emails, schematics, military files, IMs, medical reports, interviews, and more–Illuminae is the first book in a heart-stopping, high-octane trilogy about lives interrupted, the price of truth, and the courage of everyday heroes.
---
---
Besides the Goodreads link, that I always add in case you want to add the book to your TBR, this time I've also added a link to Book Depository, in case you want to pre-order the book there. In that case, I want you to know that as an affiliate, I'll receive a small percentage of your purchase and it would be REALLY helpful to me, to buy more books, and keep sharing with you ❤️
---
---
Credits for the source of the original image HERE
 🌿

I hope you like the idea!

Now, tell me: Have you read any of these books? What do you think? | Do you have any genre that is a hit or miss for you? Which one? 🌿 
Let me know everything in the comments, you know that I love to know what you think