🌷 Hi, my loves! I hope you're having a beautiful day!. Today I bring you my reviews of the books I read during the Smutathon, although having a Wrap Up for it, I wanted to make a few more detailed reviews about my thoughts and emotions on each one of them, and so you'll have where to go in case if you want to know more. 😊
I hope you enjoy it and I hope you're enjoying your current readings! 🌷
---
---
Title: The Unhoneymooners
By: Christina Lauren
Pages: 395
Published: May 14th, 2019
By: Gallery Books
Genre: Adult|Romance|Contemporary
You can buy it HERE: Book Depository
Olive is always unlucky: in her career, in love, in…well, everything. Her identical twin sister Ami, on the other hand, is probably the luckiest person in the world. Her meet-cute with her fiancé is something out of a romantic comedy (gag) and she's managed to finance her entire wedding by winning a series of Internet contests (double gag). Worst of all, she's forcing Olive to spend the day with her sworn enemy, Ethan, who just happens to be the best man.

Olive braces herself to get through 24 hours of wedding hell before she can return to her comfortable, unlucky life. But when the entire wedding party gets food poisoning from eating bad shellfish, the only people who aren't affected are Olive and Ethan. And now there's an all-expenses-paid honeymoon in Hawaii up for grabs.

Putting their mutual hatred aside for the sake of a free vacation, Olive and Ethan head for paradise, determined to avoid each other at all costs. But when Olive runs into her future boss, the little white lie she tells him is suddenly at risk to become a whole lot bigger. She and Ethan now have to pretend to be loving newlyweds, and her luck seems worse than ever. But the weird thing is that she doesn't mind playing pretend. In fact, she feels kind of… lucky.

|| Goodreads ||
---
#Smutathon Book 1
OMG, I think it ended up being much more than I expected, I really enjoyed it!. Being honest at first I had some problems, I think the first half of the book, although it has fun dialogues and very good stimmy scenes, it's all over-dramatic and exaggerated, but the second half is SO GOOD, loved it, the ending was adorable as well!. The family dynamic is SO good and I'm all for a good familia Latina, always hit me close to home 
The book is about Olive, she has always had bad luck while her twin sister Ami has lived a perfect life full of luck. On the day, on Ami's wedding, everyone ends up food-poisoned by eating fish in poor condition, so neither she nor her husband can attend their honeymoon, so Ami asks Olive to go in her place cause she can't waste the trip that she had earned, but she must make the trip with his sister's brother-in-law, Ethan, a handsome guy who seems to hate her without reason, and they must also pretend that they're married. despite having a bad relationship, both accept and once in Maiu they began this kind of "fake relationship" thing and many crazy things will happen 
I liked the book, I enjoyed it, although not in its entirety, I think I started to really enjoy it in the second half when they return from the trip and everything becomes more real, serious and dramatic. I think the first part is kind of exaggerated, many Olive's negative emotions and thoughts towards Ethan aren't justified and don't make much sense, in fact, they could have solved everything with a simple talk, but I guess that is how these types of books work, right?. Even though the trip wasn't my favorite part, I think has very funny and unexpected moments, and I found myself laughing out loud.
I didn't like Olive very much in the beginning, but I liked her by the end, in the beginning, she kept mentioning her breasts ALL THE TIME and I was like, really? LOL. I mean, she represents a curvy girl and that's great, but we didn't need so many mentions of her tits, it was a lot to handle!. Ethan is fine for me, I think he's a pretty simple guy despite being described as the "bad guy" under Olive's eye, but I do think he has some unfortunate phrases that would have made me angry too.
I love the united family and the support that everyone gives each other, it's a Latino family, which I LOVE, and I think it's very well represented. Olive goes through very difficult times, both at work and in relationships, and her family is always there to comfort her and give her love. I'm all for a good present family. I also like the sisters' relationship, both go through critical moments, but you can see despite being everything there's a lot of love there, Olive ends up being a great support for Ami and vice versa.
The stimmy scenes are good, I don't think it's a book with a lot of sexual content or anything like that, rather it's quite subtle and sexy, which gave a good touch to the story.
It's very easy to read, so I recommend it a lot especially if you like "enemies-to-lovers" stories, I think you can enjoy it, it's a great romantic comedy for me, and also plays important issues of family, trust, loyalty, and love. The end is very sweet, maybe a bit cliche, but I enjoyed it, so without a doubt, I think you'll spend a great time reading it. 
---
---
3.5/5 ⭐️⭐️⭐️ 💫
---
---
Title: Vicious (Sinners of Saint #1)
By: L.J. Shen
Pages: 339
Published: December 27th, 2016 
By: L.J. Shen
Genre: New Adult|Dark Romance|Contemporary
You can buy it HERE: Book Depository
Emilia

They say love and hate are the same feelings experienced under different circumstances, and it's true.The man who comes to me in my dreams also haunts me in my nightmares. He is a brilliant lawyer. A skilled criminal. A beautiful liar. A bully and a savior, a monster and a lover.

Ten years ago, he made me run away from the small town where we lived. Now, he came for me in New York, and he isn't leaving until he takes me with him.

Vicious

She is a starving artist. Pretty and evasive like cherry blossom. Ten years ago, she barged into my life unannounced and turned everything upside down. She paid the price.

Emilia LeBlanc is completely off-limits, my best friend's ex-girlfriend. The woman who knows my darkest secret, and the daughter of the cheap Help we hired to take care of our estate. That should deter me from chasing her, but it doesn't. So she hates me. Big fucking deal. She better get used to me.

|| Goodreads ||
---
---
#Smutathon Book 2
TW: Hard Bullying Scenes, Physical and Mental Abuse, and Drug Use
OMG, this book is so intense but so good. Super ADDICTIVE I could hardly stop reading, it's not my usual type of reading but I really enjoyed it, I know there are many dark and bad things with the book but it's SO good 
This book follows the complicated, disturbed and twisted relationship between Vicious, an unscrupulous and powerful young man and Emilia, a humble and innocent young woman who would do anything for her family. This is a dark romance between two people from different worlds with such a strong attraction that will cross all boundaries. 
Oh, this book! I loved it and enjoyed every second, well, said that I enjoyed it will be a lie, cause I also suffered and had many other feelings, but basically I think it's 100% addictive, it's very difficult to stop reading once you start. The story takes place between jumps in time, it begins when they were teenagers until they're adults. We follow both Emilia's and Vicious' POVs, which I love in this type of romance because it makes you tie things together and understand what goes through each one of their heads when making decisions.
I really admire Emilia's character, not because I justify all her actions, of course, but because she protects her sister and her parents and everything she has sacrificed for them is really incredible. I felt so bad for her in so many moments I just wanted to hug her, & Vicious, on the other hand, I hate him for most of the book, but at the same time I think he's a character with a lot of presence, very powerful, dark and extremely interesting to follow. You know there's something very wrong in his mind but anyway you can't stop wanting to know more and more about him, his past and his true desires. I think he's a very addictive and well-created character, even though in real life he would be extremely creepy, you know? LOL
It's not a book with a healthy romance, and I'm pretty aware of that, there are many bad things happening most of the time, but in the end I like the growth of the characters, and as Emilia becomes stronger and more determined, while Vicious manages to soften his heart a little and begin to consider his true feelings. It doesn't justify, though, all the shit that Vicious makes Emilia go through, but I wanted to mention it. 
Besides being very easy and quick to read, I think it has incredible dialogues, each scene with dialogues makes you feel that you're physically there at that moment and really get you involved with the plot even more.
I also liked the secondary characters I think that each one has a super important role in the plot and each one contributes a good scene, especially Vicious friends, all have wicked minds and they're not good people, but it's very interesting for me to see how strong is the bond that unites them, and despite being confronted each other several times, they're like brothers and that will not change.
The sex scenes are VERY GOOD, I haven't read many in my life so I don't have much to compare to, but these are really intense, so as stimmy romance, is perfect. It has many explicit scenes so if that's something you don't like I recommend discretion or that you don't read it, because it's really quite crude in that aspect. It also has a lot of inappropriate language.
This book is SO INCREDIBLE, I didn't expect at all to like it so much, it was a surprise, but it ends up having everything I was looking for at that moment, I spent a great time reading it, although I still have many emotions and I can't explain it because spoilers, but I hope that if you're interested in dark romances you decide to read it!, I know you'll not regret it. If you're a sensitive person or you don't enjoy this type of male character, powerful and cruel, I don't think it's the book for you
---
---
4.5/5 ⭐️⭐️⭐️⭐️💫
---
---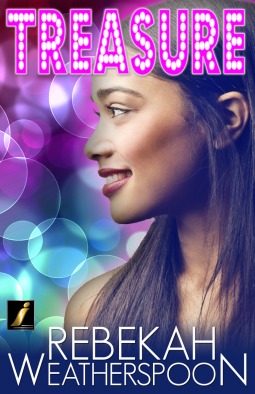 Title: Treasure
By: Rebekah Weatherspoon
Pages: 106
Published: October 14th, 2014
By: Bold Strokes Books, Inc.
Genre: New Adult|Romance|LGBT|Contemporary
Her sister's bachelorette party is the highlight of a miserable year for Alexis Chambers, but once her bridesmaid's dress is packed away, she's back to coping with her life as a once popular athlete and violinist turned loner and the focus of her parents' disappointment. She isn't expecting much from her freshman year of college until she finds herself sharing a class with Treasure, the gorgeous stripper from her sister's party.

Trisha Hamilton has finally gotten the credits and the money together to transfer to a four-year university. Between classes, studying, and her job as a stripper, she has little time for a social life, until she runs into the adorably shy baby butch from the club. Trisha can't seem to hide her feelings for Alexis, even when Trisha discovers what she has been through, but will Alexis have the strength to be just as fearless about their new love?

|| Goodreads ||
---
---
#Smutathon Book 3
I enjoyed it a lot, I think the fact that it's so short makes the story move very fast and I don't get to know the characters as much as I like, but I still like it a lot, it's sexy, diverse, bold, fun and I loved the writing style!! A very passionate love story 
Treasure is a short novel about a romance between two girls of color, which is great, diversity in NA is very important.
Alexis meets Trisha during her sister's bachelorette party. Trisha works there as a stripper and the chemistry is instantaneous. After a few days, they meet again in a computer/informatic class and begin a more serious relationship. 
What I really liked about this book is the fact that it focuses on two characters with really opposite lives styles. Trisha's a girl from a working low social class, while Alexis has a better life, upper class, and many luxuries. I like this because it doesn't really impact on their personalities at all, I think that Trisha's super extroverted and brings out the best of Alexis, who's a very shy and introverted girl who also suffered from ADHD and has gone through some very ugly things in her life. I think it shows a bit like money doesn't really matter, and even if you have everything, not everything on your life will be perfect and I like the girls' discussion on the subject
There are very sexual scenes here too, and I love how they're handled, especially because there's a lot of positive talk about it and also a more open and free vision about sex life
It's a bit difficult for me to feel 100% committed to the characters when the book is so short, but that's personal, I don't think that's a problem for you
I enjoyed it! the romance is super entertaining and it keeps you wanting more. It's a very sexy, daring, fun and above all, diverse book. I think many of you can enjoy it, especially if you're looking for a good reading for the Pride month, and if you're looking for a good and positive F/F relationship. I would recommend it! 
---
---
3/5 ⭐️⭐️⭐️
---
---
---
🌸 Feel free to leave your comment below, I always love to know what you think 🌸 
find me at