💫 Hi guys, I hope you're having a beautiful day! Today I bring you another part of our series, the book meme "Down the TBR Hole", which I'm doing hoping that it will help me to reduce the number of books that are in my current TBR
My plan is to upload this meme every week where. (I'm glad that now you want to see more books in this post so I decided to do 10 books per post instead of 5, not only will it be MUCH more entertaining and fun, because we'll have more books to talk about, but I'll also be able to clean my TBR faster which is great!) so, I'll show you 10 books of which I'll choose which one I'll keep or get rid of. I want to make this weekly meme as interactive as possible, so I'll be consulting a lot with you, to decide what to do. There will be those books which I'll be interested in (Keep), those which I'll not be interested in anymore (GO) and those which I'll not be sure about, and with those, I'll need your help. So please, let me know all your thoughts in the comments and I'll be able to take my decision and let you know in the next post. 💫
I'm very happy because I've seen that you have participated a lot in the previous post, leaving me your comments, so I'm super excited to continue with this weekly meme.
If you're doing the same meme right now, let me know so I can check your post out and leave my thoughts there 💖
---
---
Previous Posts
|| #1 || #2 || #3 || #4 || #5 || #6 || #7 || #8 ||
---
---
Rules
 💫 Go to your Goodreads to-read shelf.
 💫 Order on ascending date added.
 💫 Take the first 5 (or 10 (or even more!) if you're feeling adventurous) books. Of course, if you do this weekly, you start where you left off the last time.
 💫 Read the synopses of the books
 💫 Decide: keep it or should it go?
---
---
☕️ #1 – The Diviners (The Diviners #1) by Libba Bray

|| Goodreads ||
I've really heard the best things about this book and I just re-read the blurb and I think it sounds like something I'll enjoy. The story follows Evie in a New York in 1926 to live with her uncle while trying to hide her supernatural gift that has only brought her problems, but one day, after her uncle Will is called to a crimes scene, Evie realizes that she can use this gift to help find a serial killer.
I think the book follows several points of view so that's interesting, I love the fact that it's Historical Fiction since I've been wanting to read more of the genre but also that it's paranormal and mystery since they are things what I love.
It's a pretty big book but at the same time I have good feelings, I feel that I going to like it, so obviously I'll be kept in my TBR. I love that cover, by the way 😍
 💫 KEEP 💫
---
☕️ #2 – This Savage Song (Monsters of Verity #1) by Victoria Schwab

|| Goodreads ||
The blurb is a bit vague honestly, it doesn't tell me much about the story beyond that it's about two guys Kate, who wants to be as ruthless as her father and August who's a monster who wants to be human. What I like and what catches my attention about this book, apart that's a Victoria Schwab book, is the world-building, I've heard a lot about this book and almost all the reviews I've read highlight how the world works and the originality of the plot, that has me very excited. I think I heard it has something to do with music, and with people's sins becoming monstrous, but I'm not sure. In short, I'm very interested in reading it I feel that it could be the book for me
 💫 KEEP 💫
---
☕️ #3 – The Circle (Engelsfors #1) by Mats Strandberg
|| Goodreads ||
With this book I feel a little the same as I felt with Sweep, I don't know why but maybe because I added them together or something but I always compare them in my mind lol. This is a kind of paranormal story about 6 chosen ones who are attracted by some supernatural force and then they discover that they have magical abilities and there are many witchery things that sound very cool.
I want to give it a try because it has incredible reviews and the truth is that I always love a good paranormal story about witches and superpowers.
I've heard that it's quite addictive so maybe I read it soon, tell me if you have read it and what you think!
 💫 KEEP 💫
---
☕️ #4 – Trial by Fire (Worldwalker #1) by Josephine Angelini 
|| Goodreads ||
OMG, wait a second, alternative universe?, WHY nobody tells me about this?. I didn't even remember what this book was about, obviously, but now that I NEED to read it.
Sounds incredible, it's about a Lily, who suffers from allergies that threaten her life so she can't have a normal teenage life, so when one day she can go to a party she's determined to enjoy it. But there something happens and Lily is suddenly in an alternative universe where the world is governed by strong women called Crucibles and the most powerful and cruel of these women is their own self in this universe, which sounds too GOOD really.
I just need to make a list of the books that I need to read right now. This one would be on the list.
 💫 KEEP 💫
---
☕️ #5 – A Shadow Bright and Burning (Kingdom on Fire #1) by Jessica Cluess
|| Goodreads ||
This was a book which I was very interested in, because there was a time where everyone talked about it and it really sounds pretty good, it's about a girl who can burn in flames and there's a lot of magic involved, which is great, but being honest I'm not 100% sure about it. I lost a lot of interest over time and now that I've read the blurb again and checked some reviews it doesn't seem like something I'm going to enjoy, so I'll let it go, because probably otherwise I'll have it in my TBR forever with no intentions of reading it
 💫 GO 💫
---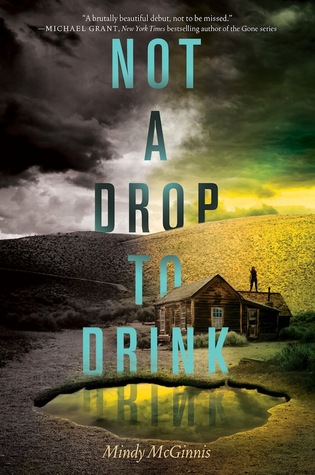 ☕️ #6 – Not a Drop to Drink (Not a Drop to Drink #1) by Mindy McGinnis
|| Goodreads ||
I have so many books of the author in my TBR that's already getting ridiculous I really have to at least read one of them lol. This one, in particular, I think it sounds really interesting especially because it could happen one day, don't you think? This story is based on the lack of water and survival, and I think our MC, Lynn, is alone and must defend her pond in the face of possible strangers.
I've heard that this book is quite hard and cruel in content which I can understand given the circumstances, I've also read that it's all about the characters, which I like, I always appreciate a good story with character-driven, besides the world I suppose it's apocalyptic and sounds very intriguing so I'll keep it because it is not too long so I think I could find it entertaining
 💫 KEEP 💫
---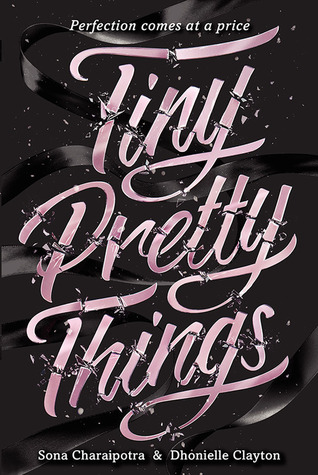 ☕️ #7 – Tiny Pretty Things (Tiny Pretty Things #1) by Sona Charaipotra 

|| Goodreads ||
This book is described as Black Swan meets Pretty Little Liars, and with a promise like that one I can't say NO, honestly sound too amazing to be true, they're two of my favorite things.
It sounds like a lot of drama in a ballet school, so we'll see how I feel about it. The blurb doesn't say much but if the book wants to be what it promises to be, then it should surprise me and I hope its content is incredible.
I think people either love it or hate it so we'll see, I don't know, I hope to be on the positive side, but I'm intrigued
 💫 KEEP 💫
---
☕️ #8 – Dark Matter by Blake Crouch 
|| Goodreads ||
I own this book in physical format, so obviously I'll be reading it soon, I tried to do it a couple of months ago but I didn't get to read it but I really want to, the promise is perfectly EVERYTHING I usually love in a good movie, and I'm interested in to know how it will work in a book, besides I've heard so many incredible things about it, I can't wait
 💫 KEEP 💫
---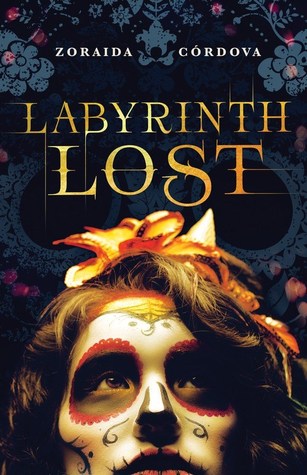 ☕️ #9 – Labyrinth Lost (Brooklyn Brujas #1) by Zoraida Córdova
|| Goodreads ||
I have to be honest here, I use to be super excited by this book, today I'm not so sure, really. On the other hand, even though my emotion has decreased, due to several bad reviews, I want to read it due to the Latin representation it contains, I'm Latina so I think it's something that I should read, you know? I've decided that soon I'll be trying a chapter of this one to see how I feel about it, and if I'm not completely sure I'll let it go
 💫 KEEP 💫
---
☕️ #10 – Breathe (Breathe #1) by Sarah Crossan
|| Goodreads ||
Oh, the girl in this book is called Alina!, it makes me feel nostalgic. I've read the blurb and the idea of pays for the air you breath is very original and terrifying. It has been in my TBR for too long and I've never thought about reading it, honestly, I guess I added it for that beautiful cover but it's not fair that is still there if I'm not going to read it, so I say goodbye to this one
 💫 GO 💫
---
---
Books Removed in this Post: 2
Books Removed in Total: 18
---
---
Guys, I hope you enjoyed it! and you know that I want to know everything you think about all these books, so let me know in the comments!! 💕 
find me at