💫 I think that Fridays are fun to do Tags, for some reason 😅 , so I wanted to do it and have a relaxed and fun chat with you. For that, today I bring you The Sunshine Blogger Award, I was nominated by the beautiful Beth || The Books Are Everywhere, please visit her blog because it's really amazing!, and after reading the questions it seemed like a lot of fun to me, and I knew I had to do it as soon as possible!. I'm excited to start answering them, so without further ado, let's START! 💫
---
 🌟  Rules  🌟 
Thank the blogger who nominated you.

Answer the 11 questions the blogger asked you.

Nominate 11 new blogs to receive the award and write them 11 new questions.

List the rules and display the Sunshine Blogger Award in your post/or on your blog?
---
Questions from Beth 💕 
 💫 When do you read more, day or night? 💫 
In fact, I read when I have the time or I can so it could be at any time of day, but if I have to choose a moment I enjoy reading more at night, there's something in reading at night that makes the reading feels more atmospheric for me
---
 💫 How many unread books do you own? 💫 
I'm the type of person who needs to have a moderate amount of unread books, and I know it sounds crazy but there's something about having books that I haven't read yet, I mean physically, that makes me feel comfortable, I know, I have some problems! Don't judge me 😂. I think I own about 30 books, aren't THAT many, but I have more on my Kindle, but I usually read those immediately after buying them
---
 💫 Which 2019 release are you super excited for? 💫 
I feel kind of treacherous choosing only one but here I go …
The Devouring Gray (The Devouring Gray # 1) by Christine Lynn Herman
This book basically sounds like everything I love in a book so I hope it's as amazing as it sounds
---
 💫 Which authors are on your auto-buy list? 💫 
Leigh Bardugo, Colleen Hoover, Laini Taylor, Julie Kagawa, Marie Lu & Shea Ernshaw  💞 
---
 💫 Which book do you hate/dislike and everyone loves? 💫 
The Hating Game by Sally Thorne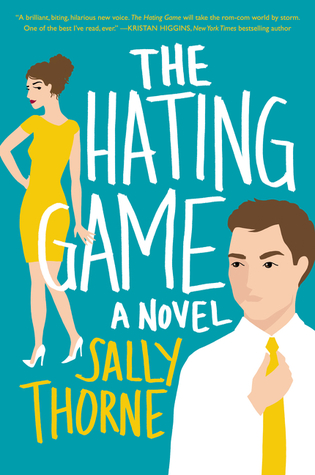 Yep, I'm that person 😅 
---
 💫 Name a book or series you'd love to see as a movie or TV show. 💫 
The first to come to my mind are all the books in the Grisha universe, and I know that will be happening so that makes me happy. Really, will make a great TV series, can you imagine seeing all those characters that we love so much of flesh and blood?, I don't know if I'll survive, I swear 😍 
---
 💫 How many books are too many in a series? 💫 
I think that up to 6 is fine, if I love the series I would love it to be infinite, but to be realistic I feel that till 6 or 7 it would be fine, I think more books would be too much for me
---
 💫 Name your favourite bookish group of friends. 💫 
I hope I understood the question well, but let me know below if I don't!
I chose one of my favorite groups of friendship and love and that's the cast of Radio Silence by Alice Oseman, a book that I love and I need everyone to read because it's simply extraordinary 👏🏻 
---
 💫 Which book(s) do you have fond memories of? 💫 
I could choose many for this one, but I'll choose I'll Give You the Sun by Jandy Nelson is a book that is always in my heart and has happened so much since I read it, and I still think about it sometimes, it's BEAUTIFUL, I die of love for this book and should do a re-reading soon
---
 💫 What's your favourite bookish map? 💫 
---
 💫 Other than reading, what do you love to do? 💫 
I love to dance, I've done it for a long time and although I don't do it professionally or to compete anymore, I still love to dance as a hobby. I also like to walk a lot, and go to the movies with my boyfriend or go out to eat or have a drink with friends. And that's all I can think about right now, Oh and EAT! lol. I don't know if I'm the only one, but when someone ask me this kind of questions my mind goes blank and I don't know what to say 😅 
---
---
Nominations
☕️ Angelica || The Book Cover Girl
☕️ Rita || Bookish Rita
☕️ Stephanie|| Between Folded Pages
☕️ Raven || Dreamy Addictions

☕️ Tasya || The Literary Huntress
☕️ Meeghan || Meeghan reads and bakes
☕️ Emma || Never Judge a Book by its Cover
☕️ Jenna || Bookmark Your Thoughts
☕️ Sionna || Books In Her Eyes
☕️ Ally || Ally Writes Things
☕️ Margaret || Weird Zeal
---
My Questions
I don't think I can compare my questions with those incredible ones, but here they are… so I hope you like them 😊 
 💫 Which book do you think would make the best video game?
 💫 Which one is the first book you ever bought?
 💫 Let's be honest, Which is that series of books that you know you will not finish?
 💫 Have you ever read a book in another language? If so, Which one?
 💫 Have you had any compulsive bookish buying and then regretted it?
 💫 What do you think is the best solution for a reading slump?
 💫Who is your favorite bookish character of all time?
 💫 Which book everyone loves but you hate or just don't like?
 💫 Just your opinion, Which one do you think is the worst book you've ever read? and Why?
 💫 If you could only read one author forever, Who would it be?
 💫 Do you think you have some weird habit when reading? or something that you think only you do?
---
---
I hope you guys have enjoyed it, and that you decide to do it if you feel like it, even when I haven't tagged you because you know I can't tag everyone or I would! 😅
So, don't hesitate to answer my questions if you want to, I'd love to see it!
I hope you have a wonderful day full of incredible readings 💕 
find me at