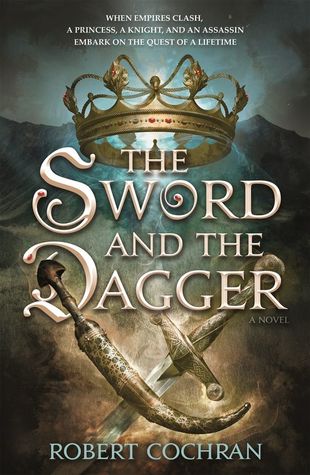 Title: The Sword and the Dagger
By: Robert Cochran
Pages: 400
Expected Publication: April 9th 2019
By: Tor Teen
Genre: Fantasy|Historical Fiction|YA
You can buy it HERE: Book Depository
When empires clash,
a Princess, a Knight, and an Assassin
embark on the quest of a lifetime

During the time of the Crusades, an unlikely trio—a Christian princess, her affianced prince, and a Muslim assassin—embarks on a quest to the court of the most fearsome warrior the world has ever known, Genghis Khan.

A rousing tale of adventure and romance about three young people who must grapple with fundamental issues of loyalty, friendship, faith, honor, and courage against the backdrop of conflicts that still resonate today.

|| Goodreads ||
---
---
I want to thank Tor Teen and NetGalley for providing me with a copy in exchange for an honest review
I enjoyed this book, to be honest, isn't everything I expected it to be, but even so I think the idea of the book is very solid, and the author expresses with this story in a very informative way a historical moment of which personally I didn't know a lot about, so I appreciate saying that I ending this book being a little wiser, and although I'd heard it was slow I must say that for me it was very easy and quick to read
The Sword and the Dagger, is about these young boys, a Christian princess, a prince, and a Muslim assassin, who embark on a quest, in the time of the Crusades, to the court of one of the most feared warriors. It's a book of adventure and fantasy but at the same time, it's realistic in terms of culture and history. Touch topics such as faith, friendship, and loyalty 
When I started reading this book, I was so pleased to see that it was really easy to move through it. The fact that this book is based on a real historical fact makes it really interesting to read it, as I said before it was highly informative for me, I didn't know anything about this time period and now I can say that I certainly do a little more, which is great. I also want to highlight the fact that while the story takes place we can get to know more about races and cultures, but spite of that, I didn't find anything that really stands out above other fantasy books.
As I said before, it was easy to read and it was something that I needed in a fantasy, since I came from a book with a very slow pace, on the other hand, I feel that maybe there are scenes that deserve a more moderate paced, I would have liked to stay a little bit in certain places where the characters spent time during the journey to know more about them, or just admire the landscapes, and although I don't complain about the paced, I think that sometimes too fast isn't a good thing either and I wanted to mention that. The fact that the journey of the characters is fast can be something that you don't like much at the time of reading, in my case, it was good because I don't usually enjoy seeing people on very long journeys.
About the characters, I really liked Elaine, who's our main female character and princess. For the time in which this is based on, I think she's a really great character, feminist, strong and capable, a girl who doesn't want to live to get married and serve her man, but she's also willing to do sacrifices for her country. I like very much how she confronts very powerful men and defends her position, which was very rare for the time, and I appreciate the point of view of a strong and independent woman in a story like this one. On the other hand, we have Rashid, the murderer, and Conrad, the prince. The character of Rashid is good, especially for his growth during the book but also for his faith and loyalty, but on the other hand, I would have liked a better development and depth in the personalities, both in Rashid's and in Conrad's, who turned out to be my least favorite character and honestly, I don't feel much towards him, I think his presence is required as the strong and stubborn guy, but that's just it. There are other characters in the story that could have gone much further and become more important characters for the plot, but the author hasn't given them a deep personality as such so they have ended up being just there
This writing style I think isn't really for me, even though I didn't have any problems with it as such, I had some comprehension problems. I think this is because the book is told from a historical perspective and there's a lot of language of the time, then it was weird for me but it's something super personal that I don't think is a problem for you
Are many dialogues in the book, which I loved, but on the other hand, I feel that at times the characters share too much information through dialogues, perhaps things that no one would say, something like "Well, as you know, you lost your father recently and your mother pass away when you were younger", you know what I mean? 
What was perhaps my biggest problem with the book was the POVs change, which isn't signaled and which sometimes happens within the same chapter, which is rare. We are under the point of view of a character and suddenly changes and there's nothing that tells you that will change, you know?. I'm used to seeing that each chapter is about a character or is under the POV of just one character, but here you're reading in the middle of a paragraph and you realize that you have already changed to another POV and that can be confusing when you're trying to follow the plot. Maybe this isn't like that in the final copy of the book, but it's how it is built in the ARC
There's a chapter at the end of the book called "Historical Note", where the author explains, very thoroughly and in-depth, the historical moment in which the story unfolds and I think it's WONDERFUL. I love that and it shows how considerate the author is and how much he has informed himself before writing the book. I appreciate that he had taken his time so that everyone knows what the Crusade was really about and how politics and culture were at that time.
I really liked the end of the book, I think the last chapters are really good, even so, I think the whole outcome is quite predictable, so don't expect anything surprising to happen, because you'll be disappointed, on the other hand, it's a good ending and I enjoyed the process of reading it.
In short, this isn't a bad book, I still recommend it especially if you want to know more about the time of the Crusades and how the political and cultural theme worked at the time, also if you usually enjoy fantasy and historical fiction, I think that this is a very good mash-up of both genders. It's a book that shows you the reality of many races and religions so I also think it's very informative and that's why I recommend it a lot. If what you're looking for is complexity in terms of characters and plot, maybe this isn't for you
---
---
3/5 ⭐️⭐️⭐️
---
---
🌸 Feel free to leave your comment below, I always love to know what you think 🌸 
find me at