🍂 Hi guys, I hope you're having a great day and you're reading delicious stories!. Today I bring you my TBR for the month of April, where I'll tell you all about the books I plan to read during this month. Where I live in, the Autumn 🍁 has arrived and it's my favorite season, I always feel that it's so great and I feel so good reading in this season, for some reason, I LOVE it, so I hope to achieve some incredible readings * fingers crossed * 🤞🏻 
I created my TBR this month with a lot of anticipation, in fact, I have it for a few weeks since I'm determined on what I want to read. I'll be mainly focusing on my ARCs, I only read 1 last month so I have to catch up this month, many of them will be out in May, but I want to read them in advance so I can give you my opinion as early as possible, in case you're interested and want to buy or pre-order the book. For this I'll be participating in the #ARCAttack, this is hosted by Vicky (What Vicky Read) 💕 and it's about reading only ARCs throughout the month so we can read all those we have pending. I think it's a great idea so I'm excited to join in, if you also want to participate you just have to create your TBR and then use the hashtag I mentioned earlier on Twitter to chat about the books you'll be reading during the month. I personally, will not read ONLY ARCs during the month, because I also have other readings planned, even so, I hope to read several of which I'm very excited for 😄 
I also plan to buddy read a really hype book with my wonderful boyfriend, and that has me so excited, I feel it will be fun, and we can discuss it and then maybe make a post together about all our thoughts, to share them with you, which always it's my favorite part 😍 
Last but not least, I'm doing my own challenge where during the following months I'll be reading The Lowest & The Highest Rated Books On My TBR, and this month I'll continue with another of the books on my list, if you want to check my TBR for that, I'll leave you the link 👏🏻  🍂 
---
Before starting and as I usually like to do, I want to THANK YOU for the wonderful support you're giving me, the amount of comments I've received this past month is crazy, they were more than 500 in total and despite the fact that visits and likes make me most than happy, there's something in comments that fills my heart, is that possibility to talk to you and connect with you, that's really the magic that blogging has, you know?
I know that maybe you're super bored to see me thank all the time 😅 , but I can't help it, this year is being INCREDIBLE for the blog and I want you to know how much I appreciate your support 😭 
This month my goal is to comment more in your posts, visit new book blogs as well and continue to create connections with you all 😍 
I hope you have a WONDERFUL month and I love you so much 💖 
---
---
Now yes, let's start this book party!(?  😂 
---
 🕯 #ARCAttack ⚔️ 
The Sword and the Dagger by Robert Cochran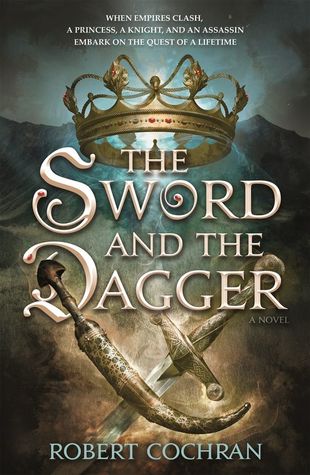 When empires clash,
a Princess, a Knight, and an Assassin
embark on the quest of a lifetime

During the time of the Crusades, an unlikely trio—a Christian princess, her affianced prince, and a Muslim assassin—embarks on a quest to the court of the most fearsome warrior the world has ever known, Genghis Khan.

A rousing tale of adventure and romance about three young people who must grapple with fundamental issues of loyalty, friendship, faith, honor, and courage against the backdrop of conflicts that still resonate today.

|| Goodreads ||
This book sounds very amazing, and I think it's something that I could enjoy, that's why I requested it in the first place. I'm currently reading it and I go little through it, but I really like the main female character so far, in a world dominated by man she overcomes everything and is very decided and sassy, I like it. I have some problems with the writing style, though, but it reads pretty fast so that's good, once I finish, I'll tell you everything I feel about it.
---
Shadow Soul (Narun, #1) by M.J. Bavis
"The greatest battles aren't fought with fists and swords. The deciding battle, the one holding the key to your fate, is fought in the mind." 

Haunted by her past, Camilla's only goal in life is to forget—her identity, her home, what she has done. Resorting to desperate measures to find peace, she ends up in hospital on more than one occasion, battered and bruised. 

Only Camilla knows the caregivers' pity is misplaced.

Just as she learns to live within her own skin, an elusive young man arrives to shake up her status quo. When he proves as headstrong as Camilla, she must decide whether she will continue to flee from her purpose and duty, or return home to face the demons that shadow her every move? 

To find her path, she must first find herself.

|| Goodreads ||
This book was sent to me by the author herself to review it, and I'm eternally grateful for it. It's a really intriguing blurb, I feel the story could take any kind of turn and that intrigues me, it feels like it will be a powerful story, of discovery and about facing your fears. I was surprised to read some reviews, which are VERY good, actually, because it's classified as Urban Fantasy, and I didn't expect that, but I'm even more intrigued now
---
Ask Me Anything by Molly E. Lee
"Edgy and smart with a sweet and sexy core." —Rachel Harris, New York Times bestselling author of Eyes on Me

I should've kept my mouth shut.

But Wilmont Academy's been living in the Dark Ages when it comes to sex ed, and someone had to take matters into her own hands. Well, I'm a kick-ass coder, so I created a totally anonymous, totally untraceable blog where teens can come to get real, honest, nothing-is-off-limits sex advice.

And holy hell, the site went viral—and we're talking way beyond Wilmont—overnight. Who knew this town was so hard up?

Except now the school administration is trying to shut me down, and they've forced Dean—my coding crush, aka the hottest guy in school—to try to uncover who I am. If he discovers my secret, I'll lose him forever. And thousands of teens who need real advice won't have anyone to turn to.

Ask me anything…except how to make things right.

|| Goodreads ||
This book reminds me a bit of Sex Education, which I LOVE, so I think it could be very interesting, dramatic and fun.
Also, I have been checking some reviews and I'm even more excited as it seems that this book has a strong female character. So I hope to enjoy it!
---
Middlegame by Seanan McGuire
New York Times bestselling and Alex, Nebula, and Hugo-Award-winning author Seanan McGuire introduces readers to a world of amoral alchemy, shadowy organizations, and impossible cities in the standalone fantasy, Middlegame.

Meet Roger. Skilled with words, languages come easily to him. He instinctively understands how the world works through the power of story.

Meet Dodger, his twin. Numbers are her world, her obsession, her everything. All she understands, she does so through the power of math.

Roger and Dodger aren't exactly human, though they don't realise it. They aren't exactly gods, either. Not entirely. Not yet.

Meet Reed, skilled in the alchemical arts like his progenitor before him. Reed created Dodger and her brother. He's not their father. Not quite. But he has a plan: to raise the twins to the highest power, to ascend with them and claim their authority as his own.

Godhood is attainable. Pray it isn't attained.

|| Goodreads ||
It's not because I despise the other books but this is the one that excites me the most right now, I feel I've been so lucky to have been approved with this ARC, I LOVE the author writing style, I devoured the Wayward Children series and I loved it!, especially the last book, is EVERYTHING, I can't wait to continue with that series lol. But going back to this book, it sounds really INCREDIBLE, I'm so EXCITED!!, I mean read this
"Roger and Dodger are not exactly human, they do not realize it, they are not exactly gods, either.
DYING RIGHT HERE
---
---
 🌎 It's Happening 🔥 
A Darker Shade of Magic (Shades of Magic #1) by V.E. Schwab
Kell is one of the last Antari—magicians with a rare, coveted ability to travel between parallel Londons; Red, Grey, White, and, once upon a time, Black. 

Kell was raised in Arnes—Red London—and officially serves the Maresh Empire as an ambassador, traveling between the frequent bloody regime changes in White London and the court of George III in the dullest of Londons, the one without any magic left to see.

Unofficially, Kell is a smuggler, servicing people willing to pay for even the smallest glimpses of a world they'll never see. It's a defiant hobby with dangerous consequences, which Kell is now seeing firsthand.

After an exchange goes awry, Kell escapes to Grey London and runs into Delilah Bard, a cut-purse with lofty aspirations. She first robs him, then saves him from a deadly enemy, and finally forces Kell to spirit her to another world for a proper adventure.

Now perilous magic is afoot, and treachery lurks at every turn. To save all of the worlds, they'll first need to stay alive.

|| Goodreads ||
I think a book has never been recommended to me so much like this one, it's crazy and this month, like the title says, IS HAPPENING! Finally, I will read it, but not alone, because I'll be reading it with my boyfriend, we're both super excited because the promise seems fascinating so I can't wait !!
Let me know in the comments if you have read it and what you think!
---
---
 🌊 Challenge || The Lowest Rated Book 🐟
The Pisces by Melissa Broder
An original, imaginative, and hilarious debut novel about love, anxiety, and sea creatures, from the author of So Sad Today.

Lucy has been writing her dissertation about Sappho for thirteen years when she and Jamie break up. After she hits rock bottom in Phoenix, her Los Angeles-based sister insists Lucy housesit for the summer—her only tasks caring for a beloved diabetic dog and trying to learn to care for herself. Annika's home is a gorgeous glass cube atop Venice Beach, but Lucy can find no peace from her misery and anxiety—not in her love addiction group therapy meetings, not in frequent Tinder meetups, not in Dominic the foxhound's easy affection, not in ruminating on the ancient Greeks. Yet everything changes when Lucy becomes entranced by an eerily attractive swimmer one night while sitting alone on the beach rocks.

Whip-smart, neurotically funny, sexy, and above all, fearless, The Pisces is built on a premise both sirenic and incredibly real—what happens when you think love will save you but are afraid it might also kill you.

|| Goodreads ||
I think it will be the weirdest book I'll read in my life but I'm still excited!, this book is on my list "The Lowest & The Highest Rated Books On My TBR" and I know it's quite controversial, the only thing I'm sure about is that's about a woman who falls in love with a fish man or something like that lol. It sounds fun, I heard it's even disgusting for certain people, but I've also heard that it's incredible for others, so all that hate towards it, somehow makes me feel very curious so I can't wait to see how I feel about it
---
---
Which books do you plan to read this month? || Have you read some of my list?
Feel free to leave your comment below, I always love to know what you think 🙂
find me at