💫 Hi guys, I hope you're having a beautiful day! Today I bring you another part of our series, the book meme "Down the TBR Hole", which I'm doing hoping that it will help me to reduce the number of books that are in my current TBR. 
My plan is to upload this meme every week where I'll show you 5 books of which I'll choose which one I'll keep or get rid of. I want to make this weekly meme as interactive as possible, so I'll be consulting a lot with you, to decide what to do. There will be those books which I'll be interested in (Keep), those which I'll not be interested in anymore (GO) and those which I'll not be sure about, and with those, I'll need your help. So please, let me know all your thoughts in the comments and I'll be able to take my decision and let you know in the next post. 💫
I'm very happy because I've seen that you have participated a lot in the previous post, leaving me your comments, so I'm super excited to continue with this weekly meme.
If you're doing the same meme right now, let me know so I can check your post out and leave my thoughts there 💖
---
---
Previous Posts
---
---
Rules
 💫 Go to your Goodreads to-read shelf.
 💫 Order on ascending date added.
 💫 Take the first 5 (or 10 (or even more!) if you're feeling adventurous) books. Of course, if you do this weekly, you start where you left off the last time.
 💫 Read the synopses of the books
 💫 Decide: keep it or should it go?
---
---
☕️ #1 – Lady Midnight (The Dark Artifices #1) by Cassandra Clare
|| Goodreads ||
To be honest, I don't remember that much of the original series as to read this book and understand something 😂, even though of course I'll keep it, I plan a massive re-reading of ALL CC books soon and so then I can finally go for this trilogy. I'm excited to see myself surrounded by the Shadowhunters world again, but at the same time, I'm not in a hurry to do it. On the other hand, I have a good feeling about this book, I feel that I'll love it, I always enjoy the writing of the author and her plots
 💫 KEEP 💫
---
☕️ #2 – The Queen of the Tearling (The Queen of the Tearling #1) by Erika Johansen
|| Goodreads ||
I love how the plot sounds, I love that the main character was raised by the servants of the queen in order to help her ascend and fight for the throne once she's ready for. I think that these types of plots tend to like me a lot, reminds me a little of Falling Kingdoms, and you know that I love that saga, but also everything that has to do with royalty and realms makes me feel super interested, so I think this could work for me. I also confess that this cover is one of the most beautiful I've seen.
I've heard mixed things about it, from people who have loved it to others who have told me that it's very slow and tedious. But I honestly want to give it a try, it doesn't bother me the fact that it's slow, if the plot is worth it, you know? so we'll see
 💫 KEEP 💫
---
☕️ #3 – Starcrossed (Starcrossed #1) by Josephine Angelini
|| Goodreads ||
I have so many doubts about this book, on the one hand, I have had it in my TBR for years and I never planned to read it, which already shows my disinterest, on the other hand, I love that it's about demi-gods, you know that any mythological plot is a big YES for me, so, I DO'T KNOW WHAT TO DO!.
I have the Trial by Fire of the author in my TBR so maybe I should go directly for that one since I'm much more interested in. But I really don't know, a part of me is afraid it's cliche you know?, because I've heard it like Lauren Kate's books, and I'm not a big fan of them so that certainly stops me.
I'll leave this time everything in your hands, let me know in the comments, what you think about this book if you have read it and so I can make my decision next week. THANK YOU SO MUCH, GUYS! 💕 
 💫 MAYBE?💫 
---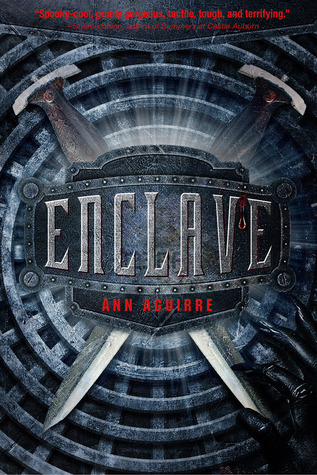 ☕️ #4 – Enclave (Razorland #1) by Ann Aguirre
|| Goodreads ||
I read Like Never and Always by the author, her most recent work, and I didn't like that much, to be honest, the idea was wonderful but it wasn't well executed so I can say that I don't have a great experience with her writing.
I Added this because, at the time, I thought it sounded really good, it's a dystopia with survival plot and zombies, so I thought it might be something I would like, but today I'm not so sure. I don't feel so attracted to the zombie's stories like I used to be and re-reading the blurb I don't think there's anything special which capture my attention, so I think my opinion is strong and I say goodbye to this book.
 💫 GO 💫
---
☕️ #5 – Mind Games (Mind Games #1) by Kiersten White
|| Goodreads ||
This is a Kiersten White book, it's a story about sisters and it's also short, so I don't see why I shouldn't try it!. It has been on my TBR for a long time as well, but I've always felt an interest in it.
It doesn't have the most brilliant reviews, in fact it seems that everyone has given averages rating but that's fine, I'm not scared since it's a very short book and it's also a duology, and I don't know why, but I've been wanting to read more duologies because I haven't read many, so this is a good opportunity to do it. I hope the sisterhood is worth it and the plot sounds interesting so, we'll see
 💫 KEEP 💫
---
---
Question
 💫 Guys, I wanted to ask you if you think that 5 books per post are ok, or do you want these posts to be longer?
I wouldn't have any problem with doing 10 books instead, so just let me know! If you prefer that we continue like this, we'll continue, but I would love to know what you think about it 💫 

---
---
Books Removed in this Post: 1
Books Removed in Total: 8
---
---
Guys, I hope you enjoyed it! and you know that I want to know everything you think about all these books, so let me know in the comments!! 💕 
find me at