🌟 Hi guys, I hope you're having an INCREDIBLE day, full of magnificent readings. Today I decided that I really want to have a relaxed talk with you about my re-reading of the extraordinary and fantastic Grisha trilogy.
My idea is to tell you a little in general lines and without spoilers, how I felt reunited with this universe after 3 years of having read it for the first time. Many things have changed about my initial thoughts on these books so I thought it would be fun to talk a little about them, I still love them with all my heart, that hasn't changed, but I have other opinions referred to some characters and other things like the world building and the plot.
I hope that you'll enjoy the post and then it would be fun to talk about how you feel about this trilogy if you have already read it, and if not, you can also comment on whether you're interested in giving it a chance or not and why. I also want you to know that if you haven't read the trilogy, don't worry about, all this post is spoilers free, so feel free to read with confidence.
So without further ado, LET'S START! 🌟 
---
---
When you re-read a favorite book it always feels like going back to a place you miss a lot, like going home after a long time out or something like that. It's an experience that I enjoy a lot. I've heard different opinions about re-reading books and I think it's okay if you think it's a waste of time because the TBR pile never stops growing, but for me it's much more than that, it's to feel all those emotions that make you feel so happy and complete, it's going to rediscover your favorite characters, maybe you realize things you didn't notice in your first reading, and it's mostly a good time, because that's what reading is all about!. So I make this little introduction to tell you that if you want to re-read that special book and you feel bad because you have other books to read or what people can say about it, none of that really matters. DO IT! The most important thing is that you spend an incredible time with your book and nothing can compare with the feeling of reliving a story you love  💕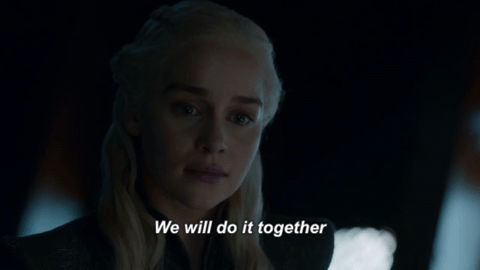 ---
---
 🗡 Shadow and Bone 🗡 
"This was his soul made flesh, the truth of him laid bare in the blazing sun, shorn of mystery and shadow. This was the truth behind the handsome face and the miraculous powers, the truth that was the dead and empty space between the stars, a wasteland peopled by frightened monsters."
 🌟 This first book, WOW, I didn't remember THAT much of it, to be honest, and I LOVE IT, I don't think it's the best, in fact, I think it's a fantastic introduction to the story, but it doesn't do justice to what will be an EPIC plot in the next two books. In general, I feel that in fantasy trilogies you should always give one more chance to the following books because the first ones are usually quite simple or have a lot of world construction, so sometimes you lose a bit of that intensity that the plot actually has. But even though I think it's the weakest book of the trilogy, I loved it, I can't help but enjoy that reunion with my characters, which I love so much, and also read again about the world in general, because I honestly think, that the Grisha universe is one of the most complete, complex and best-developed worlds I've read.
 🌟 This second time reading this book made me realize how much the author has grown, especially with her writing style, which is good but I think she only gets better and better as you move forward to her most current works. I think it goes from being entertaining and light to being more dark, complex and unpredictable.
 🌟 The first half of this book feels like a dream to me, everything is perfect and everything is built perfectly in my head and then PUM, everything falls apart and I think it's a very good balance, but I suffered a lot the second half of it. Especially since you already know how much I love the relationship between Alina and The Darkling. And although it's the second time I read the story and I know what will happen, I can't help but think that everything will be as I want, but NO, the author has other plans for them and that's fine even if it makes me suffer. The scenes of Alina and The Darkling are absolutely perfect and nothing and nobody will make me change my mind. They're my OTP
 🌟 I entered this book completely determined to give Mal a second chance, it was something that I honestly needed to do since my relationship with him is not good at all. I try to put myself much more under his skin and in his place to be able to understand his actions in a better way, and until this book, I think that I'll achieve my goal. I don't think he's a bad character, not a nasty guy, but I have reservations about how his mind works. I'm glad to say that I could connect a little more this time with him. The same thing happened with Genya, with whom I had some problems in the past, but this time I really liked her character and I admire her for her intensity and for what she must do to survive.
---
 🗡 Siege and Storm 🗡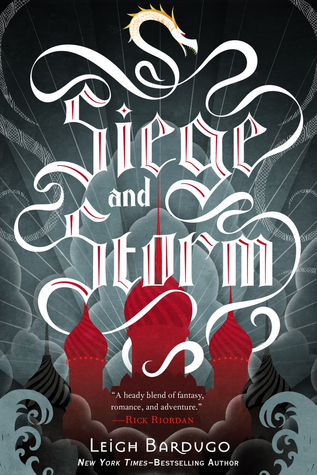 "So many men had tried to make her a queen. Now she understood that she was meant for something more. The Darkling had told her he was destined to rule. He had claimed his throne, and a part of her too. He was welcome to it. For the living and the dead, she would make herself a reckoning. She would rise."
 🌟 This book was a great revelation for me, and it's with this that I have more different opinions than when I first read it. The first time I felt that it was fine but it wasn't anything special, but this time I was like WOW, I LOVE IT!. I love it shows much more of the universe and we know other characters with different races and beliefs. I also believe that Alina grows a lot in this book, and I really appreciate seeing her growing up to become the woman I love and admire.
🌟 Nikolai is finally in this book and OMG, he's so great, always has something ingenious and smart to say and always manages to make me smile. In addition, his character greatly influences how this book develops. His relationship with Alina is extraordinary, I've never seen them as a romance, but rather with a connection of loyalty and friendship
🌟 Do you remember when I said that everything was ok with Mal?, well not anymore, this book reminded me why I can't stand it. I think that now that Alina has a lot of responsibility on her shoulders he starts being very capricious and unbearable to draw attention doing absurd things like fighting or making dramatic outs and saying things like "You're not the same, Alina" OMG MAL, WHY!!!. Honestly, I don't know what he wants in this book, it's just there, complaining about everything as if Alina didn't have enough problems already lol. So, yeah, here we finished what we had.
🌟 The Darkling appears very little in this book but the intensity of his powers and his connection with Alina make his scenes the best one, he's the most epic man in the world and every time he's the protagonist of a scene it's like everything I ever want it. The sexual tension in this book is real you guys. Nobody can deny me that lol
🌟 THAT ENDING!, the best part. I love when the endings manage to be incredible, powerful and tragic at the same time and this one really is. The intensity is real
---
 🗡 Ruin and Rising 🗡 
"I will strip away all that you know, all that you love until you have no shelter but mine."
 🌟 This book is my undisputed favorite !! It doesn't matter if it manages to break my heart like 1000 times and make me cry like a baby with that ending, I still love it SO MUCH. I'm always eager to find myself with endings like this one, they're kind of open but they close a chapter in an extraordinary way. They leave you thinking about what it will be of the characters and also makes it a very special and sad moment that you couldn't forget so easily. Set each of the characters in a place that will allow them to continue with countless stories and that is exciting.
 🌟 I may not agree 100% with that ending, but even so, I think it's Epic and it feels absolutely real and heartbreaking. When an ending makes you feel so many things, whether you like it or not, it's because it's very well done. The final battle and the revelations are only the beginning of what I believe are the most moving chapters of the entire saga.
 🌟 I love the secondary characters in this book, and I can appreciate them much more than in the previous ones, and when I speak of secondary characters I speak of Bagrah, Nikolai, Tamar, Tolya, Genya, David & Zoya, which are some of those that I remember right now. All completely different characters but all form part of something unique and without them next to Alina nothing in this story would be the same
 🌟 I know it sounds super weird but as a fan of the Darkling, I think the end of this book is PERFECT. Maybe you don't understand, and many less who have already read the book, but I feel it's a very beautiful, heartbreaking, dark and moving ending and I feel that the way in which Alina gives a closure to their realization is absolutely magnificent, I can say that once existed an understanding and a deep connection between them despite all that darkness, you know? An epic ending for an epic man.
 🌟 I love to see all this story from Alina's point of view, really, but I would have loved a Darkling's pov, it would have been SO interesting to have been inside his mind just a little, right?.
 🌟 The way in which the author writes and builds her plots is great but I think her strong point is the construction of the characters, throughout all the story they feel so real, is magnificent. All with their failures, show their most human side but also with their powers and their magic show how far a person can reach to fulfill his objective and save their loved ones. A very smart book, well thought out and executed
---
---
I hope you guys enjoyed it! I love sharing my thoughts with you and now it's your turn! 💫 
Have you read this trilogy, what do you think? And if not, do you plan to read it?
find me at