🌸 Hi guys, I hope you're having a beautiful day, today I bring you my Wrap Up of the month of February, where I'll tell you all about my reading of the month.
Well, honestly I don't think I've had an incredible month reading if we talked about quantity, of course, since my TBR for this month was HUGE, and absolutely crazy lol. Even so, deep down I knew I couldn't read all those books, so it's fine, I can also blame the month because it's short, right?… I'll be doing that, YEAH. 😂 
On the other hand, it has been a very nice month in terms of my personal life, I've had many visits of beautiful people, for my birthday and I've spent a GREAT day surrounded by people I love, besides, I've received SO many comments wishing me a happy birthday and that means so much to me, you know it's super important for me to have you in my life so THANK YOU. 💕
Returning to the bookish world, although, as you'll see below in my statistics, I haven't read that many books, I can say with great happiness that I've loved the majority of them!!!. With having loved everything I've read, I can say that it has been a very good month.
In other bookish news, I want to share with you that I won a Twitter Giveaway after such a long time!!! YAAAAAY! 🎉, and I've also been approved with some super exciting ARCs, of which I'll share with you soon in another post.
So without further ado, let's start! I want to tell you ALL about everything I've read 🌸
---
February Statistics
💫 Books Read: I've read 6 books this month, 2 of them, short books
💫 Total Pages: 1709 (more than last month! 🎉)
💫 Authors Gender: All the books that I've read this month are by female authors 💞, I'm beginning to think that I should read some male authors soon 😅
💫 Book Genres: I've read 4 YA books & 2 Adult books || Within these genres, I read: Fantasy, Contemporary, Romance & Non-fiction
💫 Releases: Only one of the books I've read is an ARC, another of them is a new release of this year 2019, another one was a 2018 release and the others are a little bit older from 2016, 2015 & 2014
 💫 I Participated In: Fierce Female Read-a-Thon & Fantastic February Month
---
---
 🥃 ARC of the Month ☁️ 
This book was a pleasant surprise, I knew it was about addictions, more precisely about alcohol addiction, and that's a very delicate and difficult subject to touch in a book, but I admire the courage and the way in which the author has decided address the issue since I think it was done very well. I didn't feel connected with any of the characters but I still think that maybe if you have lived a situation like this one, you can do it. On the other hand, the writing style is very easy to read and has a great paced despite touching such a heavy topic, so I recommend it if this is something you're interested in. Published: February 19th, 2019
The Art of Losing by Lizzy Mason || 3.5/5 ⭐️⭐️⭐️ 💫 || REVIEW HERE
---
---
 🗡 Fantastic Readings 👑
Loves this book so much!. I was super excited to finally read it and that's why I did a re-reading of The Cruel Prince last month, and thank God I did it because otherwise, I'd have skipped many important details.
This story only gets better and better, it has a very dark and fascinating plot with even more INCREDIBLE characters. That ending, like WTF, has given me nightmares, I swear, I dreamed about this book for some reason lol. And I don't know how I'll wait for the next one, it will be a long wait, that's for sure.
This book, in particular, has an intriguing political plot that will leave you breathless because, in a world where anything can happen, the danger is the order of the day.
It's a very solid sequel, where the characters have evolved a lot and I still believe that Jude is one of the best characters EVER, she doesn't stop surprising me and proving me her strength.
I hope you give an opportunity to these books if you haven't done it yet because it's MAGNIFICENT, I would describe it as unpredictable, dark and smart.
The Wicked King (The Folk of the Air #2) by Holly Black || 4/5 ⭐️⭐️⭐️⭐️|| REVIEW HERE
---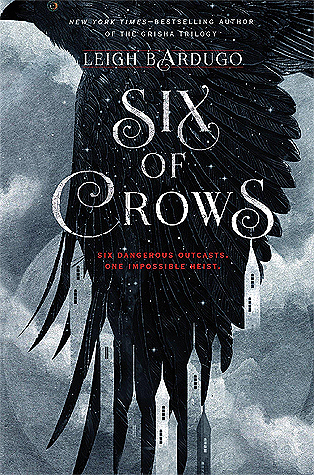 Actually, I started with this book last month but I put it in this wrap up since I've read the most of it on this month. This is a rereading for me because I really want to jump into its sequel, Crooked Kingdom. I enjoyed it a lot, in fact, it was a pleasant surprise to see that I enjoyed it much more this second time than the first one. I think the plot is really interesting but the characters are THE BEST PART, without doubt, you'll continue reading this book for them. Kaz & Inej are still my favorites, but I liked Jesper a lot more in this rereading, and I feel that he needs more love from the community, he's GREAT. I really enjoy the scenes between Inej and Nina, the woman power here is real.
---
Mini-Review
I've finished my re-reading, and I enjoyed it very much. I feel a little the same thing as in the first time I read it, but on the other hand, I also feel that I enjoyed it even a little bit more. My thoughts are the same about the pace of the book, I think the beginning is quite dense and slow, and again I found it difficult to get myself entirely into the story, but once I started to move through it, only gets better and I enjoyed it without problems. The characters are, no doubt, the best part of this book. Kaz and Inej are still my babies and my favorites forever. But this time I could appreciate much more the other characters as individual people and I could feel myself closer to their personal stories. I feel that Jesper is an incredible character, this time I felt closer to him, and I could have made a deeper connection with this character than in the first time I read about him, on the other hand, my thoughts about Mattias and Wylan are still the same , I like them, I think they're decent characters. This time I enjoyed the scenes of Nina with Inej more, than those of Nina with Matthias, and although they have some very good scenes together, I think that her role as friend and person is much richer than her romantic side, and I also loved her courage and strength. The girl power of this book is real. I can't wait to continue with the next book!. 3years since I had read this one, I mean, it's crazy!. The end is still as I remembered it, BREATHTAKING, so I need to know what will happen and I'll find out luckily this month.
---
Six of Crows (Six of Crows #1) by Leigh Bardugo || 4/5 ⭐️⭐️⭐️⭐️ || ORIGINAL REVIEW
---
I read this book to complete a challenge from the Fierce Female Read-a-Thon but I also included it in my list for the Fantastic February.
LOVED IT, like, A LOT. You don't know how many feelings I have for this story, it's crazy. This third book was very intense, dark and EPIC. The characters are faced with impossible situations, where they must take the most difficult decisions and overcome their worst fears. The war is coming and the next book will be EXPLOSIVE. I can't wait to have it in my hands.
The characters are my life right now, Laia and Elias are EVERYTHING, I admire them SO MUCH and Helene has been a very brave character in this book so I give her the credit for that.
The plot takes unexpected turns that will surely have repercussions in the story soon so OMG, it will be INCREDIBLE.
You haven't started this series yet?, WHAT ARE YOU WAITING FOR?.
A Reaper at the Gates (An Ember in the Ashes #3) by Sabaa Tahir || 4.5/5 ⭐️⭐️⭐️⭐️💫 || REVIEW HERE
---
---
 💖 Short but Powerful Readings 💪🏻 
Mini-Review
This book is ABSOLUTELY fantastic, it's the first time that I feel motivated to underline a book, the author highlights all important things about feminism and about gender and culture, that's really amazing.
I would spend hours talking about it, I think it's very important and I'm so happy to see how there are more and more women empowered by their beliefs, creating a better future for themselves, that kind of things inspire me and make me so happy and proud of being a woman, besides, all that makes me believe in a better future, and that one day there'll be no need to talk about these, that will be a fact and woman will be positioned in a place of respect as well as man.
We must, without a doubt, teach our children to think and live in better ways to make this a society with equal thinking
I consider myself feminist and not because of them I hate men, this is something that is being talked about a lot in my country nowadays, and since women have started to raise their voices we have had to face more and more gender violence. It's a horrible thing that comes from ultra-machista thinking (sorry I don't really know how to translate that word) that has been growing in my society for years, and from which I hope we can get ahead together as a unit, not only women but men and women together, that's the way what should be
This book is extraordinary, I love it!. My only complaint is that it's too short 
We Should All Be Feminists by Chimamanda Ngozi Adichie || 5/5 ⭐️⭐️⭐️⭐️⭐️
---
Mini-Review
An inspiring reading about women who have been an eminence in the science field, honestly having decided to read this short but significant book has been one of the best decisions, right now I think it will be INCREDIBLE to own the author's complete collection, and perhaps, in the future, I can read it to my children.
I think that, besides, the way in which the book is written and created is unique, super interactive and entertaining, the illustrations are BEAUTIFUL, I'm absolutely in love with this book and I couldn't recommend it more
Women in Science: 50 Fearless Pioneers Who Changed the World by Rachel Ignotofsky || 5/5 ⭐️⭐️⭐️⭐️⭐️
---
---
What has been your favorite reading of the month?
Feel free to leave your comment below, I always love to know what you think 🙂
find me at