🎁 Hi guys!, I hope you're having a BEAUTIFUL day. TODAY IS MY BIRTHDAY! I'm like, WHAT!? 😅 . I can't believe that time passes so quickly, it seems like just yesterday was my previous birthday, but hey, here we are again. I'm turning 25 today, and I want to thank all the people who have already wished me a happy birthday in advance and made me feel that I'm not old yet, my Piscean heart is so sensibly happy, I LOVE YOU, and you're all the best. 🎊 
On the other hand, I want to tell you that I'm absolutely happy and blessed to share my birthday with so many beautiful people, we are 2,685 people sharing the same space and it's so INCREDIBLE. I'm amazed by all the support and love and I always repeat the same but, THANKS! 💛
Can you imagine if we could all have a party? WOW, that would be so cool. I imagine something like a lot of cakes, drinks, and BOOKS! 😍. You're like the best people, so that would be absolutely fun
Well, today I brought you a Book Tag since I think it's something fun and relaxed to do on this day, plus another excuse to talk about books because it's never enough. I found this book tag on Catherine's blog (This Is One For The Books), so I'd love it if you could check her blog out is really cool! I'm not sure who the original creator is, so I'm sorry, if you know, let me know in the comments, to give him/her the credit it deserves.
Now without more further ado, let's start answering these fun questions! I CAN'T WAIT!🎁
---
---
Count your birth day along your bookshelf and then subtract your birth month.
What book does it land on?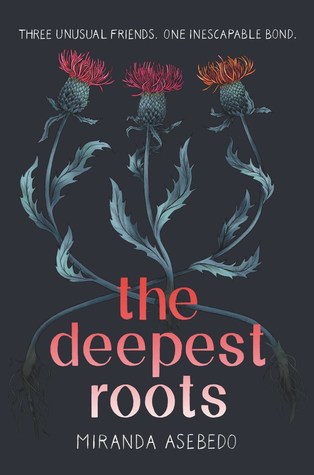 The Deepest Roots by Miranda Asebedo
I won this book in a giveaway last year and I'm ashamed because I don't read it yet, but I've been thinking a lot that I want to read it lately, but I think maybe I should save it for October because it sounds mysterious, but now who knows, maybe I'll read it before, sounds really good!. What do you think I should do?
---
If You Could Spend Your Birthday With Any Fictional
Character Who Would It Be and Why?
The first one that comes to my mind is always Magnus, but I think I would spend any day with him, not just my birthday. He's one of the best characters ever. Also, I imagine organizing a party together with a lot of supernatural creatures and electronic music lol, it would be so fun and weird 😂
Alec can come if he wants 🤔
---
Find A Book That Takes Place In The Season You Were Born In
As you know where I live right now is summer, so I choose We Were Liars, not only because the story takes place in the summer but because it's one of my favorite books EVER and you need to read it if you haven't done it yet. I think you'll love it o you'll hate it, but I LOVE it and I highly recommend it
---
Find A Book That Is The Color of Your Birthstone
The Smell of Other People's Houses by Bonnie-Sue Hitchcock
My stone is the Amethyst, so this one is perfect. I think that we don't have enough violet/purple covers, WE NEED THEM! It's a beautiful color.
About this book, I've heard the best things, so I'm super excited! I hope I can read it soon, it's super short so I don't have excuses
---
Is there a series with the same number of books as your age? If so what is it?
OMG, that would be a VERY long series, honestly, I don't know!. If you know of any series with 25 books let me know in the comments
---
Pick a Book Set in a Time Period, World or Country You'd Like to Have Been Born In
Clockwork Angel (The Infernal Devices #1) by Cassandra Clare
I don't know if you know this, but I have an obsession with LONDON, maybe in another life, I lived there or something, because I have always felt connected to that place. One day I'll travel there, I know. I think it's the most beautiful place
---
---
I hope you liked it guys!, I know it was simple, but I wanted something light and fun for today 😊 
I hope you have a beautiful day, let me know everything you think of these books in the comments and, from now, I want to thank you for the comments, I'll spend the day with my family and friends, so I'll answer all them as soon as I can 💛 
find me at