🌟 Hi guys, I hope you're having an INCREDIBLE day. Today, I'll tell you a little about the reading challenges I'll be participating in this year, and I'll also talk a little about my current reading!.
I've never participated in any reading challenge before, and least on all those that are annual, so I'm excited to try it, I think it will be interesting to experience something new, and I also think it will help to expand my readings this year.
So, without further ado, let's go for it!🌟 
---
---
POPSUGAR Reading Challenge

you can check the link HERE, that will take you directly to the official page of this reading challenge and there you can know a little more about it. Even so, I think everyone know about this one already, it's very well known and that's why I've heard a lot about and I'm really happy to participate, I think it will be fun.
---
Reading Woman Challenge
This reading challenge is really great, I haven't heard much about it like with the previous one, but I'm very excited to try to fulfill as many challenges as possible.
You can check HERE for more information about it and great tips to complete the challenges!
---
---
I would love to participate in many more, in fact, I've been seeing that you guys have plans to participate in a lot of reading challenge that look fantastic, but for this 2019, I feel that two are great for me, especially because it's the first time I'll be trying it, so I don't want to put a lot of pressure on myself. WISH ME LUCK 💕
---
---
Currently Reading 📖 
We Told Six Lies by Victoria Scott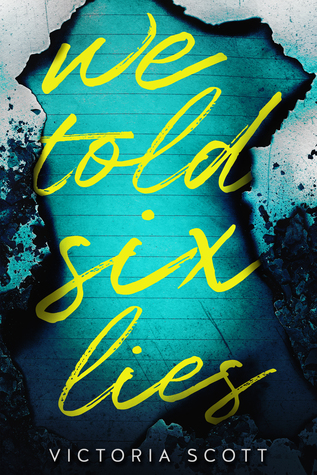 This book really captured my attention because it sounds so interesting and mysterious, I don't know, I just thought it could be my kind of book. This is an ARC, so I'm super grateful for the opportunity to read it before its publication date, which will be on February 5th.
In the book, we're following this guy whose girlfriend has disappeared, and now the police are questioning him, since they believe he could be involved in some way. It's told with jumps in time, between past and present, and in this way the plot is taking shape, and I like that.
I feel that the plot itself is very interesting and many things are happening at the point where I'm currently reading, so that makes it very addictive and easy to read. But, on the other hand, I'm not entirely sure about the characters, to be honest I don't really like them, especially the main character, which has had a couple of unfortunate moments. But well, so far I'm still intrigued. I'm beginning to think that the book may touch mental illness and I 'm interested in knowing how it will be executed. You'll know my full review very soon.
---
---
🌸 Now, it's your turn to tell me, are you participating in a Reading Challenge this year? If so, in which one?
And tell me also, What are you currently reading?,are you enjoying it or not?, I would like to know 🌸 
find me at