Title: Down Among the Sticks and Bones (Wayward Children #2)
By: Seanan McGuire
Pages: 187
Published: June 13th 2017
By: Tor.com
Genre: YA|Fantasy|Fiction
You can buy it HERE: Book Depository
Twin sisters Jack and Jill were seventeen when they found their way home and were packed off to Eleanor West's Home for Wayward Children.

This is the story of what happened first…

Jacqueline was her mother's perfect daughter—polite and quiet, always dressed as a princess. If her mother was sometimes a little strict, it's because crafting the perfect daughter takes discipline.

Jillian was her father's perfect daughter—adventurous, thrill-seeking, and a bit of a tom-boy. He really would have preferred a son, but you work with what you've got.

They were five when they learned that grown-ups can't be trusted.

They were twelve when they walked down the impossible staircase and discovered that the pretense of love can never be enough to prepare you a life filled with magic in a land filled with mad scientists and death and choices

||Goodreads|| 
---
---
🌸 Book One: Every Heart a Doorway by Seanan McGuire
---
---
"Some adventures require nothing more than a willing heart and the ability to trip over the cracks in the world."
WOW, I didn't expect this book to affect me so much, it's really good, and so far my favorite of this series, I know it's only the second but OMG, that was very good.

I loved knowing more about the story of the twins, Jack and Jill, I think they are the most interesting characters and I love every part of this book, the world where they went is AMAZING and how, having taken different paths, changed them so much. The way in which they grew up marks without doubts the people that are today. This book explains a lot that happend, later, in the first one.
Jack is such an intelligent and independent girl, in spite of her childhood and all that she has lived, I think her personality was always very strong. I think that despite serving the doctor, she could be a good leader, I really like her, and her relationship with Alexis was so beautiful, all those last 2 chapters were heartbreaking for me.
Jill is that kind of character that is interesting because she's surrounded by darkness, but in reality it's obvious that she doen't have great self-esteem after her childhood, and she lets herself be influenced a lot by The Master and his promises, which has made her a ruthless and cold being
I feel that this very well developed, especially the secondary characters all have a unique and well-marked personality that puts a unique touch to the story. The Master is a brutal and bloodthirsty character and although he doesn't appears that much, the general idea of ​​him is brilliant. And Dr Blaek is a very serious man and dedicated to his work that although he's distant, I feel he has a good heart.
Also, the way in which this story is told is super unique and makes reading these books a lovely experience, it's like reading a fairy tale but much darker and terrifying 
I can't wait to continue travel through these wonderful worlds
---
---
4.5/5 ⭐️⭐️⭐️⭐️⭐️
---
---
---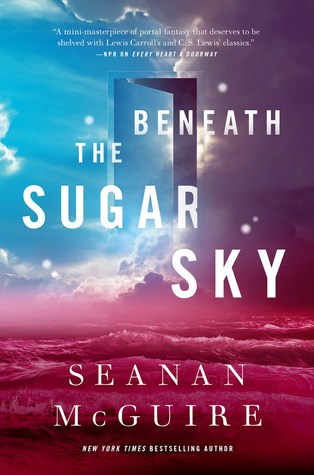 Title: Beneath the Sugar Sky (Wayward Children #3)
By: Seanan McGuire
Pages: 174
Published: January 9th 2018
By: Tor.com
Genre: YA|Fantasy|Fiction
You can buy it HERE: Book Depository
Beneath the Sugar Sky returns to Eleanor West's Home for Wayward Children. At this magical boarding school, children who have experienced fantasy adventures are reintroduced to the "real" world. 

Sumi died years before her prophesied daughter Rini could be born. Rini was born anyway, and now she's trying to bring her mother back from a world without magic.

||Goodreads||
---
---
"There is kindness in the world, if we know how to look for it. If we never start denying it the door."
The ending was so adorable, I liked this book but I confess that it's my least favorite of the series so far. Although it has the magic feels and the beautiful writing style that characterizes the series, it wasn't enough for me and I think it fell short in terms of the plot.

On this occasion with this book, we follow a new character named Cora, who together with Christopher, Nadya and Kade will undertake a journey to resuscitate their old friend, after her daughter Rini fall from the sky just above the school, asking for their help. The thing is that if Sumi dies, she'll never be able to return to her Nonesense world and defeat the Queen of Cakes, nor will her daughter Rini exist and this would only bring chaos to her world. So our boys will embark on an adventure, where they'll travel to a very sweet world. 
I think the plot has good moments, especially in terms of dialogues I think they're very good, but at the same time, I feel that it didn't fulfill my expectations. It was hard for to follow everything that was happening and that's maybe because I simply think that the Sumi's world is not my favorite. I understand that it can be incredible, in fact the world builnding is very original and has very interesting landscapes, but for some reason it didn't capture my attention as much as the previous book did. Nor do I think that the plot was one of the most interesting and ended up being a fairly average book. I feel that I would belong to a world of Logic, no doubts
As for the characters, I feel that although I adore Christopher and Kade, I'm not sure about Cora, though, but I really like her story and the world she comes from seems great. I think it's horrible the discrimination she has had to receive for her overweight, it's something that has obviously marked her a lot and she repeats it over and over again, and I really feel sorry for her over that, but I'm not so sure about her personality, really. It makes me happy to have seen Nancy again, even for a moment, because I love her character and her world is SO unique, all those chapters where they're in Nancy's world seemed great to me, it has that creepy but entertaining vibe that I felt with the previous book. As for Rumi, I liked her, I think she gave a touch of feelings to the plot
The ending was so beautiful, I really loved it. I enjoyed much more the first part of the book, though, and I'm not that surprised, in general when the characters are involved in a trip and a quest, I usually get bored or easily distracted, but it's totally personal.
I'm excited to finally jump to the next book, I have no idea what I'll find, but I'm excited to find out. If there's something I LOVE about these books is the writing style, is absolutely beautiful and I need more of it 
---
---
3.5/5 ⭐️⭐️⭐️⭐️
---
---
 🌸 Feel free to leave your comment below, I always love to know what you think 🌸 
find me at