🍂 Hi guys, I hope you are all having the best day ever!💕 . Today I woke up with a lot of desire to make a Tag so, as always, I started my search and I came across with this little gem. I know it's a short compared to other tags, but it's very popular, I've seen a lot of people doing it and personally I love the questions, I think they'll help us to keep getting to know each other better and it will be fun, so I can't wait to start and share it with you!
This tag is called "My Life in Books", I don't know who is the creator, but if you know, please let me know it in the comments. I've seen it in Beatrice's blog : @DreamlandBookBlog , I recommend you to check her blog out for more fun content.🍂 

---
---
🍂||Find a book for each of your initials||🍂 
S– Sadie by Courtney Summers : Goodreads||My Review
L– Little Monsters by Kara Thomas : Goodreads||My Review
I love both books so much, if you like mystery, I can't help but recommending them to you
---
---
🍂||Count your age along your bookshelf: What book is it?||🍂 
Everneath (Everneath #1) by Brodi Ashton || Goodreads||
I'm 24 years old so this is the chosen one of my TBR shelf. I own this book since ever, honestly I still conserve it because I feel that I'll maybe enjoy it, I love everything that has to do with mythology, so I hope to read it at some point. If you have read it, you have to tell me what you think about it.
---
---
🍂||Pick a book set in your city/country||🍂 
I'm from Argentina, and honestly I haven't been able to find or think about any book right now that is located in my country, besides I usually read books in English so they don't really focus in my country.
But if you know one, I'd love to know!
---
---
🍂||Pick a book that represents a destination you'd love to travel to||🍂 
Harry Potter and the Philosopher's Stone (Harry Potter #1) by J.K. Rowling||Goodreads||
Clockwork Angel (The Infernal Devices #1) by Cassandra Clare|| Goodreads||
You know, when you have that feeling that you belong or that you should have been born in a different place to the one that you lives in, well, I love my country with all my heart, but I feel an inexplicable admiration and love for London, I feel that perhaps in my past lives I've lived there or something lol.
I would really love to be able to travel there someday, I think it's the most beautiful place on earth, Yeah, I'm in love with it!
If you know of any book that you love that is located there, I would love to know!
---
---
🍂||Pick a book that's your favorite color||🍂 
I LOVE light pink tones 🌸
---
---
🍂||Which book do you have the fondest memories of?||🍂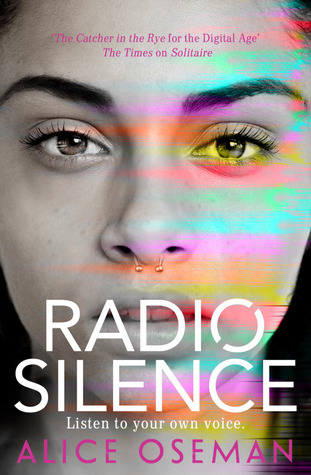 Radio Silence by Alice Oseman : Goodreads|| My Review
I think I'm supposed to choose a book I've read a long time ago, but right now, I need to choose this one, I haven't stopped thinking about it since I read it. I think that everyone should read it, is a hymn to the diversity, to love and friendship and deserves all the love. Honestly, one of the best books I read in my life
---
---
🍂||Which book did you have the most difficulty reading?||🍂 
A Map for Wrecked Girls by Jessica Taylor : Goodreads|| My Review
This is one of the most difficult to answer, because right now I could choose several that were difficult and for different reasons, you know?, but I chose this one because it contains one of the things that I hate the most and that's toxic relationship between sisters. And although the book has very good aspects, I couldn't let that pass while reading it and that's why it was a very difficult reading for me.
I think that, in fact, I was very generous with my rating at that time or maybe it's because I'm now more strict about, but it's definitely not a 3 star, it would be less for me today.
I'm sorry if this is someone's favorite, my intention is never to offend but to express my personal thoughts
---
---
🍂||Which book in your TBR pile will give you the biggest accomplishment when you finish it?||🍂 
Strange the Dreamer (Strange the Dreamer #1) by Laini Taylor||Goodreads||
Children of Blood and Bone (Legacy of Orïsha #1) by Tomi Adeyemi||Goodreads||
The Name of the Wind (The Kingkiller Chronicle #1) by Patrick Rothfuss||Goodreads||
Well, I've heard only the best things about the 3 books and a part of me knows that I'll love them, but the other one is terrified by all the hype that surrounds them. I'm a little scared to read it and hating them or something like that lol, that's why I've been postponing them. I know that once I really decide to pick it them up and read them, I'll feel that I'm reaching a goal!
---
---
I would like, genuinely, that anyone who wants to try this tag, do it, because it's very fun to do and we can get to know each other a bit more and chat about it. If you decide to do it, I would love you to tag me, so I can see it 💕 
---
---
As always guys, leave me all your thoughts about the books in the comments, I would love to know your opinion
find me at