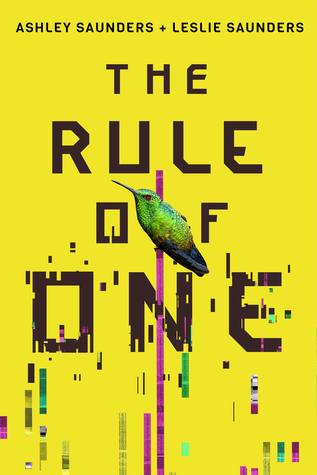 Title: The Rule of One (The Rule of One #1)
By: Ashley Saunders & Leslie Saunders
Pages: 258
Published: October 1st 2018
By: Skyscape
Genre: YA|Sci-Fi|Dystopia|ARC
Buy it: Book Depository
In their world, telling the truth has become the most dangerous crime of all.

In the near-future United States, a one-child policy is ruthlessly enforced. Everyone follows the Rule of One. But Ava Goodwin, daughter of the head of the Texas Family Planning Division, has a secret—one her mother died to keep and her father has helped to hide for her entire life.

She has an identical twin sister, Mira.

For eighteen years Ava and Mira have lived as one, trading places day after day, maintaining an interchangeable existence down to the most telling detail. But when their charade is exposed, their worst nightmare begins. Now they must leave behind the father they love and fight for their lives.

Branded as traitors, hunted as fugitives, and pushed to discover just how far they'll go in order to stay alive, Ava and Mira rush headlong into a terrifying unknown.
---
---
🌟 I want to thank Skyscape and NetGalley for providing me with this copy in exchange for an honest review🌟 
It's been a while since I don't read Dystopic worlds, so I was kind of worried about how I was going to feel about it, but at the same time I was excited because guys, this book sounds sensational. And I enjoyed it!, fills me with nostalgic feelings, and I remembered why I used to enjoy this genre so much
In this dystopian world, society is going through a critical moment because resources are very limited and only those of the upper class can enjoy some privilege. With United States on the verge of collapse, the government imposed the Rule of One, which doesn't allow couples to have more than one child and in this way is expected to reduce the growth of the population. This rule has been followed for decades, but the head of the Texas Family Planning Division himself has broken it, and now he must keep his twin daughters safe by teaching them how to live as one. Until one day everything comes to light 
As I said before, I really enjoyed the plot of this book, I feel that it captures very well the essence of a world that is on the verge of collapse and of that struggle to survive and to take care of those you love no matter what. I really like how the authors combined the sci-fi aspects of the story with the dystopian and created a world that felt very real, from my point of view. I usually have difficulties when reading about technology in books, because honestly it's a point of sci-fi with which I find it difficult to get into, but in this occasion I really enjoyed that aspect, I think it's very well thought out and I was able to see it very clearly in my head.
One of the things that I enjoyed most was the relation between the sisters, it's very special that this book is also write by twin sisters, I feel that it's very unique and I loved that, besides they captured the relationship in a unique way, obviously. It also seemed to me a very good idea to divide the books alternated between the points of view of Ava and Mira, who are the twin sisters protagonists of this story, since it was very interesting to know their individual thoughts and desires, so it was much easier for me to get to know them. My personal favorite was Mira, I felt a bigger connection with her, I felt really bad for everything that she had to happen, I know it wasn't easy for any of the girls to have to live 18 years of their lives hidden and going out one at a time to the surface, but Mira, besides, has never had an identity as such herself.
Another thing that I liked a lot and I think that adds an original point to the story, is the fact that the girls belong to a privileged social position, where they have never lacked anything, so see how they then manage to surviving is even more interesting because of this. The dialogues are generally very good too, I feel that they contain a thread of reality that was great to read. 
On the other hand, I would have liked a greater explanation or go a little deeper with respect to the world building, I would have liked to know better what was happening in the world, with more details. I feel that the idea is great and I really like it, but I still have questions about it, which is why I would have liked it more. Maybe we have it in the next book, or at least I hope so.
It was quite fast and easy to read, but it has moments when the plot becomes somewhat slow since there's a lot of travel, walking and searching, and this makes that not much happens for a period of time. In the end, I feel that they tryed to give the plot a unique and unexpected turn and although it was good, I don't feel that it makes much sense, even so I think that many of you could find it brilliant, and leaving that aside, I can see a clear potential for the next book and I'm interested in finding that out
I recommend it if you like dystopia with a touch of sci-fi, it's quite light to read and the plot, although it can be slowed down from time to time, doesn't become boring and I haven't lost interest at any time. If you also like good and real relationships between sisters and survival, this is a book you can't miss.
---
---
3.7/5 ⭐️⭐️⭐️⭐️ 
---
---
---
 Title: The Lost Sisters (The Folk of the Air #1.5)
By: Holly Black
Pages: 50
Published: October 2nd 2018
By: NOVL
Genre: YA|Fantasy|Short Storie
Sometimes the difference between a love story and a horror story is where the ending comes . . .

While Jude fought for power in the Court of Elfhame against the cruel Prince Cardan, her sister Taryn began to fall in love with the trickster, Locke. 

Half-apology and half-explanation, it turns out that Taryn has some secrets of her own to reveal.

The Lost Sisters is a companion e-novella to the New York Times bestselling novel The Cruel Prince by master writer Holly Black.
---
---

In fact, I really liked this short novel, I don't usually read this kind of novels, but as I loved The Cruel Prince, I really needed a little more of this world
I don't like Taryn, I think many of her actions are very questionable, so I was somewhat doubtful about whether I would like to read something focused on her, but I enjoyed it, I think it's interesting to get inside her head for a while, and know the reasons behind her actions. I still disagree with her in several aspects and I get a little angry with her innocent and credulous side, you know?. I'm totally #TeamJude and I can't help it
I like this is told as a letter of apology from Taryn to Jude, I think it was a smart idea and I would recommend it if you like this world because I think it will clarify some things about Taryn and give you another interesting perspective before jumping to the second book
---
---
4/5 ⭐️⭐️⭐️⭐️ 
---
---
 🌸 Feel free to leave your comment below, I always love to know what you think 🌸 
find me at