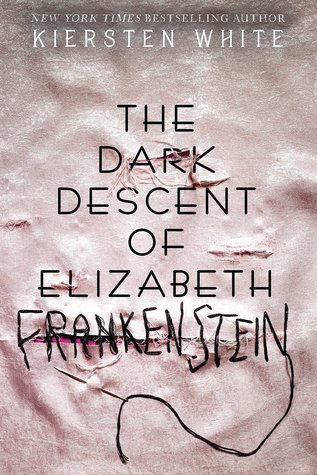 Title: The Dark Descent of Elizabeth Frankenstein
By: Kiersten White
Pages: 304
Published: September 25th 2018
By: Delacorte Press
Genre: YA|Historical|Dark|Retelling|Horror
Buy it: Book Depository
Elizabeth Lavenza hasn't had a proper meal in weeks. Her thin arms are covered with bruises from her "caregiver," and she is on the verge of being thrown into the streets . . . until she is brought to the home of Victor Frankenstein, an unsmiling, solitary boy who has everything–except a friend.

Victor is her escape from misery. Elizabeth does everything she can to make herself indispensable–and it works. She is taken in by the Frankenstein family and rewarded with a warm bed, delicious food, and dresses of the finest silk. Soon she and Victor are inseparable.

But her new life comes at a price. As the years pass, Elizabeth's survival depends on managing Victor's dangerous temper and entertaining his every whim, no matter how depraved. Behind her blue eyes and sweet smile lies the calculating heart of a girl determined to stay alive no matter the cost . . . as the world she knows is consumed by darkness.
---
---
This book was so INCREDIBLE, I honestly read a couple of bad reviews about it, so I went into it with low expectations and was a full surprise. I enjoyed it very much from the beginning and I'm happy to have read it on Halloween, since it's the perfect book for it. It was my first book by the author but surely it will not be the last one
In this story we follow Elizabeth Lavenza, she has had a very hard childhood due to the mistreatment of her caregiver, until one day she's taken to the house of Victor Frankenstein, a lonely boy who has everything except a friend. Elizabeth sees in Victor an escape from her misery and decides to do everything she can to become indispensable, it works and the Frankestein family embraces her as one of them. But her new life has a price, and as the years go by Elizabeth discovers that her survival depends on controlling Victor's dangerous temperament and entertaining all her whims. Behind the facade of an inocent girl, Elizabeth is determined to stay alive no matter the cost … 
I think the plot in general is so addictive and engaging, I get hooked quickly with it, it's also very unpredictable, so you never really know what will happen, and despite being a short book many things happen in the course of it. There's no time to get bored when you have a book like this in your hands. The story of Frankenstein can be known to many of you and despite of that, this book is still very original, obviously it's a retelling of the history that we all know, and that can be seen, but even so, I think the author has managed to handle it in a unique way, making this a perfectly separate story from the original, that you won't forget. The way the book play with darkness and madness is AMAZING.
I'm absolutely in love with the characters and the way in which they have been built, I don't want to talk much about them, because I feel they're the best of the book and I would love you to discover them yourself. But Elizabeth is one of the best female characters that I've read about, I feel that her spirit of survival is something admirableand I can't stop thinking about how incredible she is. You can see throughout the plot that she's really willing to do anything to preserve the life she knows and for which she has fought so much. She's very brave, it's also that type of character that's manipulative and smart and, I loved that .Victor's a very intense and dark character and his interactions with Elizabeth were incredible, very well written and super addictive. The dialogs are great, there's no waste. There are other characters that I loved and they're Justine, Mary and Henry, I think they're the lights inside so much darkness and bring a bit of lightness, friendship, honesty and fun to a pretty sinister plot
I was shipping Victor and Elizabeth all the time, their scenes together are so perfect and although I know it's so wrong in so many ways, I enjoyed them and I don't care lol
The writing style is really good, I really enjoyed it, it's addictive and it also has something very unique so you just can't stop reading. Being a historical fiction I thought it could be difficult for me to get into it, but it wasn't at all and this has made me want to read something more by the author soon.
This book has many plot twists, it's very sinister and many unexpected things happen on each page. So a lot of things that happened broke my heart, I honestly didn't expect to feel so attached to the characters or so committed to the story, but I end up having so many feelings for this book. It's a roller coaster of emotions, from joy, to sadness, to confusion and surprise, everything in a second lol. SO GOOD
I've seen people complain that it's boring or that it has a lot of descriptions, I can understand that it feels heavy at the time of the descriptions and the fact that it's historical, makes it a bit rigid at times, but for me wasn't a problem at all, I really enjoyed that aspect, I guess I was in the mood for something like this.
My only real criticism of the book is that I feel that the ending was quite simple and happened very quickly. I was waiting for something else to happen, but when I realized it was over. Even so, I feel that it's faithful to the original story, so yes, it's only a personal appreciation
So, of course I recommend it a lot if you want to read something different in the historical genre, it's original despite being a retelling and I love how it felt so dark and atmospheric, so if it's something you enjoy, you have to give it a try. It's a short but very intense book, many things happen so you'll not get bored with it 
---
---
4.5/5 ⭐️⭐️⭐️⭐️⭐️ 
---
---
   🌸 Feel free to leave your comment below, I always love to know what you think 🌸 
find me at