🌸 Hi Guys!, I hope you're having a beautiful day, today I'll share with you my September Wrap Up, where I tell you about the books that I've read during the month. I feel so pleased with myself for everything I've managed to read this month, not only because the quantity is good, but for the quality, as I always say, and also because this month I managed to read all the books that were in my TBR and I could even read one and a half more, so YAY! I'm really happy with my month, it has been amazing, I've also had a new experience that was participating in the Contemporary-A-Thon and it was really fun. I think that thanks to the read-a-thon I've pushed myself to read more and discover that I'm capable of. So I hope to be able to participate again in another one, I don't know if this year, but we'll see, the important thing is that I had an incredible time and also I could share it with all of you which is what makes me happy 💕
This month I read 7 books, which is incredible for me, so as I said before, super happy with my amount. We have a lot of contemporary, of course, among them mystery, romance and a new format which has greatly surprised me, but also a dystopic re-reading. I haven't had really bad readings, like BAD ones, well maybe one lol, but I can say that I've enjoyed almost everything that I've read, in different levels, but I did. I read a total of 2369 pages, OMG that sounds like a lot, I don't usually count my pages read but I think it can be an incentive for me, so I maybe start doing it
I've reached 1000 followers on my Twitter, and this is not something that I'm obsess about, in fact before I didn't even look at it, but I feel so grateful for the support and love that I've felt in that social network, as well as here on the blog, so I just wanted to say that if you're one of those people who actually follows me somewhere, here, on Twitter or even Goodreads, I'm infinitely grateful to you, really. It feels like a lot of love and it's a great incentive to continue giving the best of me every day
And now, without more further ado, I'm dying to tell you all about my readings of this month…
---
---
❄️ARCs of the Month 🔍
Loved the idea of this book, I think it's so unique that I really hoped to enjoy it more than I actually did. The book follows this girl who wakes up after having an accident and she's inside her best friend body, and I know it sounds confusing but if you decide to read it you'll understand it better. This is a mystery that involves two best friends and that promise plus the paranormal touch, caught me, but I think the idea was executed very poorly and in the end I still have many questions. The first 50% of the book is very good, but it wasn't enough for me. If you want to know more about it I'll leave you as always my full review below. It was released on July 17, 2018
Like Never and Always by Ann Aguirre (2.7/5 ⭐⭐⭐) REVIEW HERE
---
This is a very short book that focuses on a 13 years old boy who suffers from a mental illness, which produces a great fear of almost everything to him. Because of this he never leaves his home, until one day something happens that forced him to leave it and face his worst fears. I don't think this book is for everyone, it touches a very sensitive issue and honestly it was very hard to read about this and see everything that this boy has to go through, it broke my heart. On the other hand, if you dare and if you're interested, personally I enjoyed it, has a very dark vibe that takes you very well through the whole plot and keeps you wanting to know what will happen, so it can be a good option if you're looking for a short Thriller to read, maybe on Halloween. This version of the book already came out on September 11th 2018
Born Scared by Kevin Brooks (3.7/5 ⭐⭐⭐⭐)
---
---
SUPER Hype Book 💌
Finally I read it! *celebration dance*. And also enjoyed it, I think it's not my favorite of Jenny Han's, whom I love, but without doubt is an adorable and super easy to read book. I feel like I've spend a really nice time with it, and I feel it has something that makes it fun and light to read, which is the strength point of this book. I'm not sure about the characters individually honestly, but I enjoyed the romance a lot, it has something really addictive. But after all this, I also saw the movie this month, along with my boyfriend and it was OMG INCREDIBLE, I'm absolutely in love with the movie, it's adorable, funny and so warm. I never thought I would say this, but in this opotunity I prefer the movie over the book, definitely. Peter Kavinsky everyday 😍
I'm still excited to continue with the trilogy though, not this next month, but before the end of the year, for sure
To All the Boys I've Loved Before (To All the Boys I've Loved Before #1) by Jenny Han (3.5/5 ⭐⭐⭐⭐) REVIEW HERE
---
---
Contemporary-A-Thon Readings 💛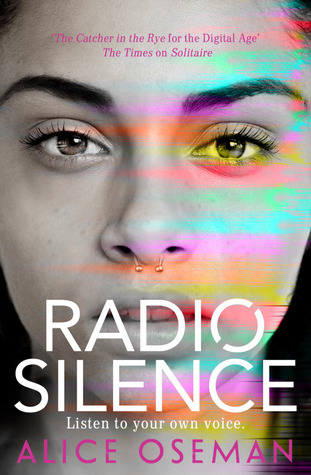 This is one of my new absolute favorites, I can't love this book more. I think it has a beautiful and honest message, plus it has one of the best cast of characters I've read about, a lot of diversity and above all, a lot of love and friendship.
The main characters are beautiful, they're so unique and different, I love that. The way they connect is really magical, that's the best thing about the book, they have a very special connection that goes beyond the love of a couple, you know? This book doesn't have romance in itself, but it's about the family that we choose, how we really want to be and whom we choose to love and support forever.
For me, one of the best readings of this year, I can't recommend it more, I know that the plot will also delight you, is very entertaining and is very well thought out.
Do yourself a favor and read this beautiful book
Radio Silence by Alice Oseman (5/5 ⭐⭐⭐⭐⭐) REVIEW HERE
---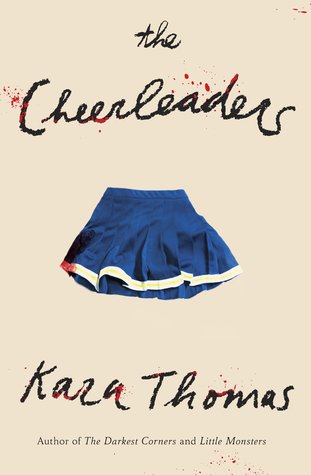 I love the writing style of Kara Thomas and her ideas are always sensational, so I really wanted to enjoy this one more than I did it, in fact it was on my list of 5 star predictions and unfortunately it didn't reach that rating. Even so, I think it was a very good book, it's captivating from the first pages, it has a plot that's makes you think and asking yourself new questions all the time and that keeps you wanting to know more. And also the way in which the plot is told I think it's the best of the book, jumps between the past and the present and that makes it very interesting. On the other hand, it can be quite overwhelming, especially because it contains multiple characters and possible paths, for me it was honestly too much, and there was a point where it becomes messy, but I think this may not be a problem for you.
The Cheerleaders by Kara Thomas (3.7/5 ⭐⭐⭐⭐) REVIEW HERE
---
Mini Review
It's my first time trying a graphic novel and I REALLY LIKED IT!, was an incredible time actually, I didn't expect it but it was a lot of fun. Being honest I have nothing to compare it with, so maybe in the future when I've read more of the genre, try it again and I'll have another perspective, but as a first experience I think it's great.

Giant Days is adorable, I love the friendship, the humor and how easy it's to go through it. I don't really see fixed plot in it, but I think I like that. It's about 3 friends who are in university and that plot leaves open a world of possibilities that I'm interested in discovering 

I also found very important topics in it, which I didn't expect and it was a pleasant surprise though, as addictions and sexuality. The way they are touched seemed very honest to me

I'll surely be continuing with the next volumes, because I love the characters, especially Daisy, she's so innocent and adorable, I love her
Giant Days, Vol. 1 by John Allison (4/5 ⭐⭐⭐⭐)
---
---
Re-Reading

💥
Mini Re-Reading Review
This book still hurts like the first time, I don't know if that's good, but it's intense, that's for sure
I love this trilogy I never tire of saying it, one of the best I've read, from the characters to the plot everything is intriguing and you can't stop reading it
When I started reading it, it was a surprise to see that I didn't remember ANYTHING about this book, and what is even more incredible is that I didn't remember anything of the end lol. and WOW, THAT IT'S AN UNFORGABLE ENDING. I confess that I cried a little because it still hits me very hard the loss in all my heart
In spite of them, I enjoyed this book a lot and although I agree with my past myself , in that it's a heavy book at times, I think I've enjoyed it more this second time around.
It's funny that I'm already suffering and feeling all the emotions with a re-reading, can you imagine when I'll read the fourth book for the first time?, I just hope to survive to tell you all about lol 
Never Fade (The Darkest Minds #2) by Alexandra Bracken (4.5/5 ⭐⭐⭐⭐⭐)
---
---
What has been your favorite reading of the month?
Feel free to leave your comment below, I always love to know what you think🙂