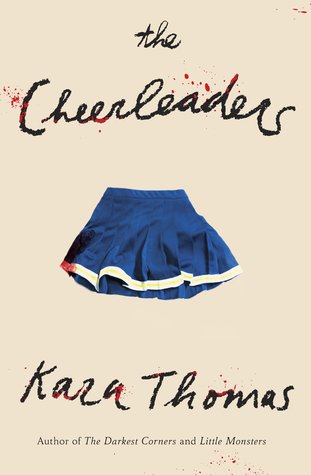 Title: The Cheerleaders
By: Kara Thomas
Pages: 384
Published: July 31st 2018
By: Delacorte Press
Genre: YA|Contemporary|Mytery|Thriller
Buy it: Book Depository
There are no more cheerleaders in the town of Sunnybrook.

First there was the car accident—two girls gone after hitting a tree on a rainy night. Not long after, the murders happened. Those two girls were killed by the man next door. The police shot him, so no one will ever know why he did it. Monica's sister was the last cheerleader to die. After her suicide, Sunnybrook High disbanded the cheer squad. No one wanted to be reminded of the girls they lost.

That was five years ago. Now the faculty and students at Sunnybrook High want to remember the lost cheerleaders. But for Monica, it's not that easy. She just wants to forget. Only, Monica's world is starting to unravel. There are the letters in her stepdad's desk, an unearthed, years-old cell phone, a strange new friend at school. . . . Whatever happened five years ago isn't over. Some people in town know more than they're saying. And somehow Monica is at the center of it all.

There are no more cheerleaders in Sunnybrook, but that doesn't mean anyone else is safe.
---
---
I really love Kara Thomas as a writer, I think she has great ideas and well thought out, besides her writing is very easy to read and no heavy at all, which is very good in the mystery genre. Even though I enjoyed The Cheerleaders a lot, I must confess that I expected a lot more from it, I think it was something missing
🌟 This book is part of my participation in the Contemporary-A-Thon!!
The Cheerleades is located in Sunnybrook and in this place there are no more cheerleaders. The first two girls, died in a tragic car accident. A while after that, two more were killed by a neighbor and after the police killed him, none never really knew why he did it. Monica's sister was the last to die, taking away her own life, and after all these tragedies the school decided to dissolve the team wanting to forget everything that had happened.
Today, 5 years later, the deaths of the girls will be commemorated, but for Monica it will be a very difficult time. She finds mysterious letters on her stepfather's desk along with her sister's old phone, and this will open many doubts for her. Monica will begin to realize that whatever happened 5 years ago, hasn't over yet 
This story is captivating, it starts a bit weird though. There's an event at the beginning that involves an abortion, and it's touched in a very superficial way, that feels something strange to me. I only tell this because it really happens in the first page so it's not a spoiler or anything. Despite this, I think it's very easy to get hooked with the plot as there are many questions that arise at the beginning of the book and obviously you want to know everything, so you can't stop reading. 
The way in which Kara Thomas has divided this book between the present and the past was brilliant to me, there's something very compelling about it. While we followed Monica and her desire to discover what happened so long ago, we also followed Jennifer who's Monica's sister, 5 years earlier, when all the deaths happened, and it's very interesting to see Jennifer's point of view and to know what was really going on in her head and all the real events about the other characters. I loved how that was handled.
I didn't like Monica very much at the beginning, honestly there are attitudes and things that she has done that are questionable and when you don't know why, it's hard enough to like her, but then 50% through, I changed my mind and I started to feel empathy for her,since she had to go through very hard things at her young age, I also love that although she didn't have the best relationship with her sister, still shows how much she loved her and how committed she is for answers. I think my favorite thing about the story is to see the evolution of his relationship with her mother and although this is not really central to the plot, I think it's very interesting to see.
During the book several possibilities are shuffled, and many paths where the plot can be addressed, so I think that makes it difficult to really guess how it will end. And that's really good!, but at the same time I think there are too many characters, I felt a little overwhelm by it, in the middle of the book there are so many theories of what could have happened and so many characters involved that it becomes kind of messy. Even though, this's something totally personal, because I feel that other people could find that fascinating and fun to follow, for me it was really a lot.
I really loved Ginny, I think it ends up being the most interesting character, even when it's quite secondary. It starts being strange but then in the end .I ended up loving her, she's really smart and loyal, and always has that kind of mystery thing arround her when you don't know the real reason behind her actions, it's really good
There's something about the characters in general that although you maybe don't like them, you can't deny that they feel very real, they go through problems that can happen to anyone, and I feel that they're very well created, from the teenagers to the adults of the book
I loved the writing style, as I said before, it's always my favorite thing of the author. The ending though, didn't convince me, although I must emphasize that it was really hard and real, I didn't was surprising by it. I guess I saw it coming somehow, or it just didn't have that big impact I expected. I think the last chapter is INCREDIBLE, and I think that revelation is a thousand times better than the outcome of the main story. I hope that makes sense, otherwise, it will once you read it.
I think in summary I expected a little more from this book, in fact, it was one that included in my 5 star prediction list and that makes me feel somewhat disappointed. But even so, I enjoyed it, I read it very fast and I think it has all the condiments to be a good mystery book, with a lot of drama, if that's what you like you should give it a chance. I still think that it could have had a bigger impact in the end because I feel I'm missing something. If you want to try the author and you don't know what to read, I can't stop recommending Little Monsters, because that book is MAGNIFICENT. 
---
---
3.7/5 ⭐️⭐️⭐️⭐️ 
---
---
    🌸 Feel free to leave your comment below, I always love to know what you think 🌸 
find me at