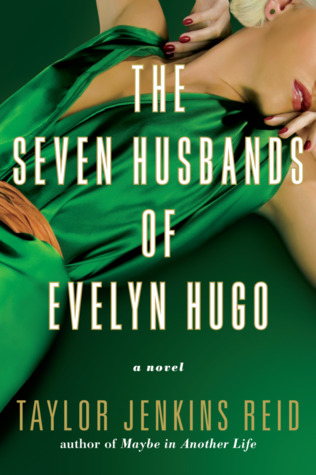 Title: The Seven Husbands of Evelyn Hugo
By: Taylor Jenkins Reid
Pages: 388
Published: June 13th 2017
By: Atria Books
Genre: Adult|Romance|Fiction|Historical
Buy it: Book Depository
Evelyn Hugo is finally ready to tell the truth about her glamorous and scandalous life. But when she chooses unknown magazine reporter Monique Grant for the job, no one in the journalism community is more astounded than Monique herself. Why her? Why now?

Monique is not exactly on top of the world. Her husband, David, has left her, and her career has stagnated. Regardless of why Evelyn has chosen her to write her biography, Monique is determined to use this opportunity to jumpstart her career.

Summoned to Evelyn's Upper East Side apartment, Monique listens as Evelyn unfurls her story: from making her way to Los Angeles in the 1950s to her decision to leave show business in the late 80s, and, of course, the seven husbands along the way. As Evelyn's life unfolds through the decades—revealing a ruthless ambition, an unexpected friendship, and a great forbidden love—Monique begins to feel a very a real connection to the actress. But as Evelyn's story catches up with the present, it becomes clear that her life intersects with Monique's own in tragic and irreversible ways. 
---
---
OMG THIS BOOK. There's no way, no matter what I say, that I can write a review that does it justice, so I'm sorry, I'll do what I can. I think that from time to time, and rarely, comes that book that leaves you with more feelings than words and this is one of them. This story is heartbreaking, unforgettable and incredibly real. Of those that aren't easily forgotten
The book is about this incredible Hollywood star, Evelyn Hugo, she has a great career and is finally ready to tell all about her private life. For this, she chooses an unknown journalist, called Monique Grant. Monique is very surprised by this, why the great Evelyn Hugo would want her for such a job? But despite her doubts, Monique can't allow herself to miss an opportunity like this one, which could finally consecrate her as a journalist. So starting from here we'll begin to go through what has been Evelyn's life, from making her way to Los Angeles in the 1950s to her decision to leave show business in the late 80s, and, of course, the seven husbands along the way. But as Evelyn's story catches up with the present, it becomes clear that her life intersects with Monique's in tragic and irreversible ways. 
This is one of the books, within the fiction genre, more real than I've read in my life. If someone had told me that this was based on a true story, I would have believed it in a second. Since the book begins, it's so easy to immerse in it, especially when Evelyn begins to tell us her story and everything that she has had to go through to achieve her goals, I kept thinking about how real this character was, I had the impulse to want to look for her in Google lol, it's not a joke!, but it's amazing how well created she is. This has made me undoubtedly want to know more and more of her life and every time I felt more into it. I think it's so interesting to know the life of a person like Evelyn and have the opportunity to get in her head and know her true feelings, it was a unique journey 
Of course I have to continue talking about Evelyn since she's the undisputed star of the book. She's a strong and independent Cuban-American woman (YES!), and what captivates me most about this character is the fact that she's not a likeable character or one whom you feel identified with, with this I mean that I don't think that I would do half of the things she did for power and fame, but even so you can't help but admire her attitude and fierceness in the face of adversity and life in general. I think many things that she does and has done are questionable, but still, there's something that prevents you from hating this character and on the contrary, personally, I was captivated, I don't think I could have enough of Evelyn Hugo, she's incredible.
I liked other characters that appear in the plot as Monique, of course, she's going through a seperation, so she's in a very bulnerable moment, she has many doubts about her life, about herself, and I feel that the fact of having met Evelyn has changed her completely and made her mature in certain aspects, also in another it has been difficult, but I think Evelyn ends up having a very important place in her life, for better or for worse. 
Then we have two other characters that I LOVED, and they're Celia St. James and Harry Cameron, they're absolutely important people in Evelyn's life and we'll be aware of them through their memories. I don't want to tell too much about them because I think there's something magical about knowing their relationship with Evelyn and how this affects their lives, I feel it's better that you have no idea who they are when you start reading it. In short, the less you know better!. For me it was really BEAUTIFUL to see their stories and how they were changing and transforming themselves over the years. And I think they're people who really touch you, honestly I felt too close to them, because many of their actions I think, could be mine.
You never know while you're reading this book, how far or how much someone is willing to sacrifice for what she/he want, in this case to keep a name and an appearance, and I think that's what the book is really about. About learning who we are and what we really want. This woman has everything in her life but she got everything with a sacrifice, or that's what I think, and seeing her now in her 79 years old (I think it's the right age), makes you wonder if many of those things were really worth it for her and what would you do instead. It also raises how far you would go for those you love the most and how there are souls who come to leave a permanent mark on us. I know that all this sounds extremely deep, but it's how it was for me and it's how I felt it so I think it could happen to you too, it's a book that everyone could interpret in their own way though, since there's a lot of superficial things in it as well, but I guess it's up to the reader.
There are times when the book is very difficult to read, as you go through many emotions throughout the story, feel pain, love, have fun and then you're crying but it's a great journey despite everything. The writing style is INCREDIBLE, one of the best I've read. So easy to read, so real and fresh at the same time. I don't know how the author has been able to create such real characters, that still surprises me a lot and besides, not only that, but she has created an absolutely compelling story. It's very difficult to stop reading once you start.
This book has too many incredible quotes as well, like every two pages you have a quote that you'll want to tattoo all over your body lol, is written so wonderfully I can't stop saying it
I don't think I cared that much about Evelyn's husbands, but her actions when making decisions or how she behaved with them. I like how the book is divided when a new husband enters the scene, that's interesting.
The plot twist at the end, when Evelyn reveals one of her secrets to Monique, is very good. I don't think you could guess it or see it come so easily. And even when you might suspect something is handled in a very smart way so that you stay shock about it
There is a lot of LGBT+ representation in the book, and it's managed in a different time where people didn't accept this as much as today, so it's interesting to see that side of the story as well. I could tell much more about this aspect but I don't want to generate any type of spoiler, because you have to read it!
Worth the hype? YES!
I highly recommend this book, and you'll be wondering why I don't give it a 5 stars then, and honestly it's because I don't feel it. It's an absolutely shocking and an incredible book, but even so at the end I haven't felt that little thing that I must feel to give it a 5 stars, this is something super personal, it's how I feel towards it, but I want to talk about it because I want to clarify there's nothing wrong with the book is fantastic and deserves to be read by everyone
---
---
4.5/5 ⭐️⭐️⭐️⭐️⭐️ 
---
---
 🌸 Feel free to leave your comment below, I always love to know what you think 🌸 
find me at