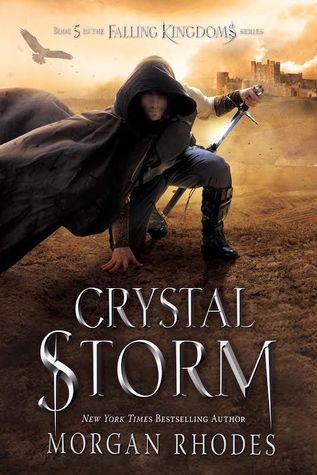 Title: Crystal Storm (Falling Kingdoms #5)
By: Morgan Rhodes
Pages: 379
Published: December 13th 2016
By: Razorbill
Genre: YA|Fantasy|Romance|Magic
Buy it: Book Depository
The ruthless Empress Amara of Kraeshia has taken the Mytican throne, and now uncertainty looms over the three kingdoms. Since Lucia unleashed the fire Kindred, wreaking havoc throughout the land, Myticans have been looking for someone—anyone—they can trust. They believe in Amara, not knowing her grand promises are built on lies.

In Paelsia, Magnus and Cleo reluctantly follow King Gaius to the home of his exiled mother, Selia. Selia is a powerful witch and claims she can help unlock the magic of the Kindred—if the visitors agree to her terms. When Jonas arrives from Kraeshia, he is shocked to find that his rebel army now includes his sworn enemies. Along with Nic, Felix, and the mysteriously resurrected Ashur, the contentious group agrees to cast aside old grudges—for now—and united against their common enemy: Amara.

Meanwhile, bearing the child of a Watcher and feared by all, Princess Lucia travels across Mytica to find her family. But time is running out. The impending storm signals the dark prophecy Timotheus warned her about. Her fate is written, and it includes none other than the rebel Jonas. When their paths collied, Jonas and Lucia must decide between blindly following their destiny or fighting for their own free will.

The battle for power culminates at the Paelsian palace, where Amara resides. Rain pours. Blood spills. And soon all will discover that the darkest magic comes at an even darker price.
---
---
🌸Book One: Book Review: Falling Kingdoms by Morgan Rhodes
🌸Book Two: Book Review: Rebel Spring by Morgan Rhodes
🌸Book Three: Book Review: Gathering Darkness by Morgan Rhodes
🌸Book Four: Book Review: Frozen Tides by Morgan Rhodes

---
---
THIS WAS BRILLIANT, these books: its characters and plot, will be my cause of death!. I'm so happy to have decided myself to read this saga, I've said this before but I can't avoid repeating it, because now, I feel, that it has taken a very special part in my heart and these characters will always be with me.
I think I'm sentimental because I only have the last book left to finish the series and I'M NOT READY!
I think this review will be particularly short since it's the fifth book, and there's not much I can tell you without spoiler.
This book in particular has many surprises, each chapter is a new revelation or the appearance of someone we thought dead and I loved that. On the other hand, I don't feel that history has moved forward that much since the previous book, I think many things happen in this book, but even so, we haven't reached the culmination point, which the previous book had left us wanting for. I think the author has created the perfect book, with Crystal Storm, to prepare us for the grand finale. A book is rarely able to make me feel physical pain but this one did it! I was literally shacking in some scenes 
The tension between the characters completely goes beyond the limits of the book and I felt that I was there with them and I just wanted to shout at them lol, there's a lot of drama because many things are revealed, so my babies are fighting all the time, and there are a lot of tension. I didn't find this annoying at all, since I feel that this is something that should have happened from the beginning. I love how everyone begins to open up, to know to themselves and also they begin to understand what really moves their actions and how far they're willing to go to achieve their goals.
Magnus and Cleo continue to be my favorites characters in the world, as always, they have given me the best scenes in this book and I'm not talking about good scenes, I'm talking about incredible scenes! lol, I love them so much!!! I could read a whole book about them looking at each other and I would be happy.
But this time I loved Jonas so much as well!, he deserves all the happiness of this world and I hope he ends up finding it. I think the author gave a twist to this character, making it much more humorous than before, and I know this sounds weird, but honestly his dialogues are great. It also takes a much more important place in this book and I feel that it will be the key to the end of everything.
Lucia is fine for me, I really have a kind of strange relationship with this character, I don't find her boring, but neither incredible enough to keep me interested, I suppose. Even so I like the trip she has undertaken and this new super unexpected connection she has had with Jonas will bring good things
About the secondary characters, I think that there's no one who can't really stand, I think that knowing their motivations and their past has made me have a lot of empathy for them in the end, and although sometimes I get angry with some of their actions, I don't think they're really evil people,with exception the Magnus' grandmother and Kurtis, of course (I do hate them lol). Felix's a great character, he just appears on the scene and I know I'd love whatever he says. Nic's my baby and I love him until the end, but in this book he felt weird andalthough he grew a lot I don't like the role of victim where the author always put him, he's better than that.. Amara's a bitch, but on the other hand I can't really hate her, I love the empowered woman she is and how muc she encourages the feminine revolution, I'm a fan of that aspect. Oh King Gaius, he confuses me, sometimes I feel that I don't care if he finally dies or whatever, but when I feel like he actually could die, I think NO !, and I don't know why, because he's like the worst person ever, but I suppose it occupies a very important place that I don't feel that another character can fill. I like Ashur and Taran as well, I don't know them a 100% yet though.
I have a little problem with something that I can't fail to mention, I feel that up to 80% the book was fantastic and everything I really love in this series, but then I feel that the author makes everything happen super fast and the end felt a bit presipitated for me. Maybe because there are a lot of things happening at the same time, but I'm used to things happening differently and the end of the book felt very rush, with some, I don't know, maybe 50 pages more would be good, it's a short book for everything that happens!
Even so, I loved this book, I think it's impossible that I don't like a book of this saga, obviously I've only one left, but I mean that I've created such a strong bond with the characters (who always will been my favorite thing of these books) that I feel that I simply love everything they do.
The plot takes super unexpected turns all the time, the strangest alliances happen and I just can't be more excited by the last book, I know that everything will end up exploding and it will be crazy!. At the same time, I think I don't really want to read it so it will never end and nobody will be able to harm my babies lol. The Struggle!.
I recommend this saga so much! If you like fantasy, you must read it! and then you come and tell me how much you've loved it and we can go crazy about it together lol. 
---
---
4/5 ⭐️⭐️⭐️⭐️ 
---
---
  🌸 Feel free to leave your comment below, I always love to know what you think 🌸 
find me at