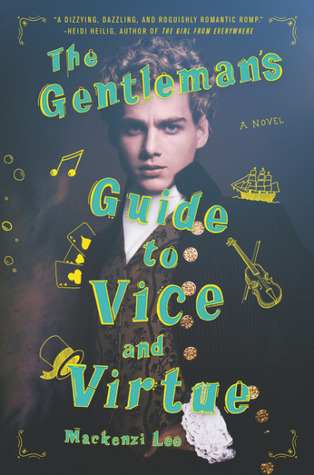 Title: The Gentleman's Guide to Vice and Virtue (Guide #1)
By: Mackenzi Lee
Pages: 513
Published: June 27th 2017
By: Katherine Tegen Books
Genre: YA-Historical Fiction-Romance-LGBT+
Buy it: Book Depository
Henry "Monty" Montague was born and bred to be a gentleman, but he was never one to be tamed. The finest boarding schools in England and the constant disapproval of his father haven't been able to curb any of his roguish passions—not for gambling halls, late nights spent with a bottle of spirits, or waking up in the arms of women or men.

But as Monty embarks on his Grand Tour of Europe, his quest for a life filled with pleasure and vice is in danger of coming to an end. Not only does his father expect him to take over the family's estate upon his return, but Monty is also nursing an impossible crush on his best friend and traveling companion, Percy.

Still it isn't in Monty's nature to give up. Even with his younger sister, Felicity, in tow, he vows to make this yearlong escapade one last hedonistic hurrah and flirt with Percy from Paris to Rome. But when one of Monty's reckless decisions turns their trip abroad into a harrowing manhunt that spans across Europe, it calls into question everything he knows, including his relationship with the boy he adores. 
---
---
I enjoyed this book a lot more than I thought I would, there was something in all the hype that scared me a bit, but it's really an amazing book. The dialogues and the characters construction steal the show.
The Gentleman's Guide to Vice and Virtue follows Henry "Monty" Montague, he has been raised to be a gentleman but his personal goals are different, that bothers his father a lot who expects his son to take over the property that it belongs to his family. But it's almost impossible to control the daring Monty, who lives his life around his vices, such as drinking, parties and sex. But then Monty will embark on the Grand Tour of Europe, along with his sister Felicity, and his best friend / impossible crush, Percy, and realize that his trip of pleasure and vices end up being the opposite, and thanks to his imprudent decisions, his life, as well as that of his traveling companions, will be put in danger. Monty will begin to question everything he knows, including his relationship with the boy he loves. 
I think this story is so easy to read, at first I was very surprised that it was this way, since it's a book that focuses on a constant journey, I was afraid I wouldn't be able to connect with it. The travel thing in books is something I'm not a big fan of, but even so, on this occasion I'm very pleased to say that I've enjoyed it a lot. The whole book in addition to having a lot of adventure, has this particular thing of being able to handle humor in very dramatic moments, that's something so difficult to do that it simply needed mention, it's done incredibly. Then in the historical aspect, I think the author has done a great job in transporting us to another time, and I also love how she could compile topics that were clearly controversial for the time, such as bisexuality and the role of women inside society.
As I said at the beginning, I think that the characters construction is absolutely great, each of them has a very strong personality and are unique and as the story goes by and things are happening you begin to learn how everyone thinks and It's a wonderful experience, I know it sounds a bit vague but it's hard to explain if you haven't read the book. A simple way to say it, is that I feel that they're as real as a fictional character can be lol, it's fantastic. There is also a clear growth in several of them, which is great too.
Finally before starting to talk a little more about them individually I also highlight how although the main characters have grown up in structured families they're all really very spirit free and transmit all their thoughts making themselves heard, love that.
I'll try to talk as briefly as possible about the 3 main characters so that this doesn't become eternal lol
Of course I have to start with Monty, who for me is a controversial character. I can't really say that I like him, I think that from the beginning I couldn't connect with him, there's something in his behavior and his way of thinking that I find quite annoying, especially his huge ego and his selfish decisions. Even so, I was hopeful that as the story progressed, it would change and evolve, and I swear that were moments when I thought "Oh my god, I don't know why I didn't like him before, I can see that he's changing"
and then immediately he did or said some stupid nonsense or put in danger to those who supposedly "he loves", and I was like "I almost believe him" and returned to disappoint me.
Something I love about Monty is how he expresses his sexuality so openly and without caring too much what others say about, it's super remarkable of the character.
I want to talk just a little about the romance, there are moments and chapters where you see Percy having these wonderful dialogues with Monty and you just want to live for this ship, but being 100% honest I don't think Monty is the best for Percy and this is a super personal appreciation for what I've seen of him in the book so don't kill me please lol. I just LOVE Percy and I don't want anyone to make him suffer, he's so sweet
Then we have the wonderful Felicity, and I just love this character, she's fierce and determined, she's so intelligent. In the time where the book take place the woman still had no rights and her only purpose in life was to have children, be at home and take care of her husband and that kind of thing. But still, none of this stops Felicity and her dreams are bigger than those and she's not afraid to go out and look for them.She's so brave, I really love her and I can't wait for the next book, which will be only about her (I hope lol) and I know it will be amazing.
Percy is the most adorable thing in life. He's always trying to take care of others, he's very considerate. He's mestizo (I hope it's the right way to say it in English, if not, I apologize) so his skin is darker than that of the other boys, and this for the time was reason enough to treat him in the worst way and you can notice that he's tired of being treated as if he were less than others just for his skin color, but this has never made him a bitter or violent person in any way, and it's not the only thing he has to deal with, for which I admire Percy a lot , his strength and his daily struggle. Even though things have always been much more difficult for him he never complains, I just want to hug him and protect him forever!
Of course, I enjoyed the book, the main plot is very entertaining, something fantastic too, which I'm glad to discover. I can't wait to read the next one, I think it's a companion book or something, I'm excited because it's focused on Felicity and I can't wait to know what happened to her.
I highly recommend this book, and don't fear its size because you really fly through it. If you like adventures, diverse characters, trips, romance and fun moments, you'll love this one
---
---
4/5 ⭐️⭐️⭐️⭐️ 
---
---
   Feel free to leave your comment below, I always love to know what you think
find me at