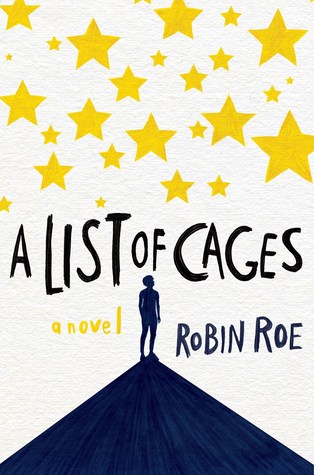 Title: A List of Cages
By: Robin Roe
Pages: 310
Published: January 10th 2017
By: Disney-Hyperion
Genre: YA-Family-Contemporary-Stand.Alone
Buy it: Book Depository
When Adam Blake lands the best elective ever in his senior year, serving as an aide to the school psychologist, he thinks he's got it made. Sure, it means a lot of sitting around, which isn't easy for a guy with ADHD, but he can't complain, since he gets to spend the period texting all his friends. Then the doctor asks him to track down the troubled freshman who keeps dodging her, and Adam discovers that the boy is Julian—the foster brother he hasn't seen in five years.

Adam is ecstatic to be reunited. At first, Julian seems like the boy he once knew. He's still kindhearted. He still writes stories and loves picture books meant for little kids. But as they spend more time together, Adam realizes that Julian is keeping secrets, like where he hides during the middle of the day, and what's really going on inside his house. Adam is determined to help him, but his involvement could cost both boys their lives… 
---
---
Wow a really powerful and full of meaning story. This book has reached me, it's very beautiful and at the same time my heart has broken a bit in the process, but I wouldn't stop recommending it, it's one of those books that are worth reading
The book is about the relationship between two boys, Adam and Julian and the story is told through both points of view. This is not a book about romance, it's about support and about brotherhood. Adam is a guy with ADHD, but he doesn't complain about it, he's having a great senior year, he has everything a boy of his age could want, he's doing very well with his grades, his pretty popular and has an amazing group of friends. He's helping the school psychologist and she orders him to follow a boy who has been avoiding her and this boy turns out to be Julian who's his adoptive brother with whom he hasn't spoken for years. The more time they begin to spend together, Adam begins to notice that Julian is keeping many secrets as to where he's going during the middle of the day and what is happening inside his house. Adam is determined to help Julian but this could cost both boys their lives 
I think that this book manages to be very crude and real in terms of the personal stories of each boy, especially with Julian's one, personally have hit me hard. All that, makes it impossible not to get hooked with it, I think that although it is very easy to read and has many fun moments there's something in the main plot that makes it very difficult to go through it, I think the word is, hard. So it will not be an easy trip but in the end I feel that it's so worth it. The author has done an excellent job, especially creating characters with wich you can feel attached from the first moment. I like very much that this isn't an over-exaggerated book, I feel that it goes straigh to the point and shows everything in a real way but in its proper measure. I would love to read something more by the author in the future
The book focuses mainly on Julian's life, he has changed a lot since the tragic death of his parents, which left him absolutely alone, without any kind of family, so after going through Adam's house ( since his mother is a social worker) for a while, he ended up at the home of a man named Russell, who was the husband of his mother's sister. Julian's a very special boy, I wanted to hug him and protect him all the time, and it's such a sad feeling because for a moment you forget that he's a literary character and that's so crazy, but I just love him. I believe that all the suffering for which he has passed, has left many sequels in him, I think he suffers from protaumatic stress and also must lead with a alot of anxiety. When he used to be such an outgoing child before the death of his parents, he's now so closed in himself and it's very difficult for him to talk to toher people. It's very difficult to explain and I don't want to start to deduce possible mental illnesses that he could be suffering because to be honest I don't know for sure, but you'll understand once you read the book or if you have already done it
Adam is an incredible character, the author present him to us as this popular guy who is surrounded by alot of friends and has a great social life, and you think, he must be an idiot or something lol. But NO!, in fact, it's very far from that, Adam is the sweetest and honest person and I loved this character so much. All the support and concern he shows towards Julian is very real, I think his intentions are always good and I love his interactions with others, because due to his disorder, it's obviosly hard to him to concentrate, for what ends up not to realize very obvious kind of things, and I'm talking mainly about the romantic part of the book that has it as a protagonist and I loved it.
Again, there's something so natural about the characters, not only the main characters but also in Adam's friends. I especially love Esmeralda and Charlie, the development of these characters and the role they play during the book is wonderful and unexpected, I love the humanity that's in them 
The book will also make you think a lot, it is not a book that you read and then forget, surely will keep it in your heart for a while. I know it's quite tragic and sad but at the same time there's something very magical about it and we can see it especially in the relationship between Adam and Julian, they don't have any blood relationship and even so you can feel the immediate connection of brotherhood all the time between them, especially that big brother spirit that is born in Adam every time he thinks about Julian or talks to him. I really believe that this beautiful relationship stole the show, and it has been so beautiful to read about.
I recommend it a lot if you want to read a book with a great meaning, with a story that touches your heart and especially if you like the brotherhood bonds and strong friendship. What this book is trying to prove is very wise, how to move forward after losing everything?, well, this book shows that everything is possible, and will make you see how there are always good people willing to help. Please give it a chance the book is really great, it has also left me extremely moved and I'll miss these guys 
---
---
4.5/5⭐️⭐️⭐️⭐️⭐️
---
---
     Feel free to leave your comment below, I always love to know what you think
find me at