Hi babes! I hope you're having a great day. Today I bring you my TBR of the month of April, where I tell you about the readings that I've planned for this month. I don't think I did it SO well last month with my TBR, but still here I am with another challenge to myself lol. I haven't really felt like reading a specific genre, so I want to use that to diminish my ARC list a bit, I'll also be reading a book I've chosen from my TBR jar and a sequel.
I don't know if it happens to you, but I feel that there is something so exciting about choosing a book from the TBR Jar, is like OMG I want to choose a 100 more (? Lol.) But I have to control myself so I've only chosen one this time.
I intend to read 6 books this month, it's a lot maybe for me but still I feel like trying. I'll be reading fantasy, of course, contemporary and I'll return to a genre that I haven't read for a while now, Magical Realism!, I'm so excited about it!, so we'll see how it goes
---
---
I know this has nothing to do with anything, lol, but that's how I am …
I wanted to show you because as soon as I saw this cover I fell in love with it instantly, and I want to share my love for it with you all guys!
It's a book that we're all very excited to read and it is King of Scars (Nikolai Duology #1) by Leigh Bardugo
Please take a moment to appreciate this beauty!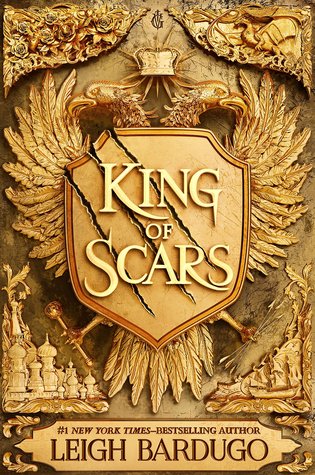 ---
---
Now before anything else comes to my mind let's start with the post which I came to write! …
---
ARCs Everywhere!
Furyborn (Empirium #1) 

by

 Claire Legrand
Follows two fiercely independent young women, centuries apart, who hold the power to save their world…or doom it.

When assassins ambush her best friend, the crown prince, Rielle Dardenne risks everything to save him, exposing her ability to perform all seven kinds of elemental magic. The only people who should possess this extraordinary power are a pair of prophesied queens: a queen of light and salvation and a queen of blood and destruction. To prove she is the Sun Queen, Rielle must endure seven trials to test her magic. If she fails, she will be executed…unless the trials kill her first.

A thousand years later, the legend of Queen Rielle is a mere fairy tale to bounty hunter Eliana Ferracora. When the Undying Empire conquered her kingdom, she embraced violence to keep her family alive. Now, she believes herself untouchable–until her mother vanishes without a trace, along with countless other women in their city. To find her, Eliana joins a rebel captain on a dangerous mission and discovers that the evil at the heart of the empire is more terrible than she ever imagined.

As Rielle and Eliana fight in a cosmic war that spans millennia, their stories intersect, and the shocking connections between them ultimately determine the fate of their world–and of each other. 
You're probably tired of seeing this book on my TBR, but for some reason I never get to read it! This month I'll do it, I promise.
This is also its realease month (May 22nd) so I'm excited to tell you my thoughts about it, hopefully, before that
---
Freefall Summer 

by

 Tracy Barrett
Fans of Sarah Dessen and Gayle Forman's emotionally-charged novels will laugh and cry with Clancy Edwards as she learns about taking chances and letting go during one unforgettable summer at her family's skydiving drop zone.

Sixteen-year-old Clancy Edwards has always been "the good girl." Ever since her beautiful, daring mother died in a skydiving accident, Clancy's father has watched her like a hawk. Between her dad's rules and her boyfriend's protectiveness, she's longing for an escape.

Then Clancy meets Denny, a college freshman and new skydiving student at the drop zone where she works. Clancy lets him think she's the same age. But the lies snowball over the summer and suddenly Clancy isn't the person she wants to be. If only making choices were as simple as taking a leap out of a plane. Before Clancy can make things right, one last act of rebellion threatens her chance to do so–maybe forever. 
I requested this titlle from Edelweiss, long ago actually, so I think it's time to read it, I would have liked to do it before its release date (April 3rd) but I couldn't do it, but anyway, I feel it could be a light and fun book that I could enjoy. It sounds like a great summer adventure and I'm here for it
---
The Lost Sentinel (Silent Sea Chronicles #1) 

by

 Suzanne Rogerson

 
The magical island of Kalaya is dying, along with its Sentinel. With the Kalayan people turning their back on magic, can Tei help the exiles find their new Sentinel before it's too late?

Kalaya is controlled by the Assembly – set up to govern but now under the control of Rathnor, who is intent on persecuting those who have magic, many of whom have taken refuge in the Turrak Mountains.
Tei has been raised to hide her magic, until her father, Migil, is visited by an old friend who warns them that they must seek refuge in the mountains.
On the journey, an enemy attack leaves her father mortally wounded. He sees her into the care of two exiles, Rike and Garrick, and on his deathbed makes a shocking confession that changes Tei's life.
Tei must put her trust in these strangers, especially when mysterious Masked Riders seem determined to stop her reaching Turrak.
Struggling with self-doubt, Tei joins the exiles in their search for their lost Sentinel. But the Masked Riders want the Sentinel too, and time, as well as hope, is running out.
Can Tei help the exiles save the island magic and reunite the Kalayan people before their ignorance destroys them all? 
Suzanne contacted me to review her book and I really thought it sounds very interesting, I'm always open to meet new fantastic worlds and just immerse myself in it, I feel it will be atmospheric and I like that, so I'm excited to try. I also want to remind you of the importance of supporting our authors and respecting their work
---
The Price Guide to the Occult 

by

 Leslye Walton
From the author of The Strange and Beautiful Sorrows of Ava Lavender comes a haunting maelstrom of magic and murder in the lush, moody Pacific Northwest.

When Rona Blackburn landed on Anathema Island more than a century ago, her otherworldly skills might have benefited friendlier neighbors. Guilt and fear instead led the island's original eight settlers to burn "the witch" out of her home. So Rona cursed them. Fast-forward one hundred–some years: All Nor Blackburn wants is to live an unremarkable teenage life. She has reason to hope: First, her supernatural powers, if they can be called that, are unexceptional. Second, her love life is nonexistent, which means she might escape the other perverse side effect of the matriarch's backfiring curse, too. But then a mysterious book comes out, promising to cast any spell for the right price. Nor senses a storm coming and is pretty sure she'll be smack in the eye of it. In her second novel, Leslye Walton spins a dark, mesmerizing tale of a girl stumbling along the path toward self-acceptance and first love, even as the Price Guide's malevolent author — Nor's own mother — looms and threatens to strangle any hope for happiness. 
Just one word: WITCHES, after reading The Wicked Deep, I need more books that give me those vibes of witchcraft in a fascinating and atmospheric story and I hope this book goes in that direction. I've heard great things about other Leslye Walton books, so I can't wait!
---
---
Exciting Sequel
Rebel Spring (Falling Kingdoms #2) 

by 

Morgan Rhodes
The road to power… is paved with blood and magic.

Cleo is now a prisoner in her own palace, forced to be an ambassador for Mytica as the evil King Gaius lies to her people.
Magnus stands to eventually inherit the new kingdom but is still obsessed with his feelings for his adopted sister, Lucia.
Lucia is haunted by the outcome of the breathtaking display of magic that allowed her father to capture the kingdoms.
Jonas watched at the palace gates a troop of rebels behind him, waiting for him to tell them how he plans to overtake King Gaius.

After a bloody siege, Auranos has been defeated, its young queen orphaned and dethroned. The three kingdoms—Auranos, Limeros, and Paelsia—are now unwillingly united as one country called Mytica. But the allure of ancient, dangerous magic beckons still, and with it the chance to rule not just Mytica, but the whole world over…

At the heart of the fray are four brave young people grappling for that magic and the power it promises. For Cleo, the magic would enable her to reclaim her royal seat. In Jonas's hands, it frees his nation, and in Lucia's, it fulfills the ancient prophecy of her destiny. And if the magic were Magnus's, he would finally prove his worth in the eyes of his cruel and scheming father, King Gaius, who rules Mytica with a punishing hand.

When Gaius begins to build a road into the Forbidden Mountains to physically link all of Mytica, he sparks a long-smoking fire in the hearts of the people that will forever change the face of this land. For Gaius's road is paved with blood, and its construction will have cosmic consequences. 
I know I say this with every book, but I'm SO EXCITED to read this one! OMG the ending of the previous book was incredible so I can't wait to see what will happen to each character from now on.
I think this book is on top of my list of priorities this month, so it will surely be the first one I read, Goshhh I need more from Cleo and Magnus in my life!.
I almost forgot to tell you: if you have seen my review of Falling Kingdoms, you'll see that it is super long, but don't worry I was thinking about making the following reviews a bit shorter, cause I don't want to do any kind of spoilers
---
---
TBR Jar
A List of Cages 

by

 Robin Roe
When Adam Blake lands the best elective ever in his senior year, serving as an aide to the school psychologist, he thinks he's got it made. Sure, it means a lot of sitting around, which isn't easy for a guy with ADHD, but he can't complain, since he gets to spend the period texting all his friends. Then the doctor asks him to track down the troubled freshman who keeps dodging her, and Adam discovers that the boy is Julian—the foster brother he hasn't seen in five years.

Adam is ecstatic to be reunited. At first, Julian seems like the boy he once knew. He's still kindhearted. He still writes stories and loves picture books meant for little kids. But as they spend more time together, Adam realizes that Julian is keeping secrets, like where he hides during the middle of the day, and what's really going on inside his house. Adam is determined to help him, but his involvement could cost both boys their lives… 
I know this will be an emotional read, I can feel it. I've heard wonders about it and I know a lot of people love it so obviously I'm happy that it's my pick for this month. I have that feeling that it could be a favorite, because it really sounds like something I'll love. Wish me luck!
---
---
Which books do you plan to read this month?
Feel free to leave your comment below, I always love to know what you think

🙂