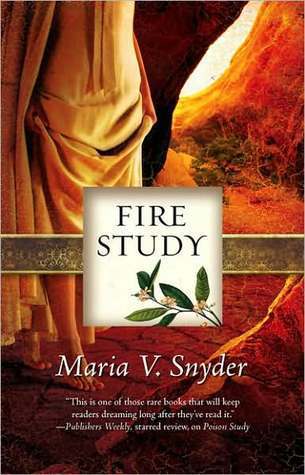 Title: Fire Study (Poison Study #3)
By: Maria V. Snyder
Pages: 441
Published: February 19th 2008
By: MIRA
Genre: Fantasy-YA-Romance-Magic
Buy it: Book Depository
The apprenticeship is over—now the real test has begun.

When word that Yelena is a Soulfinder—able to capture and release souls—spreads like wildfire, people grow uneasy. Already Yelena's unusual abilities and past have set her apart. As the Council debates Yelena's fate, she receives a disturbing message: a plot is rising against her homeland, led by a murderous sorcerer she has defeated before…

Honor sets Yelena on a path that will test the limits of her skills, and the hope of reuniting with her beloved spurs her onward. Her journey is fraught with allies, enemies, lovers and would-be assassins, each of questionable loyalty. Yelena will have but one chance to prove herself—and save the land she holds dear. 
---
---
Poison Study by Maria V. Snyder (Study #1)
Magic Study by Maria V. Snyder (Study #2)
---
---
I was so excited when I started reading this book, I think I'm used to, in the trilogies that I read, that each book is better than the previous one, but this time I didn't feel that. I loved the first book and unlike most, I liked the second one even more, I think the Magic Study took a very interesting turn for the story and made the book impossible to put it down. Because of this and cause I love the characters, I was very excited to start with Fire Study…
Fire Study took a different direction than what I thought it would take, it's not bad, I was actually interested in knowing what the outcome would be like, but after finishing the second book my expectations were high and you can feel like the real war is coming. This made me believe that it would be explosive from the first pages but it wasn't, many of the first pages are focused on the main characters traveling from one place to another and in general that doesn't bother me but this time I found it kind of boring. I think that from the middle of the book onwards there is a great improvement in the plot and that is how I think it should have been from the beginning. 
So I would say that the beginning seemed a bit heavy and I even thought that Yelena didn't behave like the Yelena I knew, that strong, smart and determined girl who won my heart, now was a pretty irrational and even annoying girl in certain dialogues. That made me feel frustrated as a reader, find a sudden change of attitude in the main character was a surprise but maybe the author was looking for something with this, I don't know.
Despite this weird beginning, where I felt a little bored and disappointed, I enjoyed the second part of the book, I think the plot really starts there. Even the Yelena that I love cameback, I'm glad to see Valek again, that always makes me happy, I also think that the relationship between them as well as that of Yelena with Leif have grown in many aspects and I found that very interesting, I always enjoy a good brotherhood bond and between these two something very good begins to grow during this book. I even began to enjoy more of the conflicts that were generated between them and how they faced the difficulties as well
The end seemed pretty good, I feel satisfied with it, I think the characters have gone an incredible path to reach this point and I think they have learned a lot in the course of it. Maria V. Snyder is a great writer, even though this book wasn't as amazing as I expected, I feel like I want to continue reading these books, the world is great and how the magic develops seems very interesting to me. I'll miss the characters, I'm not sure if any of them will appear in the following books so I don't know if I'll see them again, that makes me a little sad but I think that in the end everyone got what they deserved ….
I still recommend the trilogy, it's solid and entertaining, although I recommend lowering the expectations when it comes to this book so you don't get disappointed, but I'm sure you'll enjoy it, it's quite easy to read, so I think it's worth it
---
---
3.5/5
⭐
⭐
⭐
⭐
---
---
I hope you like the new look of my reviews, I like to keep it simple, I'm that kind of person, but I think it looks pretty lovely in this way. Anyway, I would love to hear your opinions about it
---
---
Feel free to leave your comment below, I always love to know what you think

🙂
find me at