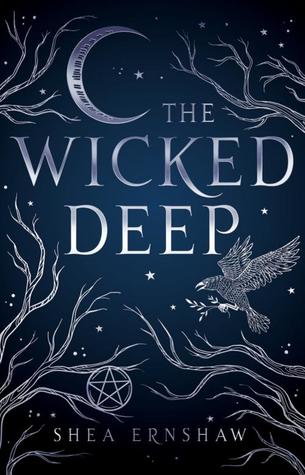 Title: The Wicked Deep
By: Shea Ernshaw
Pages: 320
Published: March 6th 2018
By: Simon Pulse
Genre: Paranormal-YA-Romance-Magic-Mystery
Buy it: Book Depository
Welcome to the cursed town of Sparrow…

Where, two centuries ago, three sisters were sentenced to death for witchery. Stones were tied to their ankles and they were drowned in the deep waters surrounding the town.

Now, for a brief time each summer, the sisters return, stealing the bodies of three weak-hearted girls so that they may seek their revenge, luring boys into the harbor and pulling them under.

Like many locals, seventeen-year-old Penny Talbot has accepted the fate of the town. But this year, on the eve of the sisters' return, a boy named Bo Carter arrives; unaware of the danger he has just stumbled into.

Mistrust and lies spread quickly through the salty, rain-soaked streets. The townspeople turn against one another. Penny and Bo suspect each other of hiding secrets. And death comes swiftly to those who cannot resist the call of the sisters.

But only Penny sees what others cannot. And she will be forced to choose: save Bo, or save herself. 
---
---
OMG OMG, I'm not sure how to start with this review, this book is INCREDIBLE. 
So long ago I didn't read a book that made me feel that way, as full of feelings, I feel like my heart is going to explode or something like that lol. I'm certainly in love with this book, it's so atmospheric that you can really feel yourself inside it, I'm impressed
The book focuses on the story of a curse that began with three sisters two centuries ago.
The Swan sisters were sentenced to death for witcherry, tied rocks at their feet and threw them into the deep waters surrounding the town of Sparrow. Now each summer, the sisters return in search of revenge against the town, thus stealing the bodies of three girls, then conquer and attract boys to the harbor and then take them with them into the depths waters.
Penny Talbot is one of the girls who live there and as the majority, has already accepted the town's fate. But this year will be different, because on the eve of the return of the sisters to the city, this boy named Bo will appear, unaware of the danger he got into, and after Penny begins to develop feelings towards him, she'll see the obligation to keep him safe. But only Penny can see what the others can't and she will be forced to choose between saving Bo or saving herself 
The explanation is kind of long, I know, but it's impossible to summarize since it's basically what this whole story is about.
I think the plot and this idea of the curse of the Swan sisters is wonderful, it's so well told, that in fact, seems like a story that actually happened in real life and that's great. I felt immersed in the book from the first moment, it's divided into chapters where we read both past and present and in this way we are weaving as was the story in reality and all the events that happened which I found very intelligent and well done. I think the fascinating part of the book is to get to know these three sisters and see in the context in which they lived and how they were seen by others, and everything that happened to them, happens in a totally different time period, where they thought and lived differently from what is done today, so I found all that aspect of the most interesting.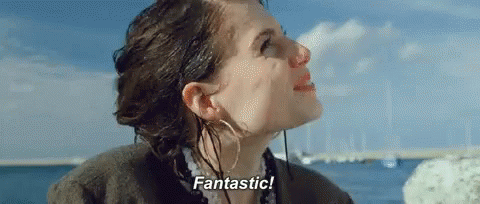 There is something that is wonderful about this book and it's the mystery aura that surrounds the story, you read it and you feel that you're really there witnessing all the events. It's extremely atmospheric, I'm sure that none will have problems with not feeling committed to the story, since it's so easy to surround yourself with it.It's almost creepy at times, it has very dark and gloomy scenes so I think it could be an excellent read for Halloween, for example.
I'm not surprised to know that they have already bought the rights, I'm not sure if it will be a movie or a series but I'm sure that I want to see it, because if they're faithful to the book it will be extraordinary. I think that this whole book is made to be seen in a movie or series format, so obviously I can't wait! 
Well, let's talk a little about the characters, and I'll stop fangirling for a while lol. We have very good characters in this story, I know that one of my favorite aspects is undoubtedly the setting where the story unfoulds, of which I'll talk a little bit later, but the characters haven't been left behind either. I can only talk to you about how I felt with them, a little bit I'm afraid, cause I could do very important spoilers without wanting to
Penny, is a very good main character, I felt like identified with her by some personal aspects, I feel that she's a quite "normal" character, with this I mean that I think that anyone can feel identified with Penny and her desire to finishing school, her fear of the future and her insecurities, she's also going through a loss of a very dear being to her as is her father, loss which has left her mother in a absent state of mind and she basically has to take care of everything and also deal with her own issues. She's very afraid of leaving her mother alone so she is not sure if she will continue studying or if she will stay on the island forever, so all this and much more that I can't tell you make Penny a very good character.
I really love Bo, is a character who arrives in a very miterious way, in search of a job trying to start again after something tragic happened to him and he keeps many secrets and is very private about his personal life and about who he really is. He's a character that probably surprise you and his goal is very noble and although maybe he's extremist or whatever, I feel that he's very faithful to his principles and I like that. Also there will be many difficult decisions that he should make, he will be in extreme situations and I think you'll enjoy that
Then we have the Swan sisters, and they're really the stars of this book , I think that although I can't talk much about them cause spoilers, I still want to highlight these characters because they are built in a brilliant way and even though they are sisters, they are so different from each other, which makes the whole experience much more interesting and fun, they are all very unpredictable so many surprises and plot twists await you of the hand of these sisters
The romance of the story is very well developed, in my personal case I liked it from the first moment and it was growing and growing as the plot flows and I think it's a very beautiful romance, it has something that is really magical and pure and I loved that. It's different, there's something that happens and it marks a before and after in what would be the romance and at that point I was shocked by the plot twist and the revelations, when that came, I'm wasn't sure, being honest, if I I would still like this romance as before, but I think that it transforms into something new and different and caught me a second time, so I can only say that you may like it or you may not be sure, but is really unique, that's for sure.
Finally let's talk a little about the place where the story unfolds and let me tell you, it's fabulous. Everything happens on the island of Sparrow, it's a very remote place where all the people know each other, this place, according to Penny, is standing on the time and you can see it in its architecture and also in the beliefs of the habitants, especially their beliefs about this curse in which this town is surrounded. When the eve of the return of the Swan sisters occurs the town is filled with tourists who are excited to live the experience, and curious about this famous legend. All this is so atmospheric, I repeated it thousands of times, right ?, but it is!. It's just fantastic the way the author has created this place, every description of it, is spooky but at the same time captivating, really brilliant
I really can't wait for everyone to read this wonderful book, I know you'll like it. The plot is very interesting and unique, it has a lot of mystery, suspense and intrigue. Also the plot twists are really amazing and even when I suspected one of them, the truth outweighed my own thoughts, if that makes sense lol. I can't stop recommending this incredible book. 
I don't know why it's so difficult to write a review about a book you love, but it is, I feel that nothing I say can do it justice, but if I can make you feel like reading it, then I've achieved my goal here.
The end of the book is really so sentimental, my heart, I love it!. It's so beautiful and tragic to read, this whole book is that way
---
---
Rating
5/5 Stars
---
---
Feel free to leave your comment below, I always love to know what you think

🙂
find me at