Hi babes! I hope you're having a great day. Today I bring you my TBR of the month of April, where I tell you about the readings that I've planned for this month. I think I've done a great job with my last month TBR so that has motivated me a lot for my next readings, you know, when you want to read them all, it can be a problem, but I just want to do it lol.
Where I live the autumn has already started and these cold days make me feel even more eager to read, with my coffee and my blanket, I'm just so happy.
I created a TBR for this month that I really really like, I feel that it's very varied as I always try to, there are things that I want to finish, others that I would like to start, some new releases that I'm dying to read and of course this month I return with an Arc and that's really excited . So I hope you enjoy with me this list!
---
Next week I'll be uploading a post sharing with you some changes that I made in the blog, it's nothing big are just details that I think will make everything look nicer and more fun, and as always I'll be showing them to you, so you can tell me what you think about it, so YES! I wanted to give you this little advance lol.
---
So without further ado let's start!
---
---
NetGalley ARC
Furyborn (Empirium #1) 

by

 Claire Legrand
Follows two fiercely independent young women, centuries apart, who hold the power to save their world…or doom it.

When assassins ambush her best friend, the crown prince, Rielle Dardenne risks everything to save him, exposing her ability to perform all seven kinds of elemental magic. The only people who should possess this extraordinary power are a pair of prophesied queens: a queen of light and salvation and a queen of blood and destruction. To prove she is the Sun Queen, Rielle must endure seven trials to test her magic. If she fails, she will be executed…unless the trials kill her first.

A thousand years later, the legend of Queen Rielle is a mere fairy tale to bounty hunter Eliana Ferracora. When the Undying Empire conquered her kingdom, she embraced violence to keep her family alive. Now, she believes herself untouchable–until her mother vanishes without a trace, along with countless other women in their city. To find her, Eliana joins a rebel captain on a dangerous mission and discovers that the evil at the heart of the empire is more terrible than she ever imagined.

As Rielle and Eliana fight in a cosmic war that spans millennia, their stories intersect, and the shocking connections between them ultimately determine the fate of their world–and of each other. 
I have to be honest with you I was so excited to read this book, and I began to see that the reviews aren't that good so I'll lower my expectations a bit, because I always ends up disappointing when I'm so excited, you know. On the other hand I just want to read it and find out what I feel with it, it sounds very good, I love that follows strong and independent female characters, besides the synopsis sounds quite magical. We'll see what happens with this one. Its release date is on May 22nd
---
---
Finishing a Trilogy
Fire Study (Poison Study #3) 

by

 Maria V. Snyder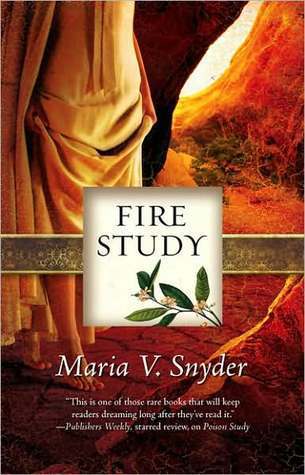 It may contain spoilers from previous books
The apprenticeship is over—now the real test has begun.

When word that Yelena is a Soulfinder—able to capture and release souls—spreads like wildfire, people grow uneasy. Already Yelena's unusual abilities and past have set her apart. As the Council debates Yelena's fate, she receives a disturbing message: a plot is rising against her homeland, led by a murderous sorcerer she has defeated before…

Honor sets Yelena on a path that will test the limits of her skills, and the hope of reuniting with her beloved spurs her onward. Her journey is fraught with allies, enemies, lovers and would-be assassins, each of questionable loyalty. Yelena will have but one chance to prove herself—and save the land she holds dear.
I really want to finish this trilogy. I enjoyed a lot of the previous books I think it's a pretty addictive trilogy so I think I'll finish this very fast. I die to know how everything will end up being for the characters and what paths they'll take.
I know this is just the main trilogy and then it goes on with other books but for now I will take this as an ending and I'll surely be continuing with the others at some time
Plus: I miss KIKI so much!
---
---
I'll Start with a New Series!
Falling Kingdoms (Falling Kingdoms #1) 

by

 Morgan Rhodes
In the three kingdoms of Mytica, magic has long been forgotten. And while hard-won peace has reigned for centuries, a deadly unrest now simmers below the surface.

As the rulers of each kingdom grapple for power, the lives of their subjects are brutally transformed… and four key players, royals and rebels alike, find their fates forever intertwined. Cleo, Jonas, Lucia, and Magnus are caught in a dizzying world of treacherous betrayals, shocking murders, secret alliances, and even unforeseen love.

The only outcome that's certain is that kingdoms will fall. Who will emerge triumphant when all they know has collapsed?

It's the eve of war…. Choose your side.

Princess: Raised in pampered luxury, Cleo must now embark on a rough and treacherous journey into enemy territory in search of magic long thought extinct.

Rebel: Jonas, enraged at injustice, lashes out against the forces of oppression that have kept his country cruelly impoverished. To his shock, he finds himself the leader of a people's revolution centuries in the making.

Sorceress: Lucia, adopted at birth into the royal family, discovers the truth about her past—and the supernatural legacy she is destined to wield.

Heir: Bred for aggression and trained to conquer, firstborn son Magnus begins to realize that the heart can be more lethal than the sword…. 
I'm kind of scared to start with such a long series !. But at the same time also excited, in fact it wasnt in my plans to start with it yet but my boyfriend read the first book last month and he keeps telling me how incredible it is, and that I have to read it, so I'll DO IT!
I hope to enjoy it as much as everyone, I know it's a beloved series, it's a high fantasy, and it's been so long since I read one, it will be really interesting!
If I like this book I'll probably be buddy reading the second one along with my boyfriend, so I'll also include it here in my TBR just in case …
Rebel Spring (Falling Kingdoms #2) 

by

 Morgan Rhodes
The road to power… is paved with blood and magic.

Cleo is now a prisoner in her own palace, forced to be an ambassador for Mytica as the evil King Gaius lies to her people.
Magnus stands to eventually inherit the new kingdom but is still obsessed with his feelings for his adopted sister, Lucia.
Lucia is haunted by the outcome of the breathtaking display of magic that allowed her father to capture the kingdoms.
Jonas watched at the palace gates a troop of rebels behind him, waiting for him to tell them how he plans to overtake King Gaius.

After a bloody siege, Auranos has been defeated, its young queen orphaned and dethroned. The three kingdoms—Auranos, Limeros, and Paelsia—are now unwillingly united as one country called Mytica. But the allure of ancient, dangerous magic beckons still, and with it the chance to rule not just Mytica, but the whole world over…

At the heart of the fray are four brave young people grappling for that magic and the power it promises. For Cleo, the magic would enable her to reclaim her royal seat. In Jonas's hands, it frees his nation, and in Lucia's, it fulfills the ancient prophecy of her destiny. And if the magic were Magnus's, he would finally prove his worth in the eyes of his cruel and scheming father, King Gaius, who rules Mytica with a punishing hand.

When Gaius begins to build a road into the Forbidden Mountains to physically link all of Mytica, he sparks a long-smoking fire in the hearts of the people that will forever change the face of this land. For Gaius's road is paved with blood, and its construction will have cosmic consequences. 
---
---
New Releases
The Wicked Deep 

by

 Shea Ernshaw
Welcome to the cursed town of Sparrow…

Where, two centuries ago, three sisters were sentenced to death for witchery. Stones were tied to their ankles and they were drowned in the deep waters surrounding the town.

Now, for a brief time each summer, the sisters return, stealing the bodies of three weak-hearted girls so that they may seek their revenge, luring boys into the harbor and pulling them under.

Like many locals, seventeen-year-old Penny Talbot has accepted the fate of the town. But this year, on the eve of the sisters' return, a boy named Bo Carter arrives; unaware of the danger he has just stumbled into.

Mistrust and lies spread quickly through the salty, rain-soaked streets. The townspeople turn against one another. Penny and Bo suspect each other of hiding secrets. And death comes swiftly to those who cannot resist the call of the sisters.

But only Penny sees what others cannot. And she will be forced to choose: save Bo, or save herself. 
OMG this book sounds so incredible!
I've seen it a lot in the blogosphere lately and I've heard the best things about it. Also has witches and that's the only thing I need to know, the promise sounds fascinating and I think I could even tell you that I'll love this book, I have that feeling about it. I've heard that have bought the rights for a movie which is amazing, so I'm very excited to read it!
---
Let's Talk About Love 

by

 Claire Kann
Alice is secretly asexual, and that's the least important thing about her.

She's a college student, has a great job, amazing friends, and is fine being single—nope, that's a lie. Alice wants rom com-grade romance: feels, cuddling, kissing, and swoons galore—as long as it doesn't lead to having sex.

After her last relationship ends with soul-crushing parting words from her ex, Alice swears off relationships for good. Stick a fork in her, she's done. Everyone Alice tries to date is so sure love and sex have to go together, and there doesn't seem to be any way to convince them otherwise.

But when Alice experiences instant attraction for the first time with her coworker Takumi, she doesn't know what to do. If Alice tells him the truth, it can only end in heartache. But there's something about Takumi that makes him worth the risk… 
I think I really need this kind of contemporary reading after so much fantasy, I'm in love with the cover! OMG is so beautiful !.
The promise sounds so interesting, it's a short book so I hope it's light and fun, I'm really so excited to read it!
---
---
Which books do you plan to read this month?
Feel free to leave your comment below, I always love to know what you think

🙂