Title: Norse Mythology
By: Neil Gaiman
Published: February 7th 2017
By: W. W. Norton Company
Genre: Mythology-Short Stories
Introducing an instant classic—master storyteller Neil Gaiman presents a dazzling version of the great Norse myths.

Neil Gaiman has long been inspired by ancient mythology in creating the fantastical realms of his fiction. Now he turns his attention back to the source, presenting a bravura rendition of the great northern tales. In Norse Mythology, Gaiman fashions primeval stories into a novelistic arc that begins with the genesis of the legendary nine worlds; delves into the exploits of the deities, dwarves, and giants; and culminates in Ragnarok, the twilight of the gods and the rebirth of a new time and people. Gaiman stays true to the myths while vividly reincarnating Odin, the highest of the high, wise, daring, and cunning; Thor, Odin's son, incredibly strong yet not the wisest of gods; and Loki, the son of giants, a trickster and unsurpassable manipulator. From Gaiman's deft and witty prose emerges the gods with their fiercely competitive natures, their susceptibility to being duped and to dupe others, and their tendency to let passion ignite their actions, making these long-ago myths breathe pungent life again. 
---
---
I enjoy a lot of these short stories about Norse Mythology, I really think it's a great work by the author, it's informative, it's very well told and I think if you're interested in learning more about the Nordic gods this book is perfect to start or if you really like Vikings like my lol
It's my first experience with Neil Gaiman, so I'm happy to finally have read one of his works. I loved his writing style and how natural it was for him to tell us these stories. I like and I appreciate that he took the time at the beginning of the book to do a little introduction about how he came to want to write about this, how was his research and also to clarify the fact that a lot of the comments in the stories are personal and only his. He also highlights those who have helped him with the book and I think that it's great. I liked how he's so open and genuine with what he believes and what he writes about. Surely I'll be reading more about this talented author in the future 
Personally I'm a fan of mythology in general I find it fascinating to know about all these myths and legends, my favorite will always be Greek Mythology I have been reading about it for years, so it seemed a good idea to know more about Norse in this opportunity. Finding books that include myths of this nature is always something that I appreciate that the authors do, I think you can build so many stories based on only in one myth, you know?. And if the author knows how to handle it, it will always be very valuable. In this opportunity to know more about Nordic mythology was great, I already knew some things but anyway it was fun to read about it again, but there were also many things that I didn't know abut. I met some gods and other beings I didn't know anything about and that was super fun, I also feel that this book leaves you a lot of new knowledge which is fantastic.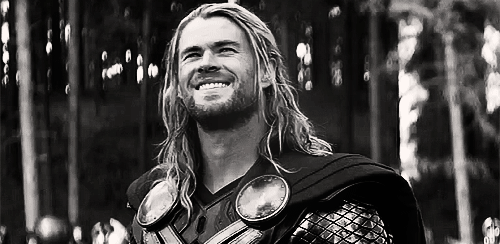 I couldn't stop comparing the gods with the Marvel characters lol. I guess it's something that is born naturally, but in my head there can't be another Loki or another Thor, is impossible
I feel very surprised that I didn't really liked Thor as much as I thought I would. I think he's a pretty proud god, like too much for me. My favorite stories are those that focused more on Odin and Loki (since I've learned many things that I didn't know about them, many stories and situations new to me), also those that describe the beginning of everything and of course the last chapter dedicated to Ragnarok, I think it's absolutely terrifying as much as wonderful
I highly recommend this book if you like Nordic mythology, I think there will be some data that will probably surprise you, plus you'll enjoy the Neil Gaiman's writing style. It's a book with stories that are captivating and dark and there are other fun and very weird ones too, so I think you'll not get bored with it. 
---
---
Rating
4/5 Stars
---
---
Feel free to leave your comment below, I always love to know what you think

🙂
find me at