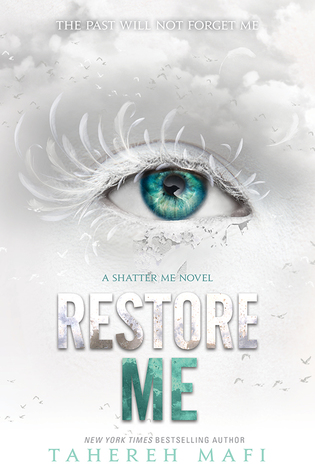 Title: Restore Me (Shatter Me #4)
By: Tahereh Mafi
Published: March 6th 2018
By: HarperCollins
Genre: YA-Dystopia-Paranormal-Romance
Juliette Ferrars thought she'd won. She took over Sector 45, was named the new Supreme Commander, and now has Warner by her side. But she's still the girl with the ability to kill with a single touch—and now she's got the whole world in the palm of her hand. When tragedy hits, who will she become? Will she be able to control the power she wields and use it for good?
---
---
OMG, I'm completely shocked by the end of this book. So many things happened, so many revelations, WOW is a very crazy journey and really difficult to process lol, probably not the best way to start a review but I can't help it, I have alot of feelings inside me. I'll try to put everything in order and write, without spoilers, something that makes sense. But in summary, I LOVED IT!
Restore Me, it's very difficult to explain without spoilers of the previous books, but basically we continue with the same story and only a couple of weeks have passed since the events of Ignite Me. That was something that surprised me, I don't know why but in my mind I imagined that would have spent at least some years from one book to another or something like that, but with only a few weeks in between it's really easy to remember the events of the previous book,since not much has happened. So there was no problem with that. I also come from re-reading the original trilogy so my memories were very fresh in my mind, in fact I recommend you re-read the previous books or at least the last one, since many things happen in Restore Me, things that could change your perspective on things and you'll realize that everything you thought was one way, it's actually wrong. So maybe re-read the previous books is a good idea 
Personally I have enjoyed it a lot, ALOT, maintains the same essence that the previous books, we have that Tahereh's beautiful writing and also the super intense dialogues between characters, which I love. And on the other hand I think this book changes everything, it's a before and after in the story of the characters, everything changes for them, their feelings, their thoughts, their lives, everything and this can get a little intense for the reader really. It was for me, I was like "OMG my life is a lie" lol. I love when a book has the power to shake me and leave me the way this one has left me, I feel super happy to have decided to read it and at the same time I'm destroyed because I'll have to wait a lot for the next one and in the way that this book ends is too epic and intense, I really do't know how to wait, I need to know what happened and what will happen like right now, I'm scared for my babies!
The writing style doesn't disappoint , is beautifully written and is very easy and quick to read, even when there are many super emotionally intense scenes, the writer handles it wonderfully, making it not at any time become heavy at all, I've really flown through it. Reading about my babies again made me very happy, I was dying to see them and know what would happen to them. Shatter Me is one of my favorite trilogies is not a secret, I have here of my favorite characters ever, so even when I was very excited and very curious to read Restore Me at the same time I was afraid, because you know, I didn't want to that this trilogy that means so much to me be ruined in some way and thank God it wasn't, so I'm very happy about that.
As for the characters I think this is where you see the great change of the first books to this one. This book allows us to see a different side of each one of them, from Warner to Kenji and even and above all, from Juliette who I think is the one who changes the most. I can understand how this can bother some readers, I have seen reviews about people who really don't know the characters anymore and they didn't know who they were reading about and I understand it somehow. But from my point of view I feel that everything is due in large part to the growth of Tahereh as an author, and I also think that she wanted to turn this story around giving us much more risky characters putting them in extreme situations. I appreciate that, it works for me, I adore seeing them in these new skins, facing impossible situations, being on the edge of themselves, I think everything is very extreme and very exciting so it will surely leave you with many mixed feelings. I feel that the characters have grown more in this book than in the main trilogy, no doubts. I'm just going to add that I love this new Juliette and even when it's nothing like the original one, I think it would work much better with the story, this will really get very interesting and intriguing
Sadly I feel that I really can't talk more deeply about the characters individually since I feel it would be impossible for me to do it without spoilers, and it's always important for me that everyone can read my reviews so everyone will have an idea about the book without being afraid, I hope this is not a problem for you
I think that Tahereh does something very smart with this book and puts as undisputed protagonists the most beloved characters who are Warner, Juliette and Kenji, because I love them and I know that many people do it, so I think that was something very intelligent on her, I had liked to see more the old characters but I think that the dialogues between Warner and Kenji are pure gold and all these new dynamics of the relationships between them are super interesting and addictive to read
The revelations in this book are huge, I feel that the whole book is based in revelations and there is not only one, there's a million of them! It has been like an exploration of information and new characters. I really enjoyed the incorporation of these new characters, I feel they were necessary for the story and make everything much more exciting and in some way mysterious and dangerous as well. I think all this new information will create a great new trilogy , I have so many questions, so many things to think about, so many feelings that I still don't understand, that was really a lot! I feel that if the writer continues on this path, many things will change and I'm very excited to see how she'll do it.
I'm so happy to tell you that there's an Argentine representation in this book, it's the first time that I see a representation of my country in a character and I love it. It's quite secondary but still I felt super excited about it and I just wanted to mention it
Now I also want to mention the things that I didn't like or which I didn't agree with. Everyone knows I'm not a big fan of Adam, not at all, but still, I think he deserved a better place in this new book. We have spent most of the main trilogy with him and even if we don't agree with his thoughts or his way of being I think he still has a lot to give and I would have liked to see him a little more, sadly he only appears 2 times in all the book very briefly and in fact I have to confess that I missed him a little bit, same about James, whom I adore, he almost doesn't appear in the book, but even so I hope to see them in the following books
On the other hand I felt that the final scene was too fast, happened in a blink, I would have liked it to be slower to process a little more the information, because a lot of things happen in 2 seconds and I feel that I still can't believe it, the end is really surprising and very incredible
But really in spite of those little things, I loved the book, I think it's the beginning of something very big, that ending was just WOW, I've said it thousands of times already lol. But I'm still in shock and I really don't want to think about the worst but I don't know, I'm scared guys! . I'm proud of my babes, whatever happens I'll always be with them and I'll love them and I hope they don't break my heart. I can't wait to have the next book in my hands. 
---
---
Rating
4.5/5 Stars
---
---
Feel free to leave your comment below, I always love to know what you think

🙂
find me at